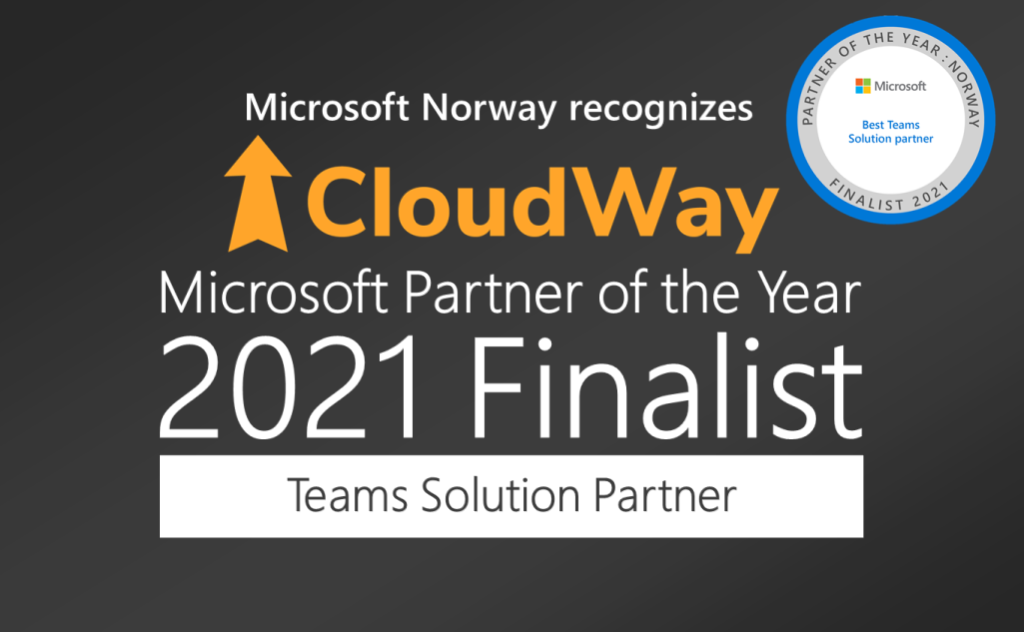 We are proud to announce that CloudWay has been recognized as Teams Solution Partner of the Year 2021 finalist by Microsoft Norway. Microsoft Teams is one of the most successful products Microsoft has ever launched. Microsoft CEO, Satya Nadella said that Teams will be as big as the internet, no later than January 2021 according to UCToday. It is in this ecosystem that CloudWay has been recognized as Teams Solution Partner of the Year by Microsoft Norway. Together with leading consultancies and ISV\'s, Crayon, Telenor, Pexip and Point Taken, CloudWay was recognized as a leader in driving adoption of Microsoft Teams in the Norwegian market. We wish to congratulate Point Taken as the award winner.
At CloudWay we are about helping organizations create a sustainable culture in Teams on a platform that is secure and integrated with your voice and video equipment. That Microsoft is naming CloudWay as one of the most significant partners in Norway for Microsoft Teams in 2021, shows that this focus makes a difference for the organizations we help through workshops and projects. -Ståle Hansen, CEO
CloudWay focuses on the entire Microsoft 365 stack and work to deliver the full potential within secure productivity. Our strength is to understand where the customer is today, where they want to go, and then look at all the activities and dependencies that needs to be taken care of to reach the goal. When we implement Teams we make sure of two things; end-to-end security and Digital Wellbeing in Microsoft Teams. Microsoft Teams is a tool, we need to make sure people know how to use it, tune their notifications, build a good culture around chat and optimize the time spent in meetings. Check out our Teams and Digital Wellbeing workshops to learn more.
Join Microsoft and CloudWay for a two hour discover workshop on Teams culture and wellbeing, September 9th 2021.
This is not the first time CloudWay has been recognized in the Microsoft awards ceremony, in 2019 CloudWay were named finalist for Digital Transformation Partner of the Year, and in 2018 our founder and CEO, Ståle Hansen, was recognized with the Prize of Honor 2018
Check out the official announcement here on LinkedIn.