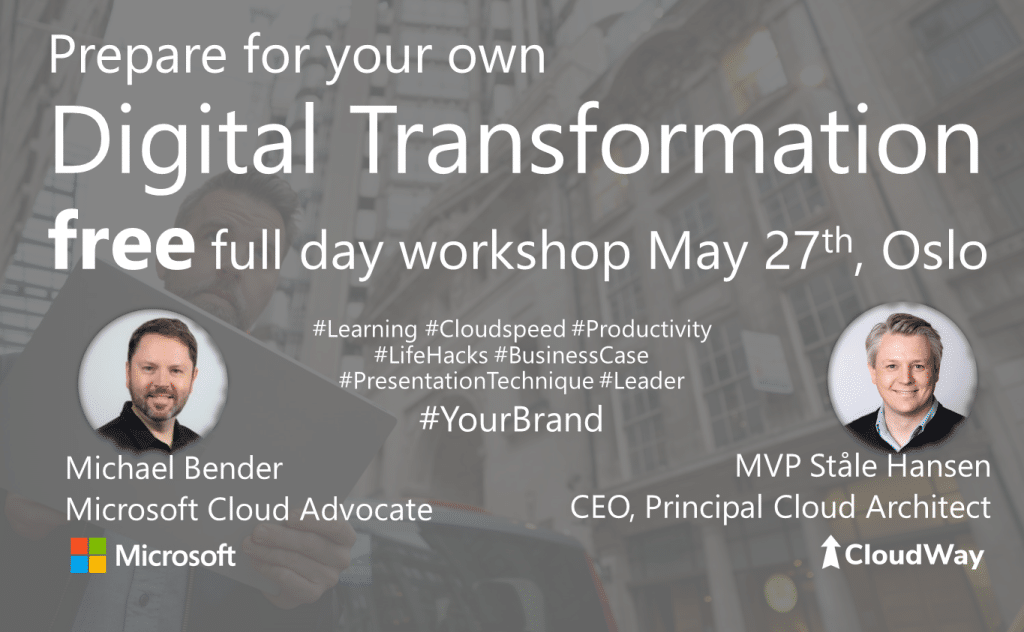 Workshop: Prepare for your own digital transformation
A unique one-time chance to experience this workshop in Norway. Our MVP and productivity enthusiast, Ståle Hansen, met Michael Bender at Microsoft HQ during Techmentor in 2018. They found that together they had a full story, Michael talking about why and Ståle talking about how to go about your digital transformation. They have since created this one-day workshop and are running it for free in the Microsoft Norway Offices while Michael is in town for his keynote at Experts Live Norway 2019 May 29th.
This free one-day workshop is designed to get you thinking about where you are in your life, what you want to focus on tomorrow and how to get there. It is an interactive day with food for thought, discussions and practical tips and tricks to get stuff done. After this workshop, you will get more out of the conference as you have tools to capture knowledge and learn ways to broaden your knowledge of new technologies. You'll learn how to expand your personal brand and network with communities for the benefit of you and others. Reserve your seat at (hopefully) the brand new Microsoft offices today!
The hosts for this day:
Topics we will touch:
The Importance of Life Long Learning
Re-learn how to LEARN at Cloud Speed
Everyday tools that will power your productivity
How to deliver value to your organization
Building the brand of YOU
Being a Leader is not about Management
Choosing the right learning path