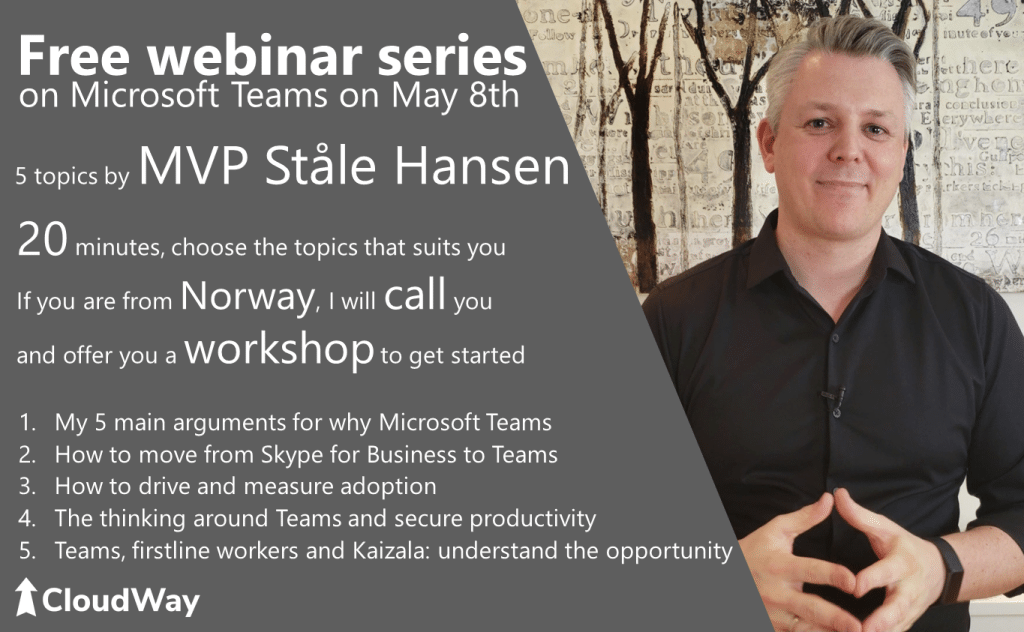 Microsoft Teams webinar series
08/05/2019 @ 08:30

-

10:30

Free
We have extended to registration period to May 15th, due to high demand. You may register to see the on-demand recordings.
A one-day event with 5 Microsoft Teams sessions. Each session is 20 minutes each and will get you started on each topic. If you live in Norway our MVP, Ståle Hansen, will call you and offer you a workshop to help you get started with Teams. Maybe you have further questions or want a deep dive to master a Teams topic, then we can help you. Get your ticket below and you can watch all the sessions or just the one you find most interesting.
The release agenda
0800 – My 5 main arguments for why Microsoft Teams
0830 – How to move from Skype for Business to Teams
0900 – How to drive and measure adoption
0930 – The thinking around Teams and secure productivity
1000 – Teams, firstline workers and Kaizala: understand the opportunity
Each session will have a QA form, if you have any questions, feel free to submit using the forms. Topics we are not covering in the webinar but can touch in a workshop are, but not limited to Teams governance, Teams and bring your own sip trunk, Teams and cloud video interop, Teams live events and cloud recording.