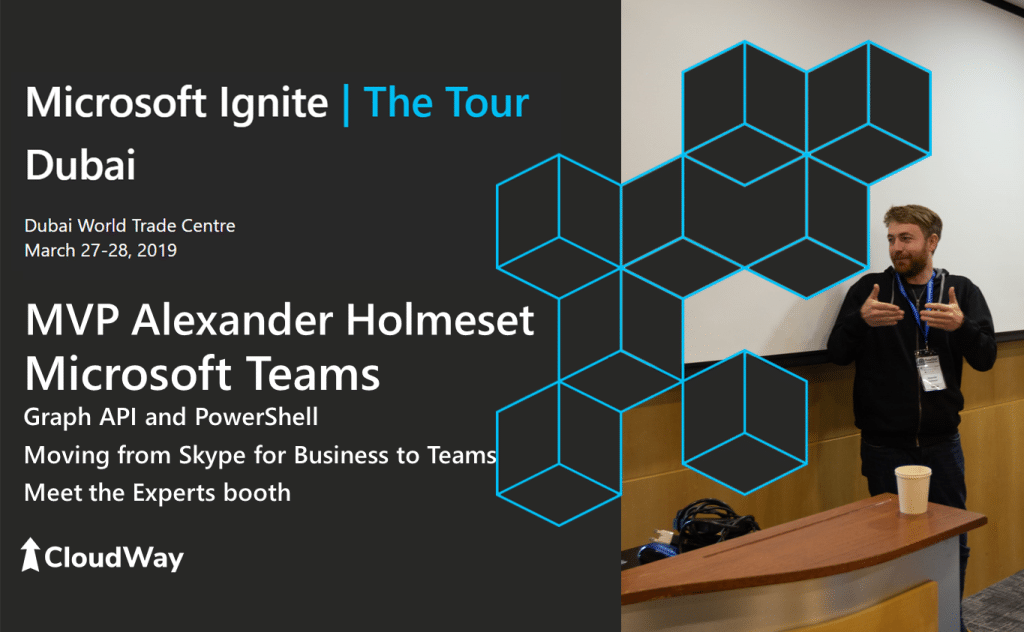 Microsoft Ignite | The Tour 2019 Dubai
Our MVP, Alexander Holmeset, is invited to share his experience in two theater sessions in Dubai at the end of March at Microsoft Ignite The Tour. He will talk about using Graph through PowerShell and what to think about when moving from Skype for Business to Microsoft Teams. You will also find him at the Meet the Experts Booth. The Tour is a distilled, focused version of Microsoft Ignite, in a city near you, where you get the latest within Microsoft technology in breakouts, theater and meetup session. It is easier to work with the Graph API in PowerShell than you would think. Don't miss this 15-minute introduction. We will update with session codes as soon as they are released. Search for the session codes as seen below here
THR3292 – Getting started with Graph API and PowerShell
Graph API and PowerShell is a perfect match. I will show you how to get started using PowerShell to interact with the Graph API. How can we construct JSON requests in PowerShell and create/get the objects we want.
THR3293- Moving from Skype for Business (on-premises) to Teams
What do we have to think about when moving from Skype for Business on-premises to Teams? I will talk about the different paths you can take, and highlight what you need to think about in your transition.
WRK3055R – A day in the life of a Microsoft Teams admin (Repeat)
In this 1 hour workshop, get in-depth hands-on experience with the core administration, security, and compliance capabilities of Microsoft Teams. We will work through common scenarios that will enable you to manage and govern Teams effectively while ensuring your data is secured and remaining compliant with your company's requirements. Workshop requirement: Please attend our "Manage Microsoft Teams effectively while staying secure and compliant — an overview" session as we will be performing capabilities/features explained in this session.
Meet the Experts booth
Come and talk about Graph, PowerShell, Teams and stuff
About Microsoft Ignite Tour
Join Microsoft at the place where developers and tech professionals continue learning alongside experts. Explore the latest developer tools and cloud technologies and learn how to put your skills to work in new areas. Connect with our community to gain practical insights and best practices on the future of cloud development, data, IT, and business intelligence. Read More