Free On-Demand Webinar: Microsoft Teams voice WHY and HOW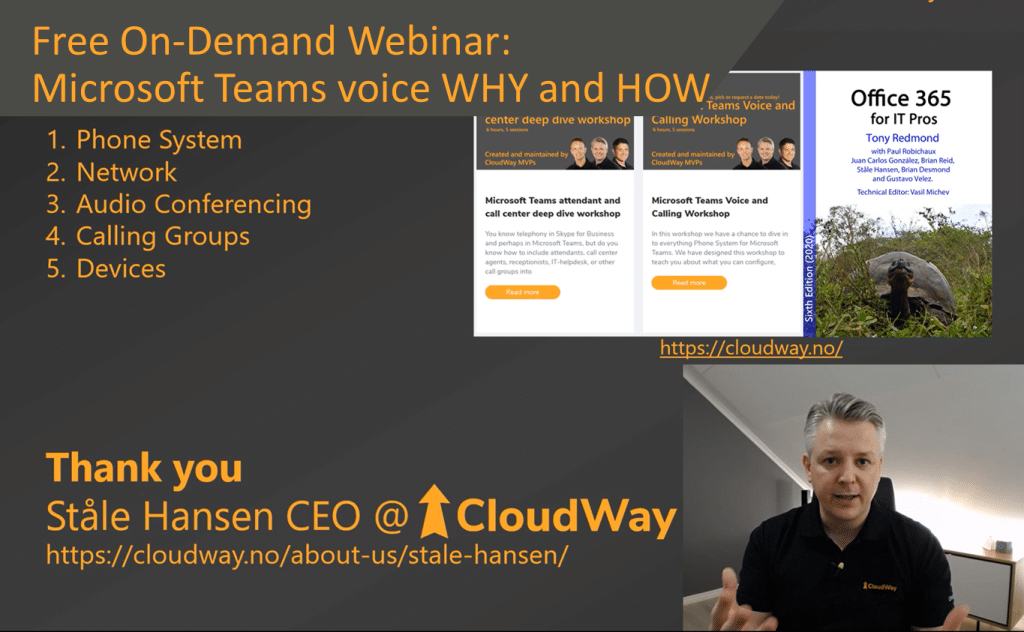 Join our MVP, Ståle Hansen in these free on-demand webinars on Microsoft Voice in the Norwegian market. The webinars are in Norwegian. Finally we can deliver a full cloud based phone system in Norway! Join these webinars to learn why Teams Voice, how Teams Voice and what Teams voice means for end-users. Register for free using the on-demand links below. Each webinar are 1 hour long.
Why: – Siste nytt om muligheter med Microsoft Teams telefoni og sentralbord
Endelig kan vi levere en fullverdig telefoniløsning i Norge som en ren skyløsning! Du kan hoste den selv i ditt eget Azuremiljø, eller få det levert som en tjeneste fra en partner eller operatør. Du kan også bruke Microsoft Teams som sentralbordløsning. Vi gå gjennom hva som ligger som standard i løsningen, og hvordan du kan supplere med tredjepartsløsninger.
Etter webinaret vil du sitte igjen med en god forståelse av hva som skal til for å bruke telefoni i Microsoft Teams, og hvordan dette fungerer med sentralbordtjenester.
Målgruppen er beslutningstakere, produkteiere, arkitekter og selgere.
How: – Hvordan konfigurere og overvåke Microsoft Teams telefoni
Denne sesjonen går gjennom hvordan konfigurere telefoni I Microsoft Teams, hvordan konfigurere Auto Attendant og Call Queues i Teams, hvordan vi kan sikre god talekvalitet og hvordan monitorere løsningen
Etter webinaret vet du hva som skal til for å få løsningen på plass og du vet hvordan du kan sikre god kvalitet og god monitorering
Målgruppen er konsulenter, teknikere og IT Pro.