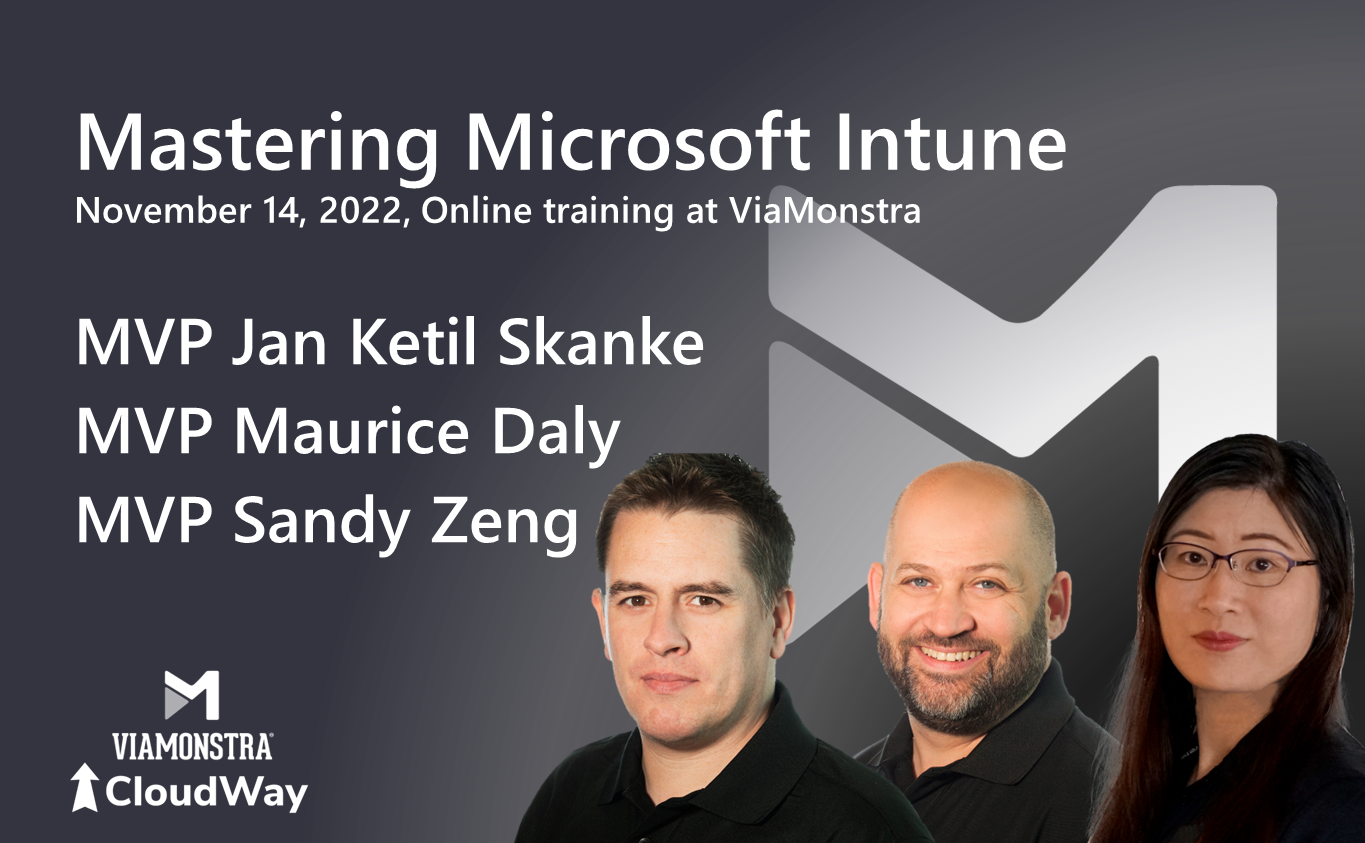 ViaMonstra Online Academy
Don't miss the chance of joining a LIVE Online Academy with our MVPs, Sandy Zeng, Maurice Daly, and Jan Ketil Skanke! In this training you learn to setup and administer a Microsoft Intune tenant for management of Mobile devices. As with all our academy courses, the info presented is up to date, and gathered from real-world implementations of Microsoft Intune. The online class is hosted by ViaMmonstra Online Academy. Read more and register today!
This LIVE Online Training runs for five days and includes:
– Daily live webinars (with plenty of time for Q&A)
– Access to hands-on labs
– A community of individuals with the same goals
– A private Facebook group with other participants for sharing reflections, progress, etc.
– The chance to ask the presenters questions directly in a live training environment
– Module 1: Introduction to Microsoft Intune
– Module 2: Deploying Applications and PowerShell Scripts in Intune
– Module 3: Configuring Windows 10 and Windows 11 Devices and Delegating Access
– Module 4: Always on VPN: Infrastructure Requirements and Deployment Options in Depth
– Module 5: Securing Your Mobile Devices with Microsoft Intune – Introduction and Overview
– Module 6: Managing Android Devices
– Module 7: Managing Apple Devices
– Module 8: Implementing Windows Autopilot
– Module 9: Managing Software Updates and Windows 10/Windows 11 Servicing Using Intune
– Module 10: Introducing Microsoft Graph and Intune
– Module 11: Microsoft Intune, Reporting, and Update Compliance
– Module 12: Troubleshooting Microsoft Intune
– Module 13: Cloud Imaging and Microsoft Intune
– Module 14: Managing BIOS and Drivers via Intune
– Module 15: Microsoft Intune Community Jewels
About ViaMonstra Online Academy
ViaMonstra Academy is run by Johan Arwidmark and they currently run each course four times per year, and each course runs for six weeks with weekly live webinars, Q&A sessions, and much more. Courses are available for individual purchase, or you can get our All Access Pass that gives you access to all courses for a year (and comes with some extra perks, too). Read more.