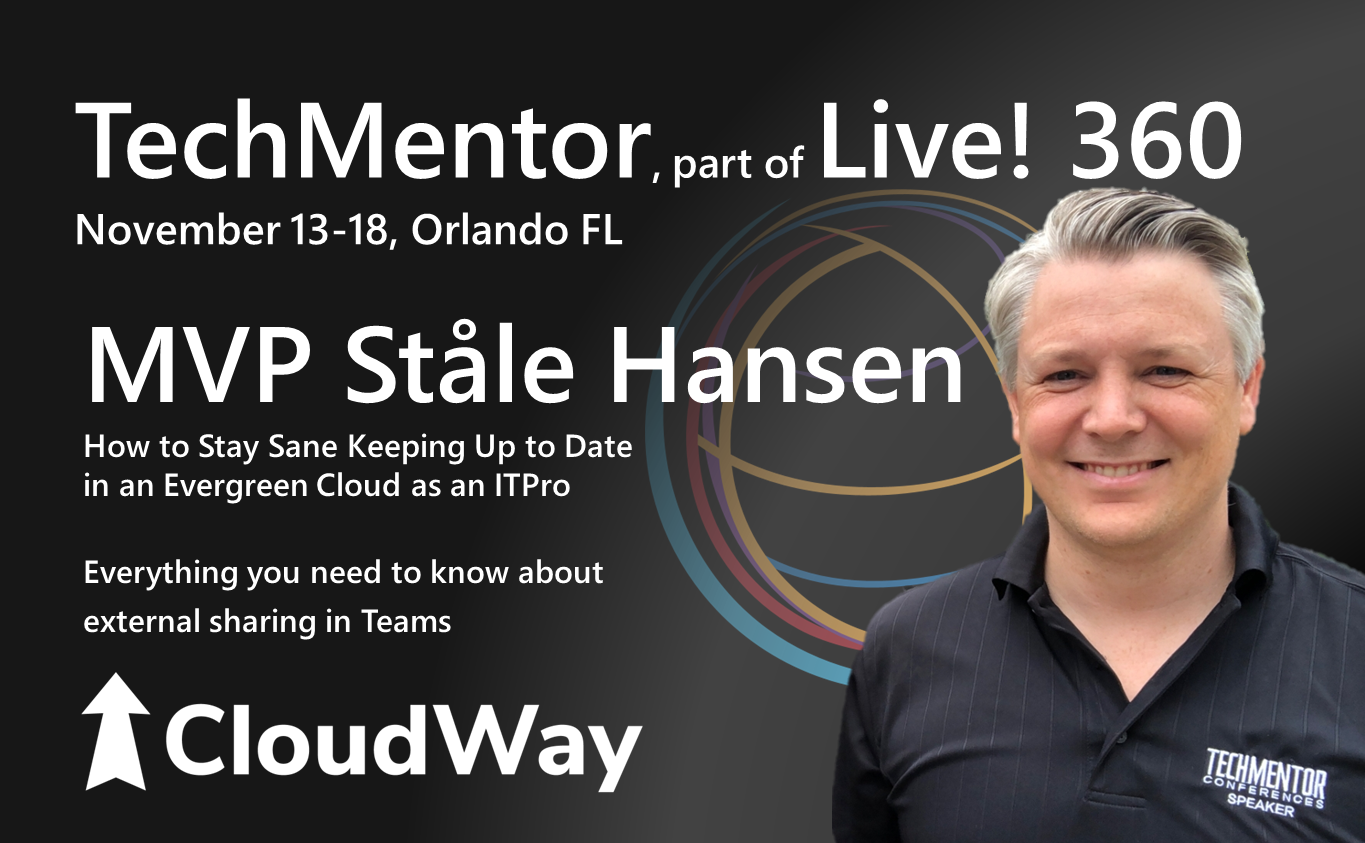 TechMentor, part of Live! 360
Our MVP, Ståle Hansen is invited back to Orlando Florida to talk at TechMentor which is part of the Live! 360 conference. He has spent the past years talking about working smart in Microsoft 365. At this conference he will talk to ITPros about all the tips and tricks he uses to stay sane in an evergreen ever updating cloud and still be on top of news and still be learning. If you want to reinvent how you capture and process information using Microsoft 365, make sure you attend his session. The second session is everything you need to know about external sharing in Teams. The event is in person, in Orlando Florida, sign up today!
How to Stay Sane Keeping Up to Date in an Evergreen Cloud as an IT Pro
MVP Ståle Hansen wants to teach you how to stay sane keeping up to date in an evergreen cloud as an IT Pro. As a 4 year co-author of the book Office 365 for IT Pros with monthly updates to keep the book relevant, he has found a technique for capturing information and making it available for when he needs it. He calls it "how to procrastinate like a PRO". Join this session, learn his technique and start your journey of working smarter using tools in Microsoft 365.
You will learn:
– How to get updates when roadmap and docs articles gets updated
– Learn about the philosophy of the stash zone
– How to procrastinate like a PRO
External Sharing in Teams, What is it and How to Keep it Secure
With the introduction of Shared channels, external sharing got more complex. This is a topic many IT Pros must understand in their job as Microsoft 365 admin. There are multiple ways to share content and talk to people outside your organization in the context of Teams
– External sharing of documents from OneDrive and chat
– External sharing of documents from channels in Teams
– External chat through federation
– Guest access in internal and external Teams
– Shared channels inbound and outbound
All these have different mechanisms for control. In this session, MVP Ståle Hansen will walk you through how it works and how to take control of it.
You will learn:
– Understand all external sharing scenarios
– Understand how to configure all scenarios
– Know best practices for controlling external sharing
What Is Live! 360?
LIVE! 360℠ is an event brought to you by the producers of Visual Studio Magazine, Application Development Trends, Redmond Magazine, Redmond Channel Partner Magazine, AWSInsider.net, Virtualization & Cloud Review and IoTDev360.com. Live! 360 brings together Visual Studio Live! and TechMentor, established and respected independent tech conferences, with these well-established niche industry events: SQL Server Live!, Artificial Intelligence Live! and Cloud & Containers Live! Read More