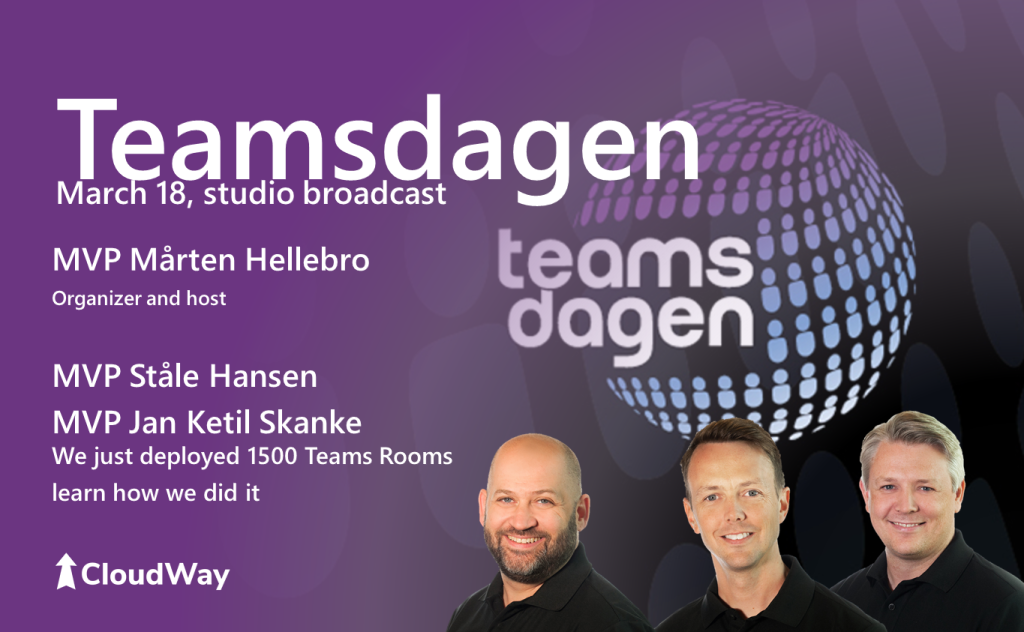 Teamsdagen
Our MVP, Mårten Hellebro is organizing and hosting yet another Teamsdagen event this March in Sweden. Joining him is MVPs Jan Ketil Skanke and Ståle Hansen. They will share how they deployed 1500 meeting rooms with confidence in a global deployment. They will share how they planned for quality, how they deployed them and how they manged the devices. This is an online studio level broadcasted event. Over 2300 registered for Teamsdagen Studio Online in October with a feedback score of 4,5 of 5. Check out all sessions posted on the YouTube channel. Our MVP, Ståle Hansen had one session on tasks in Teams and Microsoft 365 in the October 2020 edition as well. Keep an eye out for the registration.
We are extremely pleased with the first edition of Teamsdagen Studio Online, we exceeded all expectations and are now very much looking forward to the next edition, where we aim to make it even better. -Mårten Hellebro, Event lead
We just deployed 1500 Teams Rooms – learn how we did it
MVPs Jan Ketil Skanke and Ståle Hansen will share how they approached a global Teams Rooms deployment for a larger global organization moving to Teams Only Mode. Learn Ståle's thinking on network placement and account configuration. How Jan Ketil deployed the rooms for almost zero touch rollout and monitored the MTR's. In the end they will reflect on Teams Admin Center administration capabilities.
About Teamsdagen
Teamsdagen is a day all about Microsoft Teams. The day is for technical and end user focused attendees alike. The goal is to meet like minded people to develop and get inspired together. The day is organized by the community for the community Read more