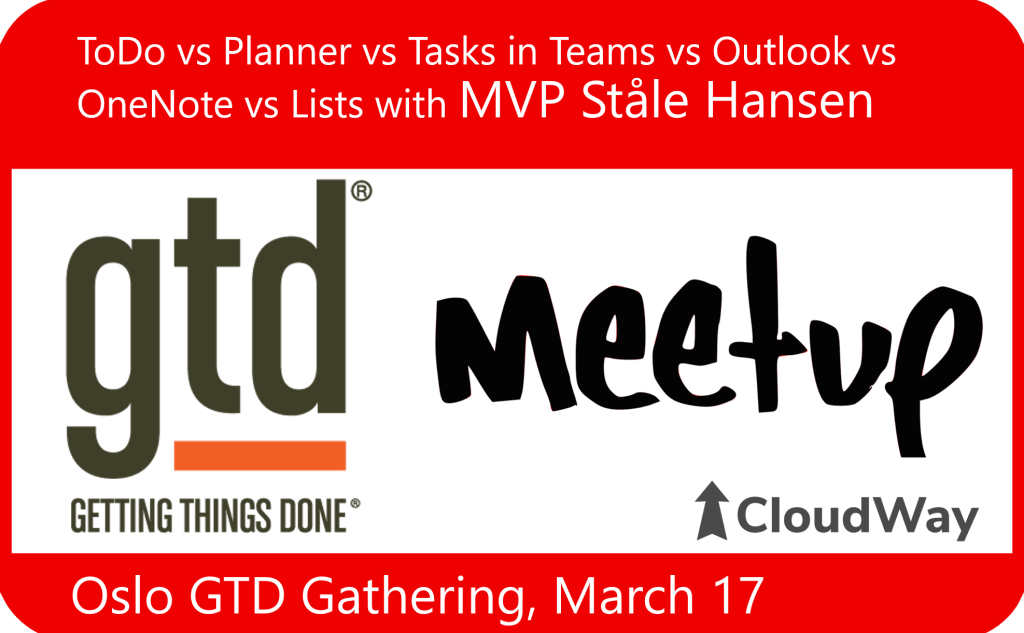 Oslo GTD Gathering
17/03/2021 @ 19:00

-

21:00
Nordic Infrastructure Conference
Join our MVP, Ståle Hansen, as he shares his thoughts on tasks in Microsoft 365. A big part of the Getting Things Done methodology is to organize yourself using tasks, and if you are a user of Microsoft 365, then you must join this meetup in Norwegian about how tasks are done in Microsoft 365. Ståle is a big fan of GTD and has been trying to use it in a digital way for over 5 years in the Microsoft 365 space. Sign up today!
ToDo vs Planner vs Tasks in Teams vs Outlook vs OneNote vs Lists
Join this session to learn how tasks are connected in Microsoft 365 and why you should focus on Microsoft To Do as an individual and Planner as a team.
About Oslo GTD Gathering
Denne gruppen eksisterer som et forum for folk som er interessert i Getting Things Done prinsippene til David Allen. Vi møtes for å diskutere og dele erfaringer med verktøy og metodikk. Vi inviterer folk til å holde foredrag om deres erfaringer med GTD. Vi har også en Facebook gruppe: GTD MasterClass Norge. Read more