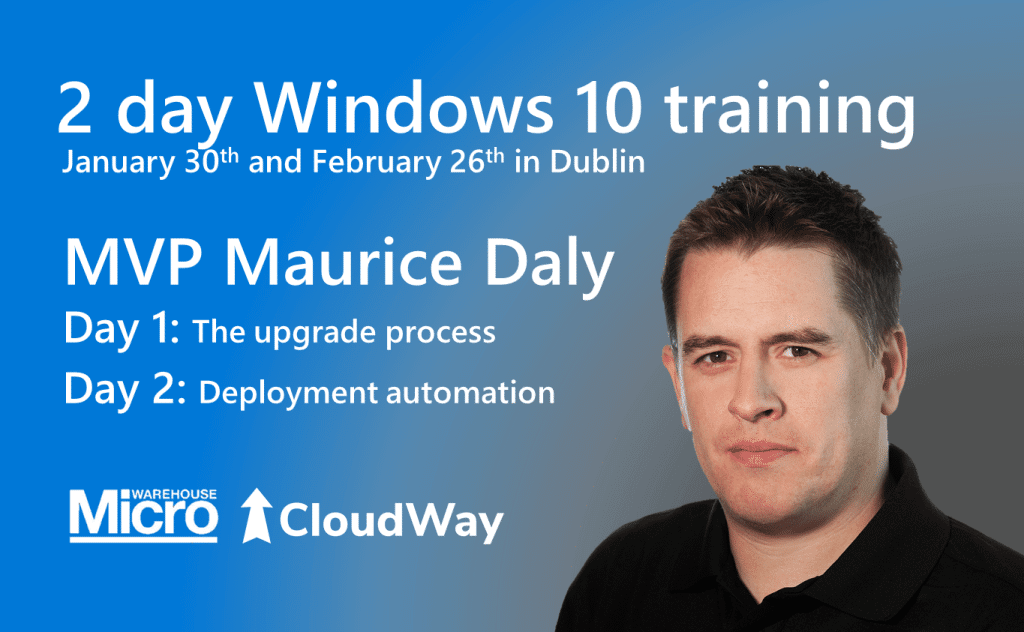 Windows 10 Training
Join MicroWarehouse and Maurice Daly (MVP, CloudWay) for this 2-Part course on Windows 10 starting with Day 1 taking place on Thursday, 30th January while Day 2 will take place on Wednesday 26th February. While each day is run as a separate module, they are designed to complement one another and is it is recommended that attendees attend both days. Attendees can book each day separately or book both days at a discounted package rate. Register today for this partner event
Day 1 (30th January)
With Windows 7 mainstream support coming to an end on January 14th, 2020, businesses now have a strong focus on moving away from Windows 7. The reasons, of course, are to ensure their machines are security patched, compatible with the latest applications, and so that the machines arriving from their OEM's are not the exceptions within the company.
So now we need to consider how we get your clients up to the latest version of Windows 10 as smoothly and efficiently as possible.
In day one of this two-day course, we will focus on the various methods of upgrading hardware. Working with the term hardware, we will first of all review the technical requirements when upgrading, does the hardware support all of the security features we might wish to leverage? Can we upgrade elements of the hardware such as the TPM firmware?
We will then look at the upgrade process itself, reviewing how to leverage the compatibility scan function of the installer to determine if we have any soft or hard blockers to migrating to Windows 10. Once we have confirmed that the hardware and the software are ready, we then need to consider what we do with end-user data. Solutions such as migration of documents to OneDrive and the user state migration tool will be reviewed here in order to ensure the end-users work is available post-migration.
Moving onto the upgrade path options, which depending on the budget and technologies at your disposal, will class you anywhere from being a social butterfly (that person with a USB key and plenty of people/desks to visit and thus people to talk to) or an introvert (talking to no-one and mass deploying everything with lots of PowerShell customization).
Technologies discussed will include
PowerShell
MDT
Configuration Manager.
Day 2 (26th February)
Day 2, focuses on deployment automation, making you think about the mass upgrade scenario and how to do things smarter. This includes how we can use licensing options within products like Microsoft 365 to help take the pain away for both the end-user and the IT engineer.
We will look at the value-added settings that IT engineers can bring to ensure that everyone gets a consistent experience and are not driven into the "I don't like this new version of Windows" mindset by changes in the way their new Windows 10 functions. These include how to set default applications, the start menu layout and apply security policies via both group policies and MDM policies.
Microsoft Endpoint Manager will be discussed, where we will look at Windows Autopilot provisioning scenarios. Microsoft Endpoint Configuration Manager will be discussed more in-depth, how we build collections for deployment rings, automate processes within the task sequence to do more with less and how we then maintain "Windows as a Service" post-Windows 10 deployment completion.
Finally, we will look at vendor-specific tools that can help maintain Windows 10 security and stability and how we can deploy those through both of the before mentioned technologies.