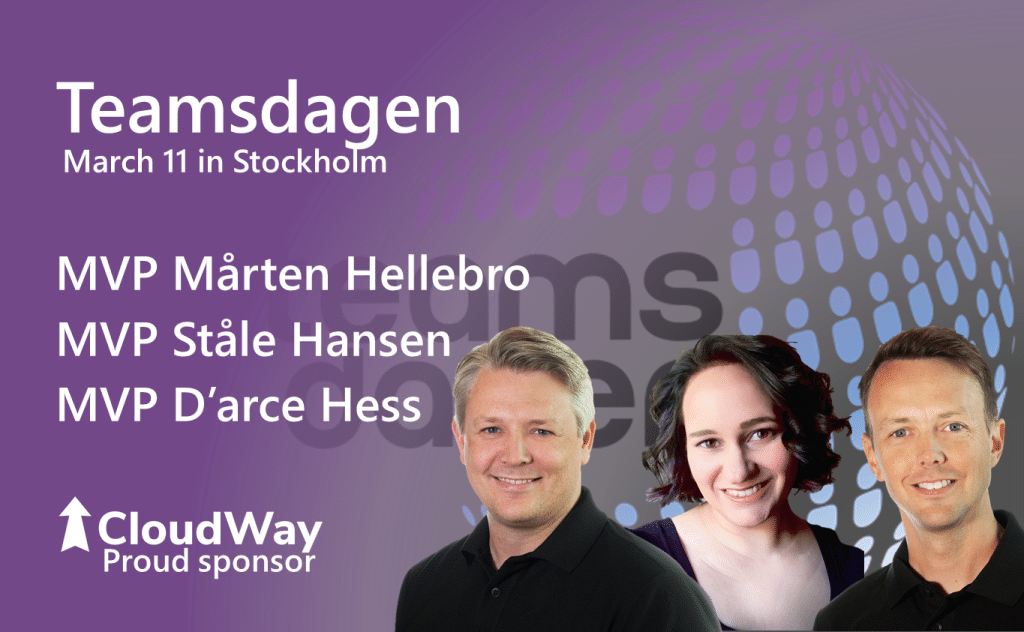 Teamsdagen
Join our MVPs Mårten Hellebro, D'arce Hess and Ståle Hansen for the first Teamsdagen event in Stockholm. Mårten is key organizer and CloudWay is a proud sponsor of the event. Ståle will deliver a 15 minute TED inspired talk called How to avoid burnout by notifications. This is the first time he is doing a talk like this and it is going to be professionally recorded. D'arce is flying in from USA to share her understanding of the Teams architecture. This event sold out in 30 minutes. If you manage to grab a ticket, make sure you check out their sessions.
I always wanted to be part of a community organizations team and get a day about Teams going. I am proud that we got this event set up and we, the organization team, are blown away by the interest from attendees and sponsors for this day. This is going to be fun! – MVP Mårten Hellebro organizer
How to avoid burnout by notifications
Notifications are everywhere and may take over your thought processes if you are not conscious about them. Learn the key thinking to avoid burnout by notifications. Join MVP & RD Ståle Hansen in this TED inspired talk, meant to inspire you. And it may even change your life for the better.
Breaking Down the Teams Architecture 201
Teams weaves a complicated web between Teams and SharePoint. In this session, you will learn where all of your content is stored, how to access and manage it as well as learn the best practices for creating and managing Public and Private Channels for your organization.
Teamspodden #17 – Teamsdagen 2020
A one hour special from the Teamspodden team which our MVP Mårten Hellebro is part of. They talk about Teamsdagen and interview speakers such as our MVPs D'arce Hess and Ståle Hansen. The podcast is in Swedish and is a good listen as a warm up for Teamsdagen
About Teamsdagen
Teamsdagen is a day all about Microsoft Teams. The day is for technical and end user focused attendees alike. The goal is to meet like minded people to develop and get inspired together. The day is organized by the community for the community Read more