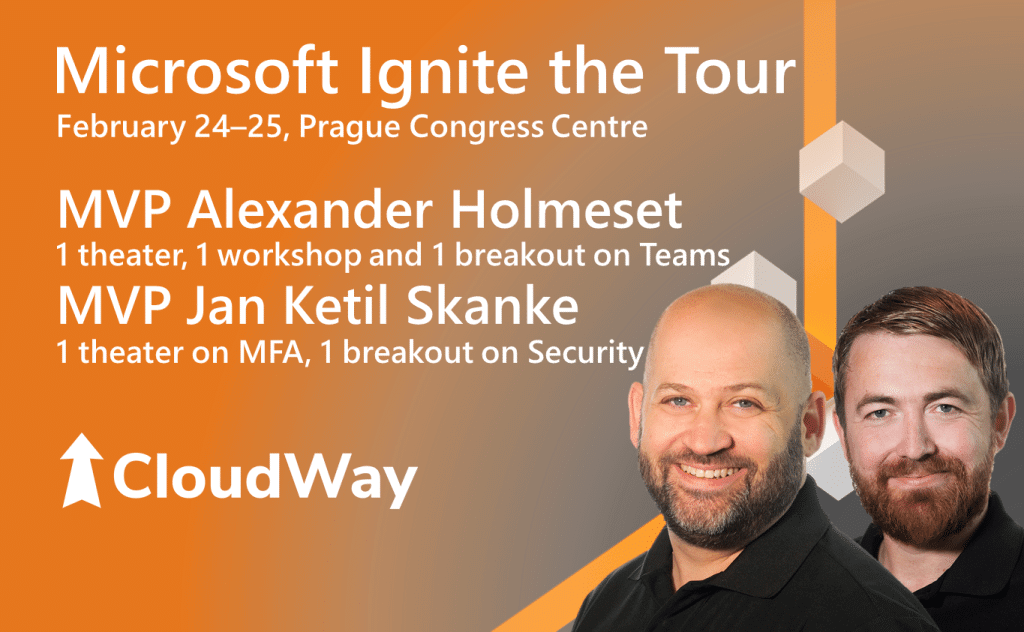 Microsoft Ignite The Tour Prague
Microsoft Ignite The Tour Prague
Our MVPs Jan Ketil Skanke and Alexander Holmeset are speaking at Microsoft Ignite The Tour 2020 in Prague. Together they will deliver 2 beakout sessions, 2 theater sessions and 1 workshop on topics they have a lot of hands-on experience with. The topics are MFA, M365 Security, Microsoft Teams automation and administration. If these are topics you want to learn more about, make sure you attend their sessions!
BRK30266 – Move Beyond passwords – Securing your Microsoft 365 Tenant
You password doesn't matter. In this session we will go through why the password doesn't matter and what is needed to secure your identities in the cloud the right way. We will dive into how we have implemented Azure MFA the right way by combining Azure AD, Intune and advanced Microsoft 365 Threat protection features and configuring the basics right.
THR30157 – Lessons learned – Doing Azure MFA Right
Implementing Azure MFA may seem like a simple task, but there are many pitfalls that should be avoided. Come and hear how we have successfully implemented Azure MFA with Conditional Access and Intune for many different types of organizations.
BRK30262 – Automate Your Day as a Teams Administrator
How can you automate the administration of Microsoft Teams? You will learn how to ease your day to day tasks with PowerShell, Graph API, and Flow. Whats the correct tool to use for which task? Why would you create new teams for your users when they can do it them self by an automated approval process? This session is for the IT pro that wants more time to tasks that really matters!
THR30152 – Automate your Microsoft Teams project team creation!
Learn how I helped a customer automate the project team creation process when they moved from using on-premises file shares to Microsoft Teams. All from predefined channels and folders for each file tab! Ease the workload of your IT department and let the managers approve if a team is created or not.
WRK20002 – A Day in the life of a Microsoft Teams admin
In this tech workshop get hands-on experience with the core administration capabilities of Microsoft Teams. We will work through common scenarios that will enable you to manage Teams effectively including configuring global settings, creating user policies, and streamlining the creation of teams using PowerShell and Team templates.
About Microsoft Ignite Tour
Join Microsoft at the place where developers and tech professionals continue learning alongside experts. Explore the latest developer tools and cloud technologies and learn how to put your skills to work in new areas. Connect with our community to gain practical insights and best practices on the future of cloud development, data, IT, and business intelligence. Read More