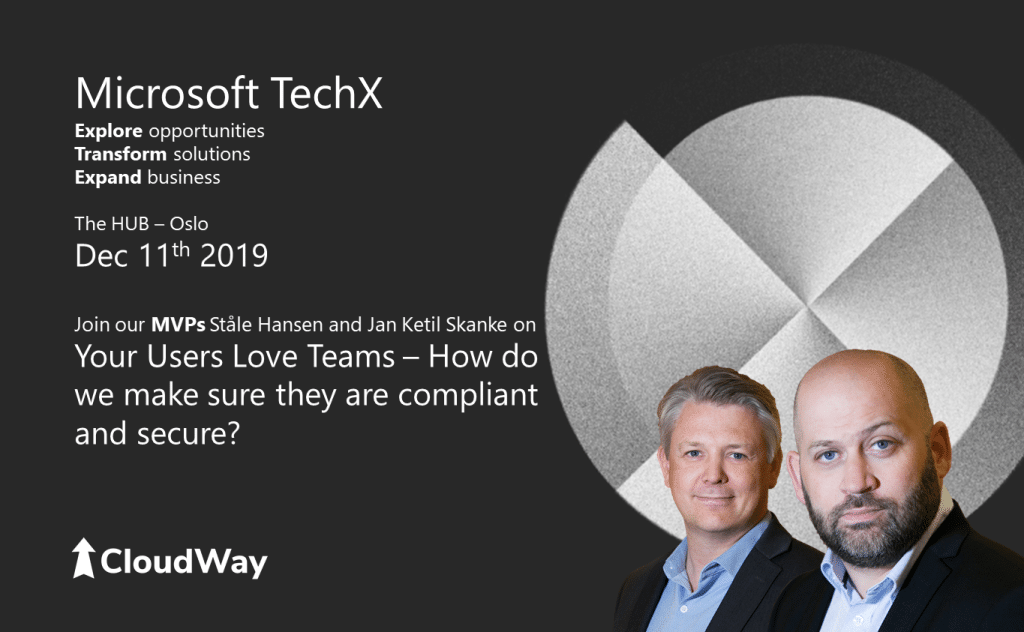 CloudWay is proud that our MVPs, Ståle Hansen and Jan Ketil Skanke, are invited to Microsoft TechX in Oslo as two of the few external speakers at this Microsoft conference. The topic is Microsoft Teams and how to make it work within the compliance and security boundaries in the organization. This is a session that involves all of Microsoft 365 and they will share from their experience from years of workshop and projects in this space. This is a session you don't want to miss, make sure you claim your seat today!
Your Users Love Teams – How do we make sure they are compliant and secure?
Microsoft Teams builds on Microsoft 365 security and compliance architecture and the challenge is to know when to use which tool to lock down your environment. The Microsoft Teams data is everywhere. Join this session to understand how you can secure the data, be compliant and control access to all content in Microsoft Teams. You will learn about Advanced Threat Protection, encryption, retention, classification, eDiscovery, Azure AD conditional access, Intune and restricting how and where your data is stored.
About Microsoft TechX
Gain strategic insight and evolve your skills with the latest from Microsoft Cloud, such as Azure and Power platform, at Microsoft TechX. A free, one-day technical learning event for IT decision makers, Developers and ITPros.
The cloud as the established foundation allows the real transformative technologies such as Artificial Intelligence start to transform the way we live and work. The Microsoft TechX is your key for inspiration, matching your innovative app ideas with the latest evolution of the Microsoft Cloud platform, also supporting Open Source solutions.
Choose from more than 15 sessions – from keynotes and breakouts – featuring industry experts and top engineers of Microsoft's cloud services across Azure, Business Applications, Analytics and Modern Workplace.