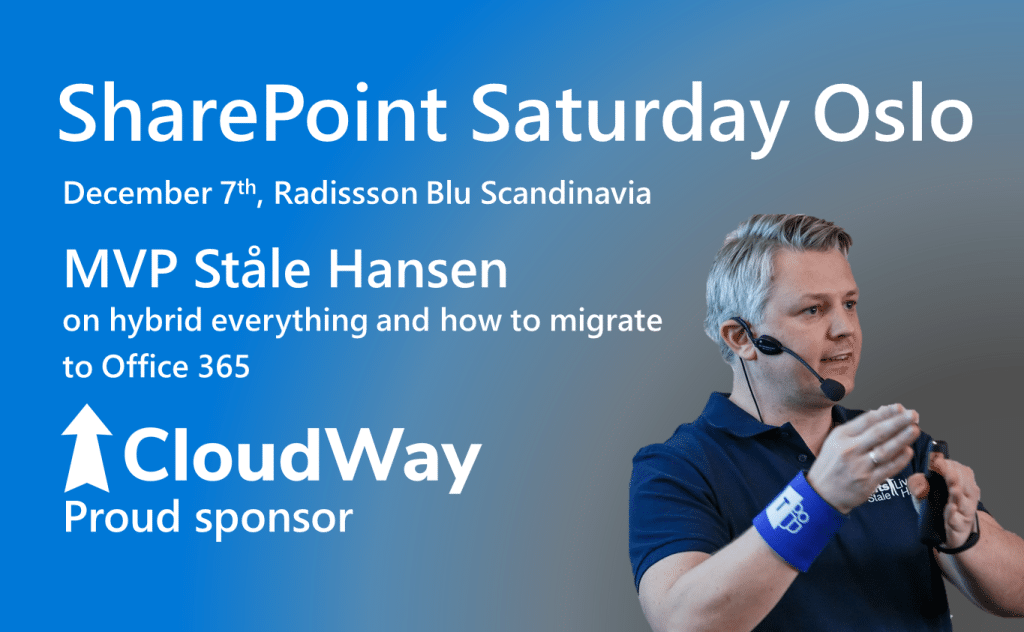 Our RD and MVP, Ståle Hansen, will return to SharePoint Saturday in Oslo on December 7th. He will share his thinking on setting up hybrid and migrating everything to Office 365. Most of the projects he does today in CloudWay revolves around migrating to secure productivity and Microsoft 365. Join his session to learn why you would set up hybrid everything and why you want to migrate to Office 365. CloudWay is an honored sponsor of the event, make sure you claim your seat today!
How to set up hybrid and migrate everything to Office 365
MVP Ståle Hansen has spent the last two years with locked down on-premises only Exchange and Skype for Business servers moving to hybrid for customers on their way to Teams. Been the lead architect when migrating files to Teams and figuring out what to migrate where and evaluated Azure Files as a supplement for certain file types. Helping network admins rethink their heavily locked down environments with proxies or maybe no internet access at all. Learn his best practices to do hybrid, coexistence, migrations and network optimizations right and where and how to move files to get the most out of Teams.
About SharePoint Saturday Oslo
SharePoint & Office 365 Saturday Oslo will be held on December 7th in Oslo, Norway. The registration is open for everyone interested to spend a Saturday with SharePoint, Office 365 and Azure professionals. We will share knowledge to create the Modern Workplace and give you an unforgettable Saturday. The event will have three tracks covering topics for Developers, IT-Pros and Power Users. Read more