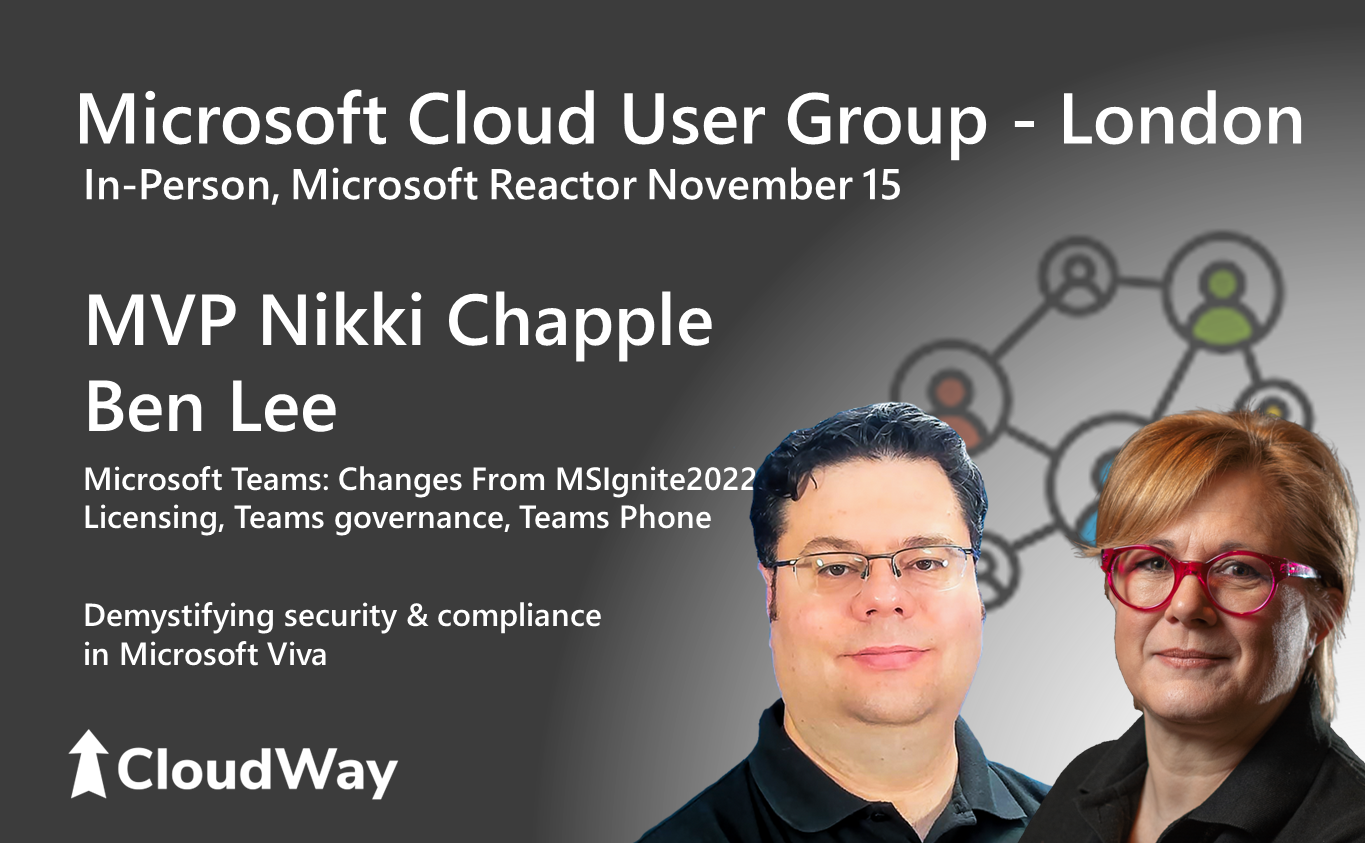 Microsoft Cloud User Group – London
Our MVP, Nikki Chapple and Senior Cloud Architect, Ben Lee are speaking at the Microsoft Cloud User Group hosted at the Microsoft Reactor in London. Ben will talk about news from Microsoft Ignite and licensing updates for Microsoft Teams. Nikki will talk about Viva security and governance. Seats are free, but limited, claim yours today!
Microsoft Teams: Changes From MSIgnite2022 + Licensing with Ben
There was a huge amount of Microsoft Teams news at Microsoft Ignite! This is on top of some already new licensing changes that recently came in. Ben is going to guide us through the changes and tell us when we can expect to see them! At the end of the session Ben will host an engaging Q&A to help you get ready!
Demystifying security & compliance in Microsoft Viva with Nikki
Microsoft Viva is an employee experience platform that combines tools to support employee engagement and well-being, learning and knowledge management, and experience analytics, all delivered through Microsoft Teams.
Some organisations are reluctant to deploy Microsoft Viva as they are concerned about data privacy, compliance, and security.
This session demystifies security & compliance in Microsoft Viva to help you understand the following:
– What are the Viva modules
– How Microsoft ensures security and compliance in Microsoft Viva
– Why governance and compliance are essential
– Why employee adoption and sponsor communications are critical in ensuring employees understand how the organisation will use Viva, the key benefits (WIIFM) and, importantly, that their personal insights are private.
About the Microsoft Cloud User Group – London
Join the largest and original Microsoft 365+Azure user group in Birmingham, London and Manchester. Read more