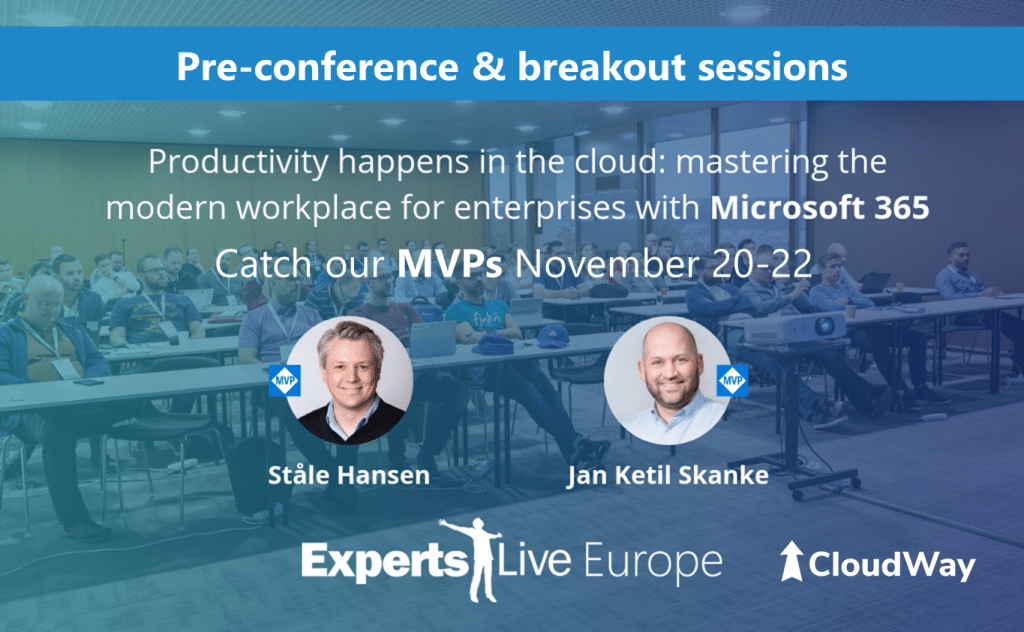 Join MVP's Jan Ketil Skanke and Ståle Hansen in their pre-conference and breakout sessions on how to implement the core story of Microsoft 365. They have delivered the Microsoft 365 Explained session in a multitude of workshops, talks and webinars over the past two years end even was hired by Microsoft WE to create sales training on Microsoft 365. They know this shit, and you will get enlightened so reserve your seat today!
Pre-Conf: Productivity happens in the cloud: mastering the modern workplace for enterprises
Microsoft 365 is based on Office 365, EMS and Windows 10, but the Microsoft 365 SKU's are more than just a combination of products. This pre-day focuses on how to implement the core story of Microsoft 365, which is Secure Productivity and Modern IT combined.
Breakout: What's the latest with ConfigMgr – Post Ignite edition
With the new servicing model of ConfigMgr Current Branch, development of the product has never been at a faster pace than today. 3 major releases each year provides organizations with new management capabilities, many of such cloud-enabled, but also integration of previous functionality in stand-alone products, among community requested features.
Join Enterprise Mobility MVP's Nickolaj Andersen and Jan Ketil Skanke who will cover all there is to know about the latest and greatest with ConfigMgr, including a bonus around the messaging and announcements regarding ConfigMgr after Ignite.
Breakout: Microsoft 365 Explained
Wondering what Microsoft 365 really is? You will leave this session understanding the different SKU's and how you can easily add E5 level security options as add-ons. You will learn how to sell it internally in your organization, pitch it to customers or understand the technical requirements as a consultant. MVPs Ståle Hansen and Jan Ketil Skanke will share their experience from more than 20 workshops, projects and as architects with deep knowledge on how the components fit together. This session is a great place to get started with Microsoft 365.
About Experts Live Europe
Experts Live Europe is a Microsoft community conference with a focus on Microsoft cloud, datacenter and workplace management. Top experts from around the world present discussion panels, ask-the-experts sessions and breakout sessions and cover the latest products, technologies and solutions. It's the time of the year to learn, network, share and make valuable connections.