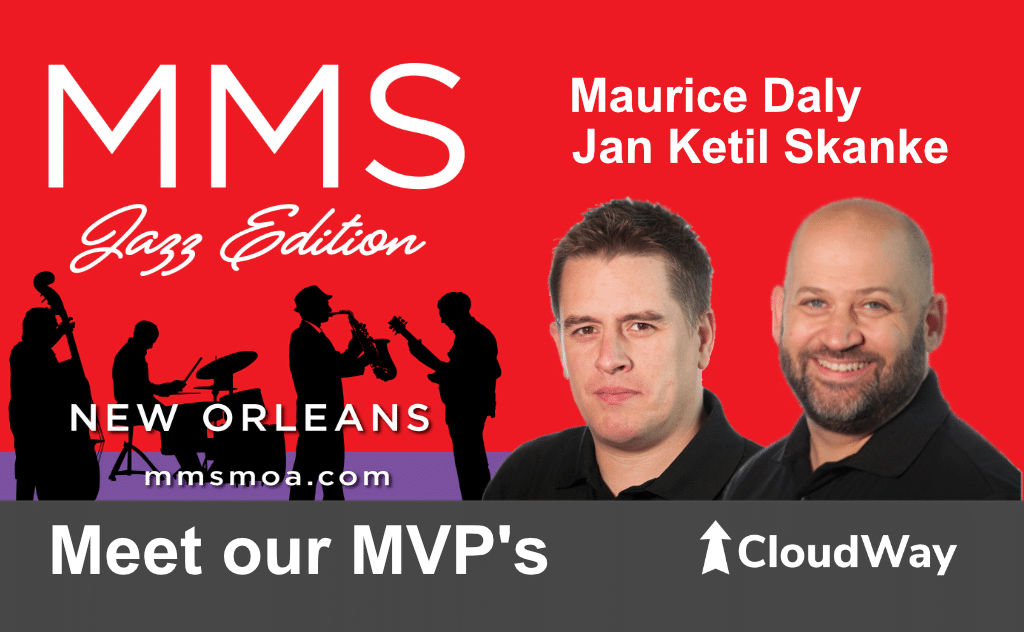 CloudWay are proud to announce that our very own Enterprise Mobility MVPs Jan Ketil Skanke and Maurice Daly are part of the speaker line up this November at MMS Jazz Edition in New Orleans.
MMS Jazz Edition is a scaled-down spin-off conference from the ever-popular annual MMS conference held in Minneapolis. The theme around MMS is inclusion and keeping the conference at a size whereby attendees can mix with their peers along with speakers and members of the Microsoft product group, without the issues of scale that larger conferences can bring.
This is Jan Ketil Skanke's first time to present at an MMS conference, with Maurice returning to the event has presented a total of five sessions at MMS 2019 earlier this year. With the increased interest in modern management of Windows through the use of Microsoft Intune, both Jan Ketil and Maurice are keen to demonstrate the abilities of the "modern" way of doing things, something that we in CloudWay are passionate about.
Below are a full list of the sessions and times where you will find either Jan Ketil or Maurice presenting;
– Monday 11th November – 1:00pm – Bios & Firmware Management Deep Dive
– Monday 11th November – 1:00pm – Modern Management of User Data and Settings
– Tuesday 12th November – 1:00pm – Drivers, Drivers, Drivers – I "LOVE" Drivers
– Wednesday 13th November – 1:00pm – Bios & Firmware Management Deep Dive (Repeat)
– Wednesday 13th November – 8:00am – Detecting, Mitigating, and Preventing Credential Theft
– Wednesday 13th November – 10:00am – Securing the Modern Workplace
– Wednesday 13th November – 3:00pm – Building A Better Kiosk with Intune
So, if you are attending MMS Jazz edition this year, be sure to grab Jan Ketil or Maurice for a chat about your projects, questions or struggles around modern management.
About MMS Jazz Edition
Jazz Edition is the 2nd edition of MMS in 2019. This edition runs just 3 days instead of 4 and will be held in New Orleans instead of Minneapolis. If you couldn't make our May event, this will fit the bill. If you're considering other conferences, this is certainly the most technical you'll see. This slightly smaller MMS maintains most of the great things that makes MMS special.