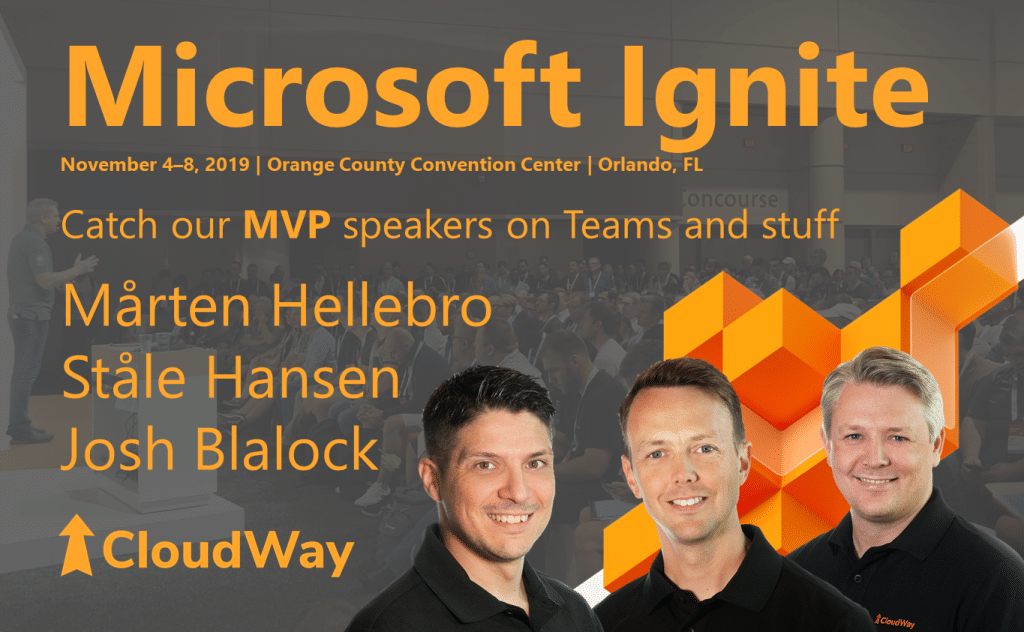 Meet our MVP speakers at the biggest Microsoft conference of the year; Microsoft Ignite. They will share their experience and understanding in multiple community theater sessions on Microsoft Teams. As previous community reporter Josh Blalock is returning as a speaker and will talk about Microsoft Teams Phone System and how to build a personal brand. Mårten Hellebro was a speaker at Microsoft Ignite The Tour and is returning at Microsoft Ignite to share his thoughts on how to succeed with Teams Adoption and he will be joined by Microsoft Ignite speaker veteran Ståle Hansen on how to implement SBC in Azure in 20 minutes. Make sure you catch their sessions and ask your burning questions afterward.
Did you know all 7 CloudWay MVPs will be at Microsoft Ignite? If you want to have a chat about how you can succeed with Microsoft 365, schedule a meetup with CloudWay and we can let you know how to remove that blocker and succeed with Microsoft 365.  If this sounds interesting, contact us using our contact page
THR2079 – Demystifying licensing options for Microsoft Teams with Microsoft Phone System
With the many combinations available for bringing PSTN capabilities to your Microsoft Teams users, devices, and resources, licensing models can often be challenging. From regular users with international calling needs, to common area phones, to auto attendants with direct routing numbers and everything in-between, it can all seem a bit complex. Join Microsoft MVP Josh Blalock as he provides clarity on when to use which licensing to ensure that the necessary level of licensing is met, without "over-licensing."
THR2039 – Five simple steps for building an effective personal brand
Growing your career is a multi-faceted strategy, and building a brand can be a critical component to this strategy. MVP Josh Blalock shares his five simple steps for building an effective and meaningful personal brand, including his own experiences with building a brand in a niche technology area of focus.
THR2078 – Embrace your Microsoft Teams champions and arm them with these five power tools
Come on, let's find your Teams champions, embrace them and give them what they need so they can level-up and help you deliver a successful Teams implementation project with high adoption and happy users. So, how do you find the right users and what exactly do they need? In this session, MVP Marten Hellebro shares his real-world experiences working with Teams champions. Come to this session and get your Teams toolbox filled.
THR3061 – Your own Direct Routing SBC in Azure in 20 minutes
Telephony in Microsoft Teams is on many organizations' wish lists. You can bring your own SIP trunk and use Direct Routing, and for that, you need a certified Session Border Controller (SBC). Even with no hardware or any of the required on-premise infrastructure pieces in place, you can still have your own SBC, in Azure. During this session, MVP Marten Hellebro shares his best practices from real-world deployments and at the same time, demonstrates how to set up an SBC for Direct Routing in Azure in literally no time.