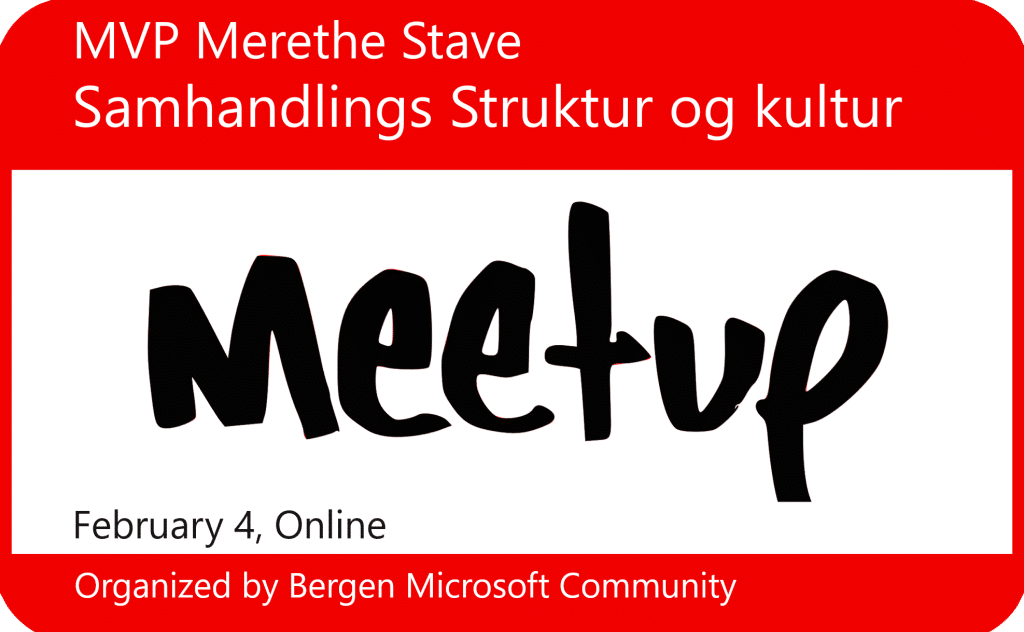 Bergen Microsoft Community
Bergen Microsoft Community
Our MVPs, Merethe Stave and Ståle Hansen is invited to Bergen Microsoft Community! Merethe will talk about structure and culture when collaborating in Microsoft 365. Ståle will talk about his thinking on driving sustained optimization of your Microsoft 365 tenant. This is a free online event in Norwegian, make sure you sign up today!
Struktur og kultur gir god samhandlingsdur
Tekniske verktøy kan gjøre mye for å gjøre arbeidshverdagen sikker. Samtidig hjelper det lite å låse og bolte hoveddøren, hvis noen andre åpner hverandadøren om de ikke ser skumle bjørner i hagen. Her vil Merethe se på hvordan struktur og kultur ved hjelp av Microsoft 365 plattformen kan gjøre samhandling og kommunikasjon trygt og sikkert.
This is how you drive security and compliance process in Microsoft 365!
By using the actions in the Secure and Compliance score you can create an actionable prioritized overview of what is implemented. Even more useful is the ability to identify next features to validate and implement. Join this session to learn a proven process to identify actions, prioritize them and work on improving the tenant, not just in your current project, but for years to come.
I see customers adopting this process gets more confident and structured when implementing new features. Best of all, everything is based on Secure Score and Compliance Score.
About Bergen Microsoft Community
Vi er en gruppe tekniske og ikke tekniske ressurser som synes det er på høy tid at Norges nest største by klarer å stable på beina en aktiv brukergruppe, som kan være et sted der vi hjelper hverandre og deler vår kunnskap på tvers av ulike selskaper og bransjer. Read more