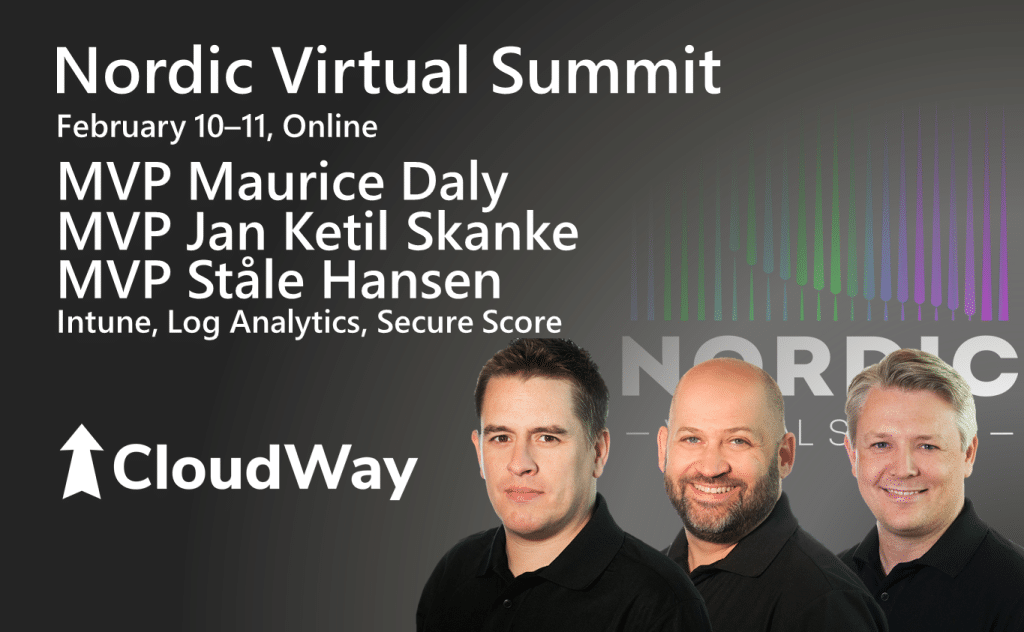 Nordic Virtual Summit
Our MVPs Maurice Daly, Jan Ketil Skanke and Ståle Hansen will talk about Intune, Log Analytics and the Secure score at this two day online event. As organizers, Maurice and Jan Ketil, are very happy with the high quality of speakers and they guarantee that you will learn something you did not know about during these two days. This is a free event, all sessions are in English, sign up today!
"For the first time ever, all endpoint management user groups in the Nordics has been brought together on a joint effort. I am truly proud of the level of expertise we have managed to bring to this 2 days event. We have highly experienced speakers from the community and Microsoft delivering deep knowledge on our 3 tracks. We are covering Azure and Automation, Security and Compliance, and Endpoint Management. " says Jan Ketil Skanke – Event Lead
Introducing Intune BIOS & Driver Control with Maurice Daly and Jan Ketil Skanke
Traditional ConfigMgr admins have grown up with tight control measures to allow them to deploy driver and BIOS packages. Over the past year in particular though, the focus has shifted away to direct management of devices through Intune. In this scenario you can use automatic updating of drivers form Microsoft through update rings, or utilise OEM software to ensure you are always on the latest build. The issue is though if you want control across both your ConfigMgr and Intune managed devices, ensuring they are all in sync. In this session we will run through how to apply control methods using community and OEM tools in harmony to ensure you have complete control over the stability of your end user devices.
Proactive Remediations Deep Dive with Maurice Daly
With the addition of proactive remediations , organisations now have the ability to perform compliance item/baseline type jobs across all Windows managed devices. In this session we will look at the underlying components, how to trace the running of the detection and remediation script, registry values, and how to extend logging for your own scripts. We will also look at examples of how this awesome addition to your endpoint arsenal can benefit the admin, as well as the reports analysts.
The Log Analytics of MEM! with Jan Ketil Skanke
Are you moving some or all of your management workloads to Intune? Are you missing your good old configmgr logs? Then this is the session for you. Microsoft Endpoint Managers cloud reporting framework is based on Azure Log Analytics, and there is a whole new world of possibilities that has just come our way. We will look into how you can use log data to build automation, alerting and monitoring of your environment and incidents. With this you can audit all changes in changes in your environment and do automation based desired state configuration in the cloud. We will should how you can build your own workbook dashboard with the data YOU care about? What about combining data from both on-premises and the cloud and visualise it all in one place?
This is how you drive security and compliance process in Microsoft 365! with Ståle Hansen
By using the actions in the Secure and Compliance score you can create an actionable prioritized overview of what is implemented. Even more useful is the ability to identify next features to validate and implement. Join this session to learn a proven process to identify actions, prioritize them and work on improving the tenant, not just in your current project, but for years to come. I see customers adopting this process gets more confident and structured when implementing new features. Best of all, everything is based on Secure Score and Compliance Score.
Key takeaways
– Get familiar with the secure and compliance scores
– Learn how to use Microsoft Lists to build your prioritized list
– Become confident that you are on the right track for a more secure and compliant tenant
Watch the promo video by Jan Ketil
About Nordic Virtual Summit
Nordic Virtual Summit is a joint venture by #SGUCSE #SCUGDK #SCUGFI #MMUGNO and #MSEndpointMgr. Read more