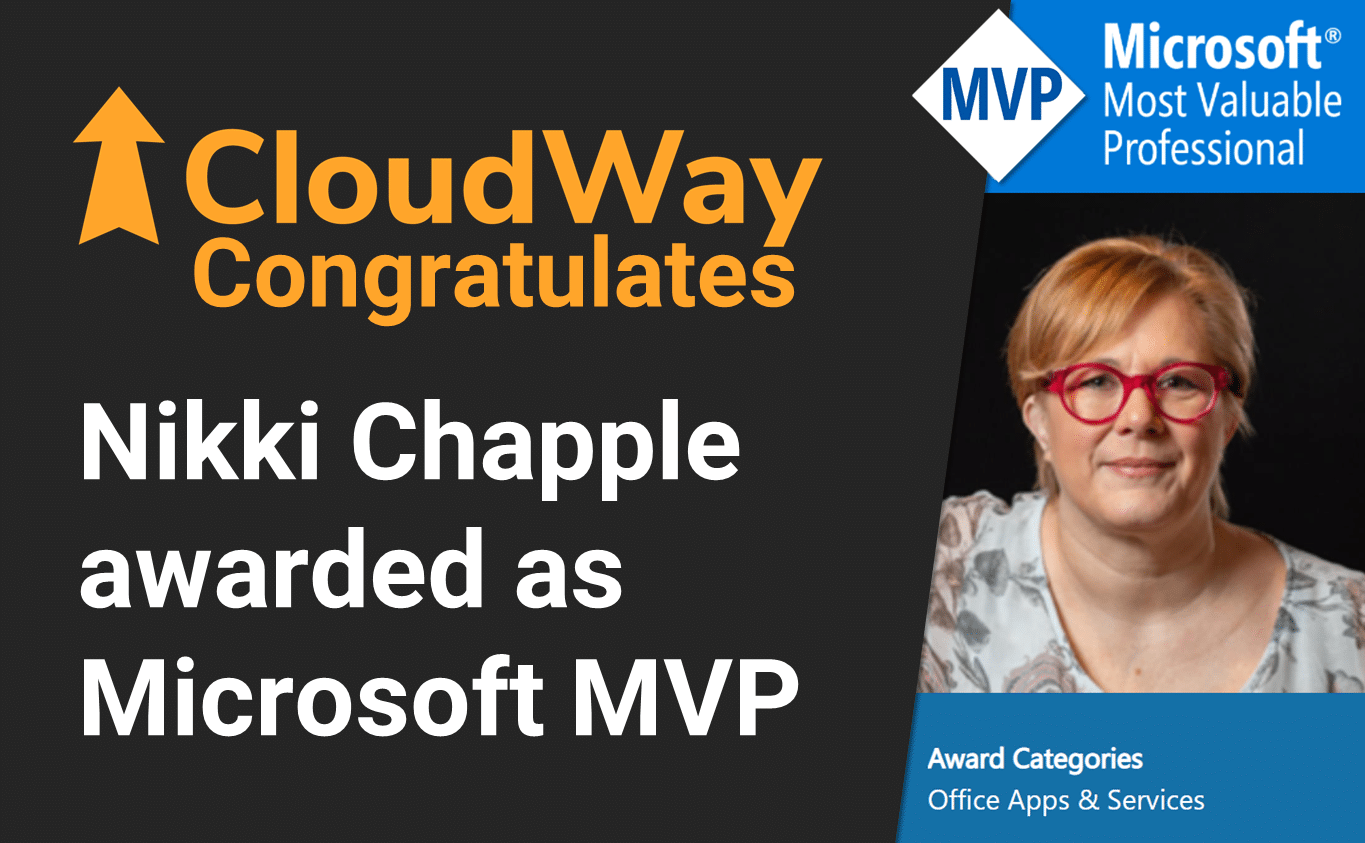 We are proud to be able to congratulate Nikki Chapple as Office Apps & Services MVP for 2022. Through passion and enabling people to understand Microsoft 365 governance and compliance better as blogger and public speaker she has been recognized as an MVP. She recently co-authored The Microsoft 365 Maturity Model – Governance, Risk, and Compliance Competency. At the time of writing, all CloudWay employees are MVPs and we are very proud of creating a work environment for passionate individuals who love to share their knowledge and encourage other to do so.
We asked her three questions on becoming an MVP
What has motivated you to put in the effort required to be an MVP?

My original driver was not to become an MVP but to raise the voice of women in technology and share my knowledge and experience with the wider community. I started attending user groups and posting Microsoft 365 best practice and top tips on LinkedIn to help others on their digital transformations. Based on positive feedback from the community and my peers I soon progressed to speaking at user groups and events. I really enjoyed the community spirit and the ability to share knowledge and ideas in a welcoming environment. It was only after being approached by an MVP to ask why I was not already an MVP that I thought 'yes' I can take that extra step.

What has been the most important for you in this journey?

Governance, risk and compliance is a strategic part of any digital transformation yet many times Microsoft 365 implementations are left to the IT Teams. I wanted to share practical examples on taking a holistic and risk-based approach to digital transformation that balances the needs of governance, compliance and usability, and importantly aligns with the business priorities and personas. Governance and compliance is not a 'one size fits all' approach.

Any first thoughts on what being an MVP would mean for you professionally?

It is a privilege to become an MVP and join a group of passionate experts who actively share their knowledge and experience with the community. Being an MVP is an endorsement of my Microsoft 365 knowledge and skills that will help me increase my confidence and credibility in the industry.
I am looking forward to engaging more with other MVPs and the Microsoft product teams to help the future development of the technology. Finally, I hope I can inspire and support other women on their journey to become MVPs.
Who are MVPs?
Microsoft Most Valuable Professionals, or MVPs, are technology experts who passionately share their knowledge with the community. They are always on the \"bleeding edge\" and have an unstoppable urge to get their hands on new, exciting technologies. They have very deep knowledge of Microsoft products and services, while also being able to bring together diverse platforms, products and solutions, to solve real world problems. MVPs make up a global community of over 4,000 technical experts and community leaders across 90 countries/regions and are driven by their passion, community spirit, and quest for knowledge. Above all and in addition to their amazing technical abilities, MVPs are always willing to help others – that\'s what sets them apart. Read more here