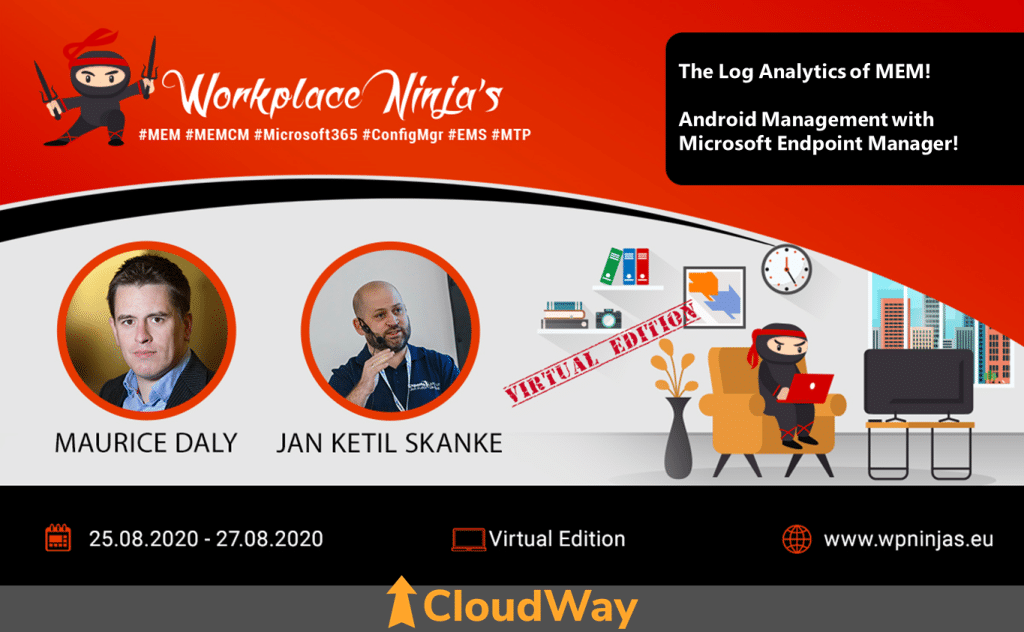 Workplace Ninja Virtual Edition 2020
Join our MVPs, Jan Ketil Skanke and Maurice Daly as they share their knowledge and experience on Microsoft Endpoint Manager. This is free three day event, make sure you register today!
The Log Analytics of MEM!
Are you moving some or all of your management workloads to Intune? Are you missing your good old configmgr logs? Then this is the session for you. Microsoft Endpoint Managers cloud reporting framework is based on Azure Log Analytics, and there is a whole new world of possibilities that has just come our way. We will look into how you can use log data to build automation, alerting and monitoring of your environment and incidents. With this you can audit all changes in changes in your environment and do automation based desired state configuration in the cloud. We will should how you can build your own workbook dashboard with the data YOU care about? What about combining data from both on-premises and the cloud and visualize it all in one place?
Android Management with Microsoft Endpoint Manager
Android is becoming quite a growth area for Microsoft Endpoint Manager. Android is after all the most widely used mobile platform in the world. In this session Peter will take you through your options for Android with Endpoint Manager and how you should and shouldn't be managing your devices.
The Workplace Ninja team consists of multiple people who like to share their knowledge for free.
In case you need assistance in a project or training, then you can reach out to us by using the contact form below to book consultancy over the employer of the respective expert. This page is not related to any company and everybody is welcomed to provide good and helpful content to the community. Read more