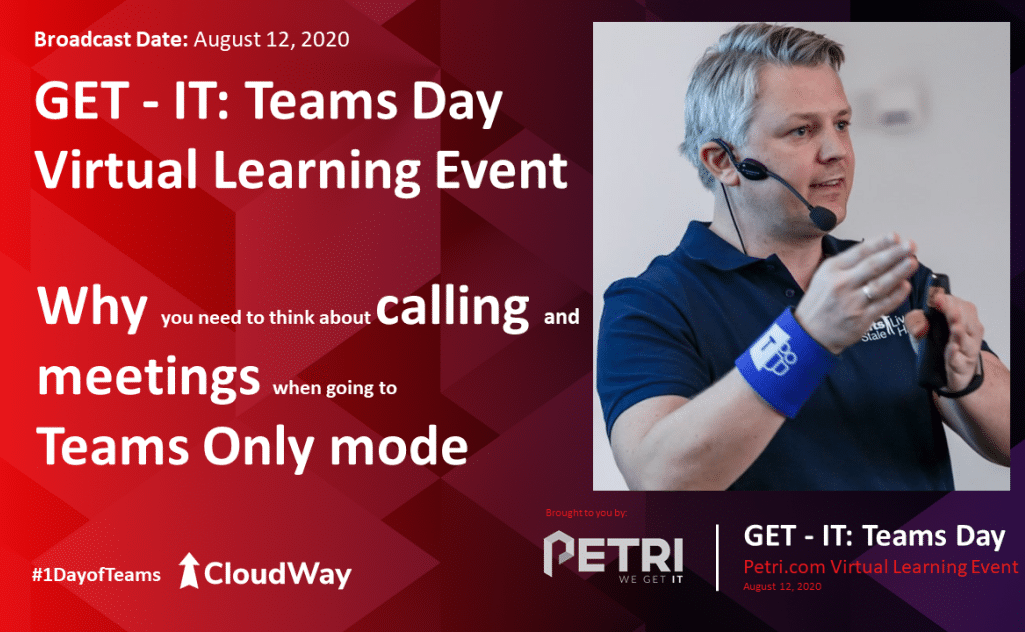 GET – IT: Teams Day
Our MVP, Ståle Hansen is joining Microsoft Teams industry experts Tony Redmond, Tom Arbuthnot, Tom Morgan and Steve Goodman on this full virtual day hosted by Petri, IT Knowledgebase. The day is free and will stream on August 12. The focus is the IT Pro approach to Teams. Add the event to your calendar today!
Why you need to think about calling and meetings when going to Teams Only mode
Most companies are thinking about how to get to Teams Only mode these days. This mode means that you are replacing Skype for Business functionality with Teams and calling, and meetings are core factors. This session will go through Teams capabilities, how they compare to Skype for Business. The session will end with how to plan for succeeding with call quality and how to verify using monitoring tools.
Key Takeaways:
– What is Teams Only Mode?
– Phone System explained
– Meetings are evolving
– Monitoring is confidence in quality
– Network is key
About the Petri IT Knowledgebase
The Petri IT Knowledgebase has served as one of the world's leading content and community resources for IT professionals and system administrators for more than 15 years. First launched by IT expert Daniel Petri in 1999, the Petri IT Knowledgebase has always been focused on serving the needs of IT professionals by providing information to help them solve problems, do their jobs more effectively, and to advance their careers.