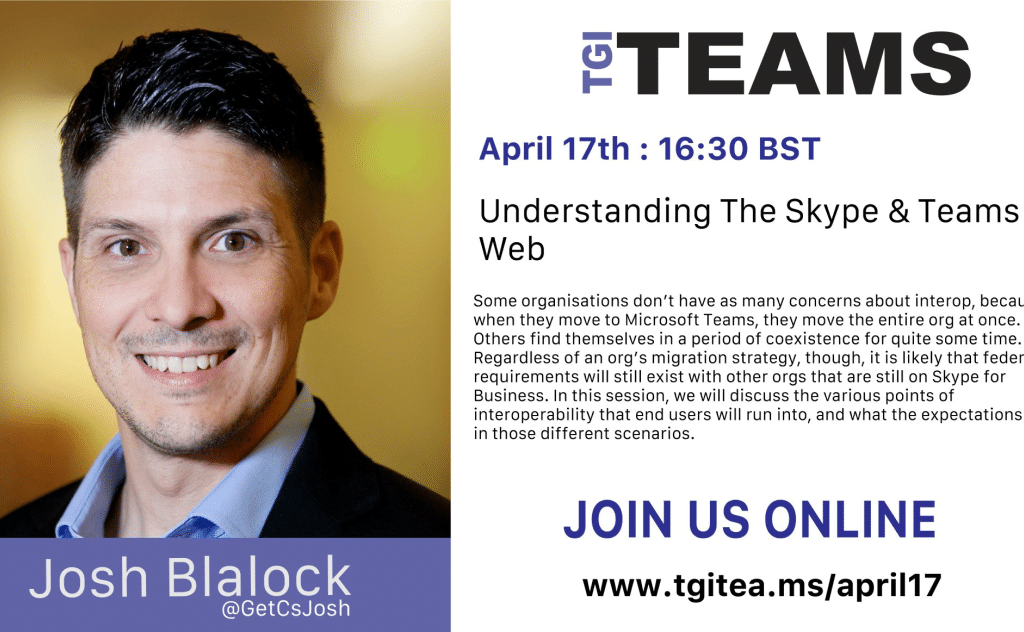 TGI Teams
17/04/2020 @ 17:30

-

18:30

CEST
Join our MVP, Josh Blalock for TGI Teams. This is a free virtual event, and you can even attend using your VR head gear if you have one, but it's not required.
Untangling The Skype & Teams Interop Web
Some organizations don't have as many concerns about interop, because when they move to Microsoft Teams, they move the entire org at once. Others find themselves in a period of coexistence for quite some time. Regardless of an org's migration strategy, though, it is likely that federation requirements will still exist with other orgs that are still on Skype for Business. In this session, we will discuss the various points of interoperability that end users will run into, and what the expectations are in those different scenarios.
About TGI Teams
GI Teams is a new virtual community set in an alternate reality that is accessible to everyone. Our meet-ups are hosted on a platform called AltSpace. AltSpace is an alternate reality platform that allows you join using both a PC with no special hardware or for the more seasoned VR expert using their VR head gear. TGI Teams is run as a collaborative project between the organizers of two independent Microsoft Teams Conferences, Comms vNext and Commsverse who have a wealth of experience in both the Microsoft Teams and building communities.