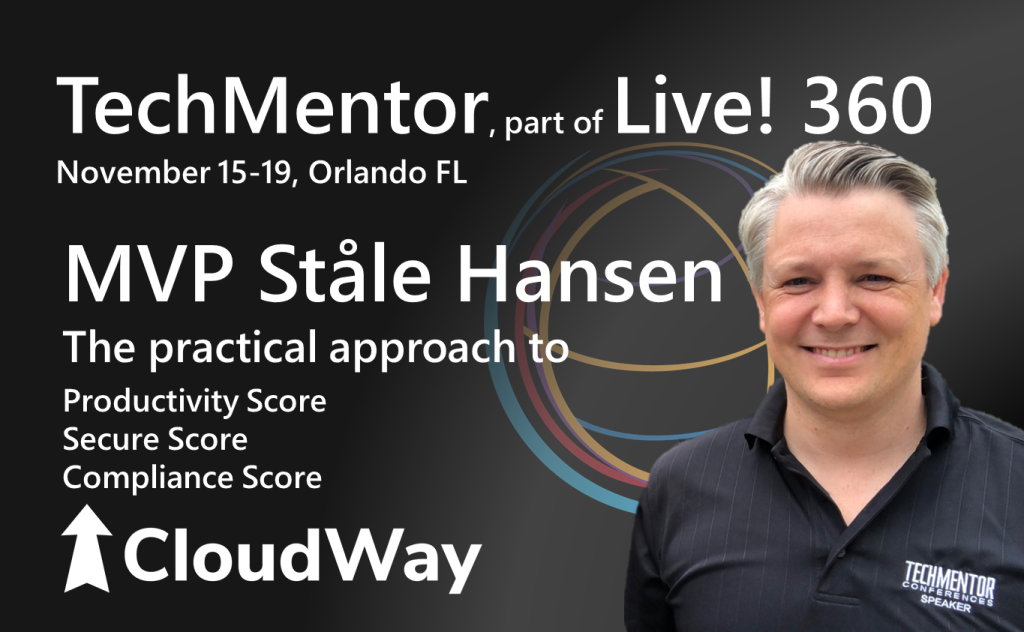 TechMentor, part of Live! 360
Our MVP, Ståle Hansen is invited to Orlando Florida to talk at TechMentor which is part of the Live! 360 conference. He will share his practical approach to the productivity, secure and compliance scores. He will even throw in how to run a process around the message center. If you are in to Microsoft 365 operations, make sure you attend his sessions. The event is in person, in Orlando Florida, sign up today!
TMW04 This is How You Drive Security and Compliance Process in Microsoft 365!
By using the actions in the Secure and Compliance score you can create an actionable prioritized overview of what is implemented. Even more useful is the ability to identify next features to validate and implement. Join this session to learn a proven process to identify actions, prioritize them and work on improving the tenant, not just in your current project, but for years to come. I see customers adopting this process gets more confident and structured when implementing new features. Best of all, everything is based on Secure Score and Compliance Score.
TMW08 How I Halted an Entire Teams Rollout by Using the Productivity Score
The modern way of measuring network quality issues for Teams is using connectivity.microsoft.com which is highlighted in the Productivity Score. This is how MVP Ståle Hansen identified that the customer was not cloud ready for their global Teams rollout. He has spent the last decade troubleshooting calling and meeting quality issues and is maintaining the calling and meetings chapter in the monthly updated book, Office 365 for IT Pros. Join him down the rabbit hole as explains how to ensure a great Teams experience.
What Is Live! 360?
LIVE! 360℠ is an event brought to you by the producers of Visual Studio Magazine, Application Development Trends, Redmond Magazine, Redmond Channel Partner Magazine, AWSInsider.net, Virtualization & Cloud Review and IoTDev360.com. Live! 360 brings together Visual Studio Live! and TechMentor, established and respected independent tech conferences, with these well-established niche industry events: SQL Server Live!, Artificial Intelligence Live! and Cloud & Containers Live! Read More