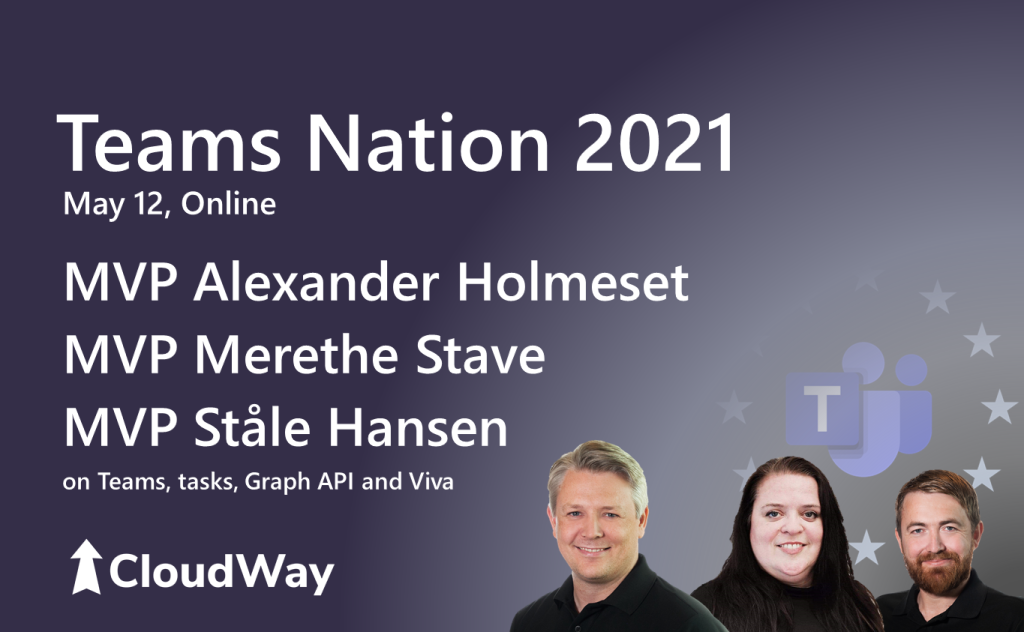 Join our MVPs, Alexander Holmeset, Merethe Stave and Ståle Hansen at the free online conference, Teams Nation. This is an international virtual event focusing solely on Microsoft Teams. The event has 9 tracks in English and 2 tracks other languages with 130+ Microsoft and Community Speakers and 115 sessions. You are guaranteed to learn something new so sign up today!
Sessions by CloudWay MVPs
Custom reporting of Microsoft Teams activity with Alexander Holmeset
Learn how to get meaningful and insightful data from your tenants Teams activity. We will look at what data you can get from your teams/channels and meetings. How can you gather and process this automatically?
Empower your people and your company with Microsoft Learning Pathway and Microsoft Viva with Merethe Stave
In these days with so much uncertainty and changing work environment, even when we're vaccinated and can go back to our offices, people have learnt and will expect more flexibility such as working from home and office. Are we prepared for a hybrid work environment? Do we have the skills to really collaborate and not "just" have online meetings? Are you as a company using this time to prepare your people and your company for a hybrid work environment? Are your people prepared and are they getting what they need to work efficiently and take care of their own health and that of their family and close ones?
The practical approach to tasks in Teams with Ståle Hansen
You know how to create and complete tasks. But do you really know how to succeed with tasks? Learn a practical approach to working with tasks in Teams and Microsoft 365 from MVP Ståle Hansen, he has been teaching his methodology for over 5 years. You WILL learn something new in this session and it might even change your life! Topics covered
– All the methods of capturing tasks in Teams
– Sorting and organizing tasks in Teams
– Breaking tasks and goals in to actionable steps
– Prioritizing and executing the most important task for you at that time
– Hacking the custom focusing status in Teams for deep work
About Teams Nation
Teams Nation Community Conference is a 100% community event. You can play a big part in its success by supporting it, posting on LinkedIn, or tweeting using #TeamsNation. Feel free to do this when you have registered. Read more here