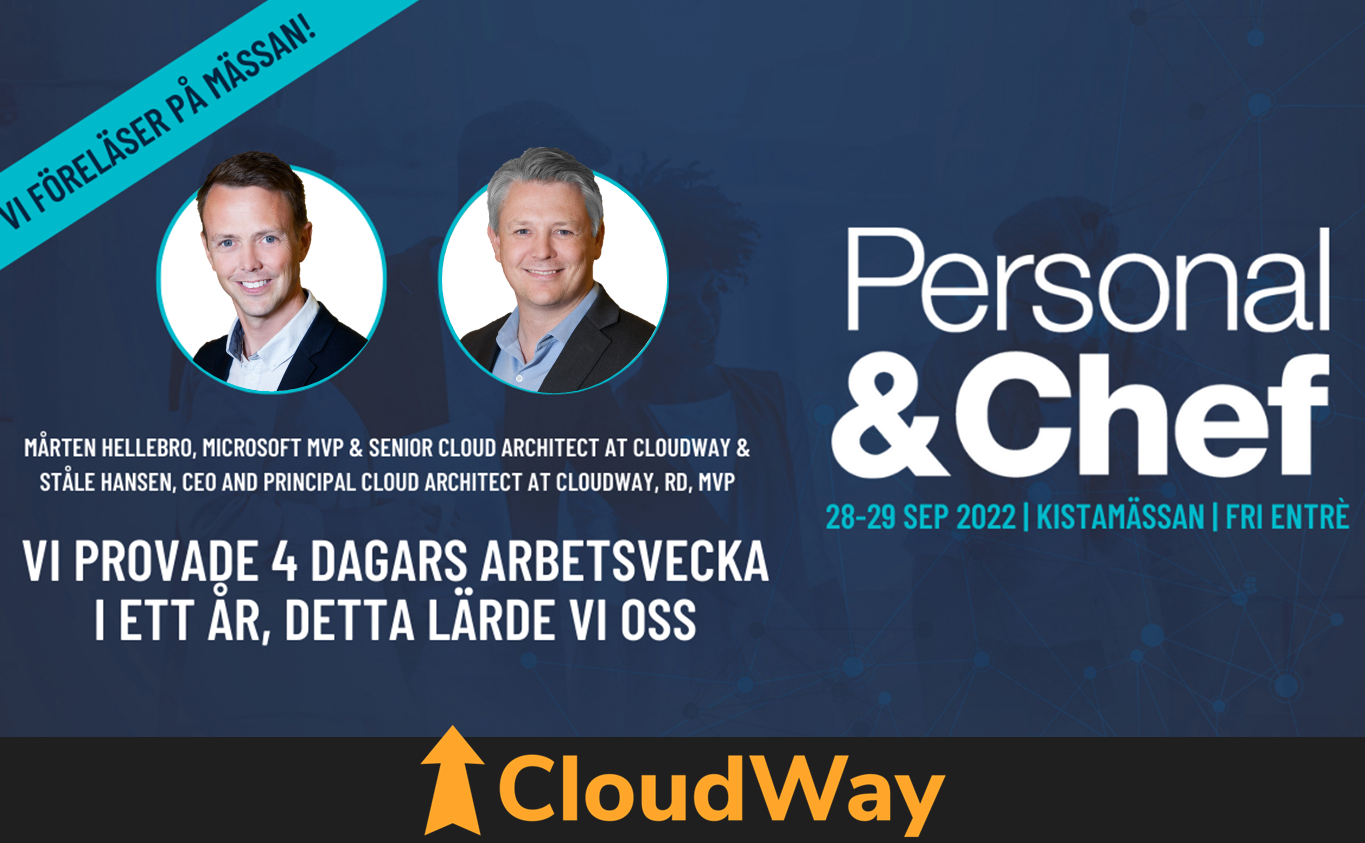 Our MVPs, Mårten Hellebro and Ståle Hansen, is invited to share CloudWay's lessons learned introducing a 4 day work with as NoMeetingsFriday. Throughout fall of 2021 and spring 2022, CloudWay has measured employee wellbeing through surveys and monitored the company results. They will share the tools used and most important of all, learnings and how they are moving forward. This is a session not to missed! The "Personal & Chef" conference is the biggest HR and leader conference in the Nordics and is free to attend. Schedule the days and sign up today!
Vi provade 4 dagars arbetsvecka i ett år, detta lärde vi oss
Lyssna på Ståle Hansen, CEO på CloudWay, som delar med sig av varför och hur de genomförde en 4 dagars arbetsvecka för hela företaget bestående av högpresterande personligheter. Mårten Hellebro, digital samarbetsspecialist på CloudWay, kommer också berätta om vilka justeringar som gjordes, vad detta faktiskt innebar i praktiken, vilka digitala hjälpmedel som användes och hur det mottogs av medarbetarna. Utan att avslöja för mycket så var försöket lyckat.
För att visa hur lyckat det var så delar de med sig av resultatet efter ett år av månatliga uppföljningar och blickar in i framtiden om hur 4 dagarsveckan kommer att utvecklas under 2023.
About the "Personal & Chef" conference
Personal & Chef är den kompletta mötesplatsen med syfte att stärka, utveckla och effektivisera chefer och ledare samt deras vardag. Det gör vi genom att samla leverantörer, trender och det senaste på marknaden inom ämne som bemanning och rekrytering, friskvård, kontorslösningar, utbildning, digitalt lärande, HR-system, personalförmåner samt företagstjänster. Den 1–2 december 2021 arrangeras mässan för 10:e gången. Les mer