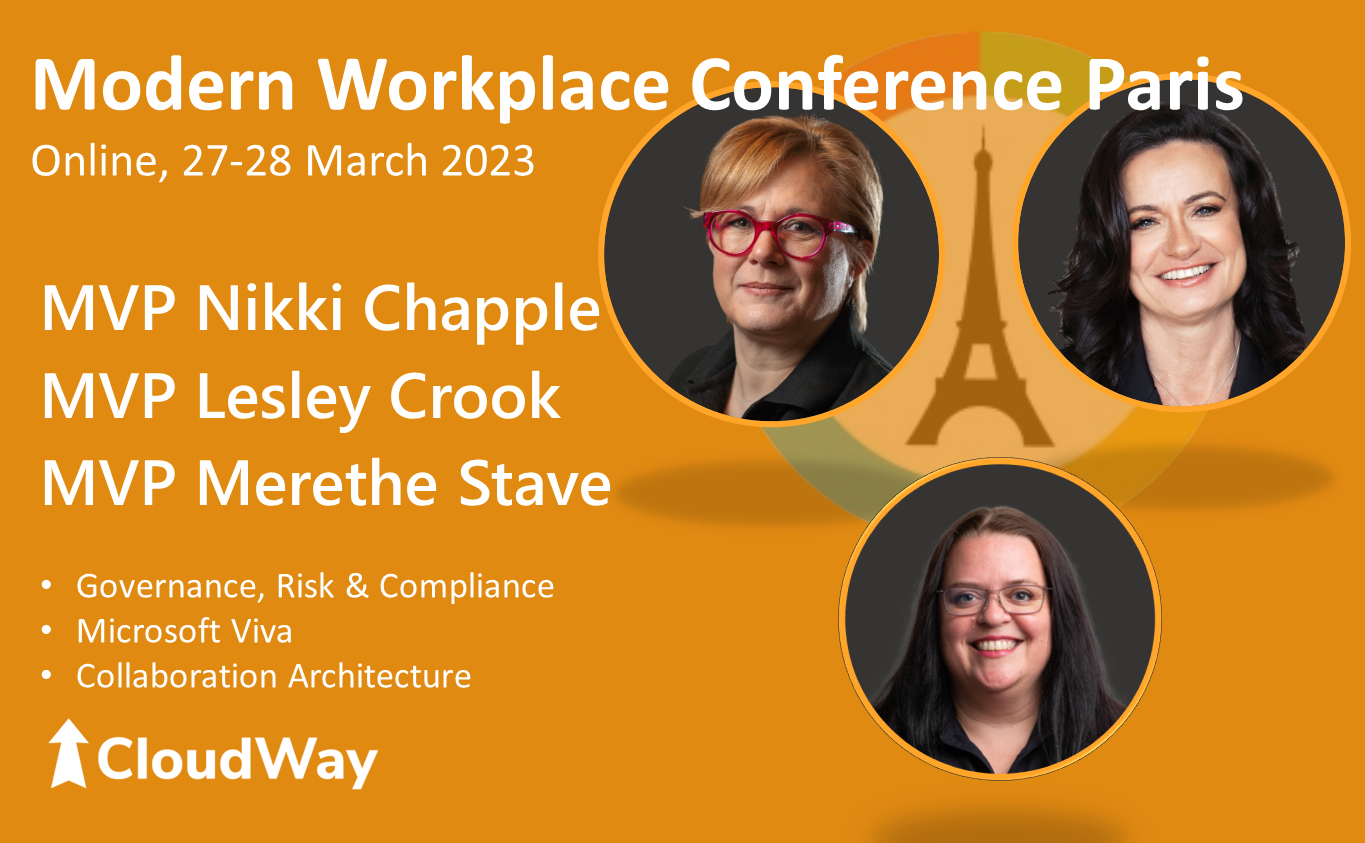 Modern Workplace Conference Paris
The Modern Workplace Conference Paris returns to Espace St Martin in the heart of Paris, 27-28 March, sharing expertise and knowledge with governance and adoption for Microsoft 365, Office 365, Microsoft Teams, SharePoint, Power Platform & Microsoft Viva.
Register for the online event here.
Join our MVPs Nikki Chapple, Lesley Crook & Merethe Stave at these sessions:
Nikki: Don't let Microsoft 365 Governance & Compliance be a roll of the dice.
No matter the size of your business, data protection, and compliance is critical:
+Data is exploding
+Data regulations are increasing around the world
+Everyone is at risk of a data breach
Yet data security and compliance can feel overwhelming. Let me show you how the Microsoft 365 Governance, Risk, and Compliance maturity model can help you reduce risk and improve compliance effectiveness by building a strategy for protecting and managing sensitive and business-critical data.
Lesley: Yammer is Engaged to Amplify Connections on Teams
Are you:
+New to Yammer/Viva Engage and want to launch a trusted social network?
+Has Yammer turned on but never planned, announced, or formally supported it and used it without governance or internal communications engagement?
+Have significant Yammer usage but unsure how to integrate Viva Engage and appreciate its benefits alongside Teams in the Viva Suite?
+Endeavouring to decommission Facebook Workplace, WhatsApp, or Slack and move to a fully integrated, secure, compliant, and governed application on Teams with nominal costs?
Communicators have excellent tools designed to simplify and elevate employee engagement. Discover Viva Engage, Viva Amplify, and Viva Connections, fully integrated modules on Microsoft Teams, the one-stop productivity shop with many features you already pay for but not consuming smartly.
Merethe: Uncomplicatify Collaboration Architecture
Most of us are experienced in one way or the other when it comes to collaborating in Microsoft Teams, SharePoint and more. However, we sometimes tend to over-complicate stuff, and running head over heals with these awesome tools, before considering what would be a good way of organizing them. In this session Merethe will guide you through the Microsoft 365 apps and tools seen in combination with Microsoft Viva.