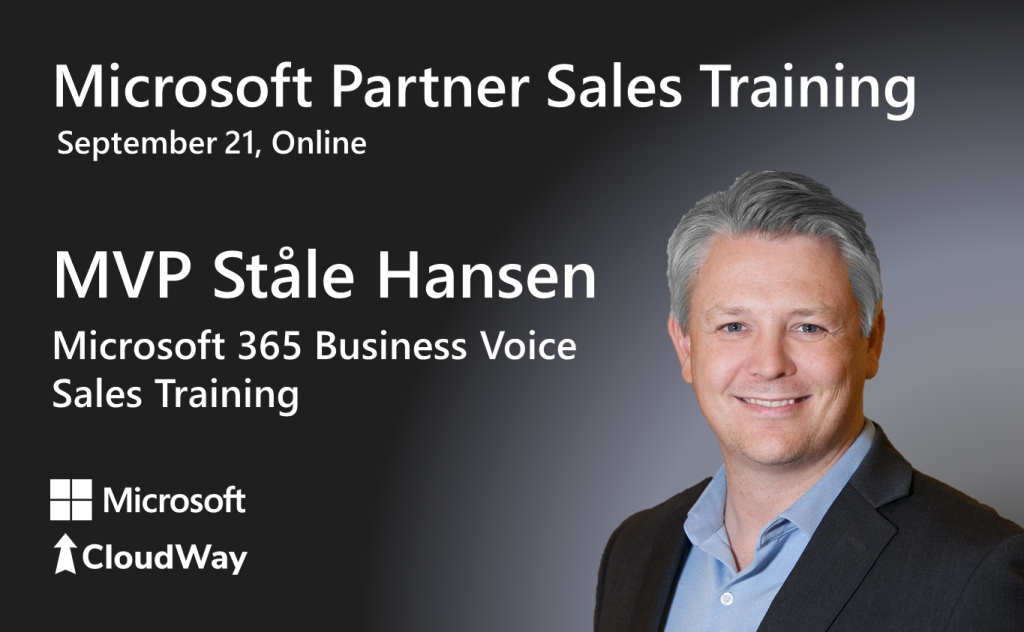 Microsoft Partner Training
21/09/2021 @ 09:00

-

16:00

CEST
Join our MVP, Ståle Hansen for this full day partner training hosted by Microsoft on the subject of selling Microsoft 365 Business Voice. Reserve your spot today!
#HybridWork is the new normal. The ability to bring your work number with you wherever you are is more important than ever. The biggest challenge we may have today though is context switching, that you need to go to your mobile to make a call can be enough to bring you out of your flow and event forget why picked up the phone because you start looking at your notifications. The Business Voce Add-on for Microsoft 365 Business Premium solves these challenges. Join this training to learn everything you need to know.
The training is delivered by MVP Ståle Hansen from CloudWay. He has more than 15 years of experience with calling in Microsoft products and is the author of the Managing Teams Calling and Devices chapter in the monthly updated book Office 365 for IT Pros.
Microsoft 365 Business Voice Sales Training
– Introduction to the value proposition for Microsoft 365 Business Voice
– Details of Business Voice pricing plans
– Discuss the partner opportunity for Microsoft 365 Business Voice
– How to develop a calling and meetings practice
– Demo and Q&A, which features calling features are available in the platform
About Microsoft Partner Training
These full day training sessions are hosted by Microsoft and are aimed at SMB partners in the Norwegian market.