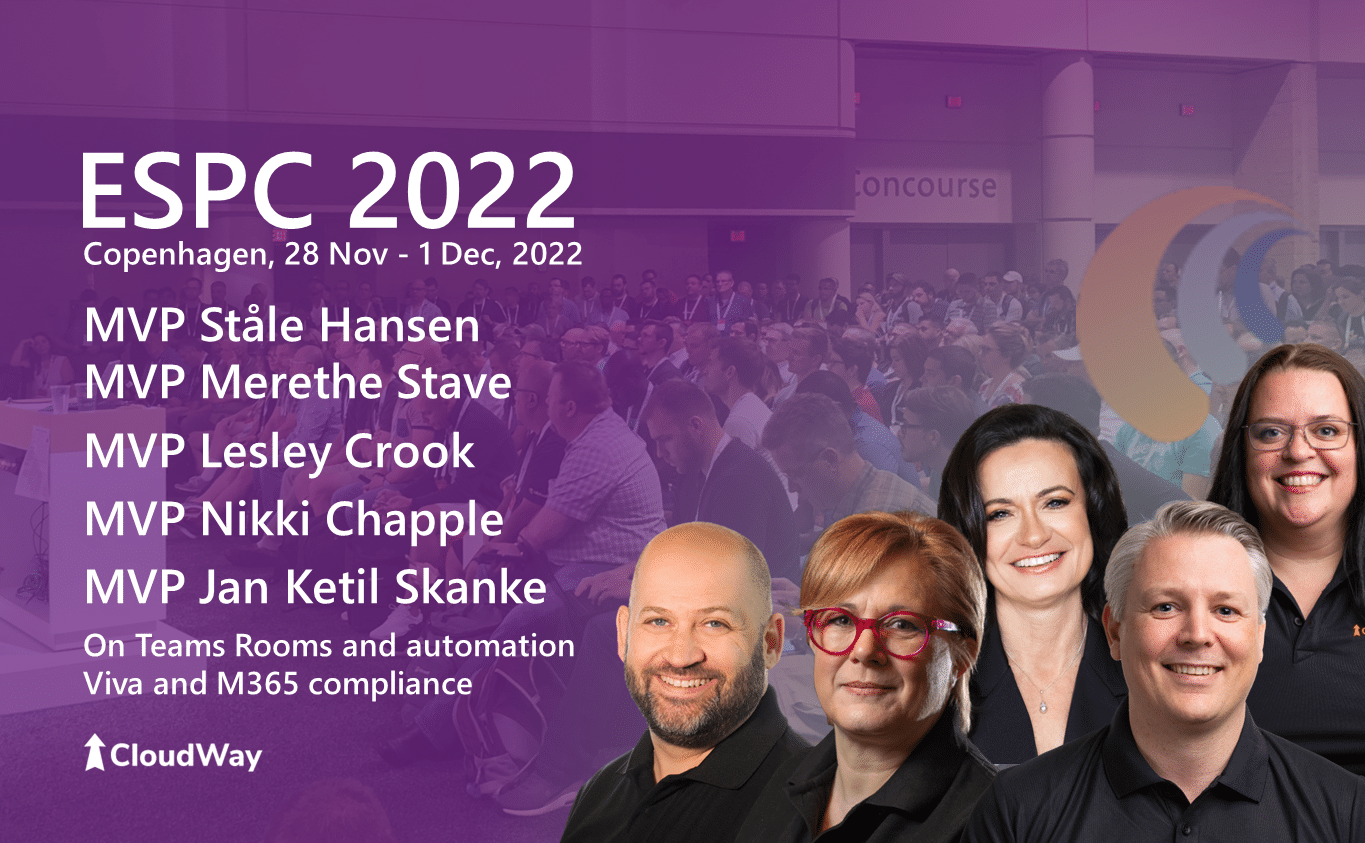 Join our MVPs, Jan Ketil Skanke, Lesley Crook, Merethe Stave, Nikki Chapple and Ståle Hansen at ESPC22. This is one of the biggest Microsoft conferences in Europe in 2022, make sure you reserve time in your calendar and register for the event. It is just in time for the famous Christmas markets in Copenhagen. Our 5 MVPs will cover topics on Teams Rooms deployment, how to get started with Viva in sessions and in panels and M365 compliance through governance. Merethe is content chair lead and as speaker she will talk about simplifying the collaboration architecture in your organization. You can book your ticket here.
Deploy and Manage Teams Meeting Rooms at Scale with Jan Ketil and Ståle
The workplace of the future will be hybrid. To ensure people working remotely can fully participate in team collaboration and meetings, workspaces in the office will need technology like MS Teams Rooms to help bridge the gap.
MVPs Jan Ketil Skanke and Ståle Hansen will share how they approached a global Teams Rooms deployment for a larger global organization adding Teams Rooms to around 1000 rooms. Learn how to do mass deployment, management and monitoring of the meeting rooms using ConfigMgr, Intune and Azure Monitor together with the Teams Admin center.
Benefits of Attending this Session:
– Learn how to do mass deployment of Teams Meeting Rooms on Windows
– Learn management and monitoring of the meeting rooms
– Learn about network placement and account configuration.
The Viva Explorers Panel Discussion with Lesley
Join the Viva Explorers – a bunch of intrepid MVPs and community members with a passion for improving your employee experience, and love for silly props! This will be a lively and spirited discussion of all things Microsoft Viva – we'll share our favourite features as well as the features that we'd love to appear on the roadmap.
We'll share the business benefits of Viva, each bringing the benefit of our own experience of implementing across different types of organisations, and we'll share the impact that we've seen. We may also venture into the murky waters of licensing, with a look at the seeded vs premium features.
And lastly – the Viva Explorers will answer questions from the audience! This is not to be missed.
Benefits of Attending this Session:
– Enjoy a fun and spirited discussion about employee experience
– Tailor governance policies based on business needs
– Automate governance enforcement
9 Conversation Starters for Microsoft Viva with Ståle and Lesley
Are you wrapping your head around Microsoft Viva?
Join this session with MVPs Ståle Hansen and Lesley Crook and learn their unique practical approach to the scenarios Viva solves. In addition, they have found 9 conversation starters with practical Viva examples that you can get back to your team.
Do you struggle to get your team excited about Microsoft Viva? MVP & RD, Ståle Hansen has found the practical approach to the scenarios where Viva is most valuable. "It's a tool we can use to achieve goals, but we need to know what those goals are" he comments.
These 9 conversation starters help put Viva in context.
Empathic leadership in the 2020s
– Adoption vNext, are you missing out?
– Get on top of skilling
– The hybrid paradox
– The great reshuffle
– Are you reserving time for deep work and learning to avoid burnout?
– Do you practice Digital Wellbeing to avoid burnout?
– I want my team to stay on target
– I want to engage my Frontline Workers
Benefits of Attending this Session:
– Learn how to start the Viva conversation
– Identify scenarios in your organization where Viva can be used
– Understand when to use which Viva module and where it best fits in your organization
Automate Phone Number Management in Microsoft Teams with Ståle
Managing phone numbers for users when using Direct Routing, the new Operator connect or event through Calling Plans? MVP Ståle Hansen is the co-author of the book Office 365 for IT Pros where he writes the calling devices chapter, and he got you covered.
Learn his routine for automating numbers, identifying Gold, Silver and Bronze numbers and even reserving single numbers for re-use.
What you will learn:
– Teams Admin center options
– How to automate finding available numbers for new users
– How to reserve numbers for future use
– Assign and troubleshoot phone numbers for users
Benefits of Attending this Session:
– Understand how to view and assign available numbers
– How to programmatically assign and troubleshoot numbers for users
– How to automate number assignment using PowerShell
Don't let Microsoft 365 Governance and Compliance be a roll of the dice with Nikki
Can you afford not to be compliant?
– Data is exploding
– Data regulations are increasing around the world
– Protecting information is critical.
Let me show you how the Microsoft 365 Governance, Risk, and Compliance maturity model can help you reduce risk and improve compliance effectiveness by building a strategy for protecting and managing sensitive and business critical data?
Benefits of Attending this Session:
– How to discover and manage your risks using the maturity model
– Who are the stakeholders needed in your compliance journey
– Governance, risk and compliance is not a project it is a lifestyle
Uncomplicatify Collaboration Architecture with Merethe
Most of us are experienced in one way or the other when it comes to collaborating in Microsoft Teams, SharePoint and more. However, we sometimes tends to over-complicate stuff, and running head over heals with these awesome tools, before considering what would be a good way of organizing them.
In this session Merethe will guide you through:
– The Microsoft 365 apps and tools seen in combination with Microsoft Viva:
– What to use when and why
– What to think of when either implementing Microsoft 365 and Microsoft Viva, or making or structuring a project collaboration space, or a solution for publish information across your organization.
Each product and app is amazing in itself. Still, it is when combining the right set of products and apps you can truly experience magic!
About ESPC
The European SharePoint, Office 365 and Azure Conference is part of QualTech Conferences and is based in Galway, Ireland. QualTech has 18 years of experience in organising leading European IT conferences. The European SharePoint, Office 365 and Azure Conference team works year-round, dedicated not only to organising a fantastic Conference – but also supporting the generation of a strong, dynamic & engaged SharePoint, Office 365 & Azure Community throughout the European Region. Read more.
Venue
Bella Center

Center Boulevard 5




Copenhagen

,

2300

Denmark

+ Google Map