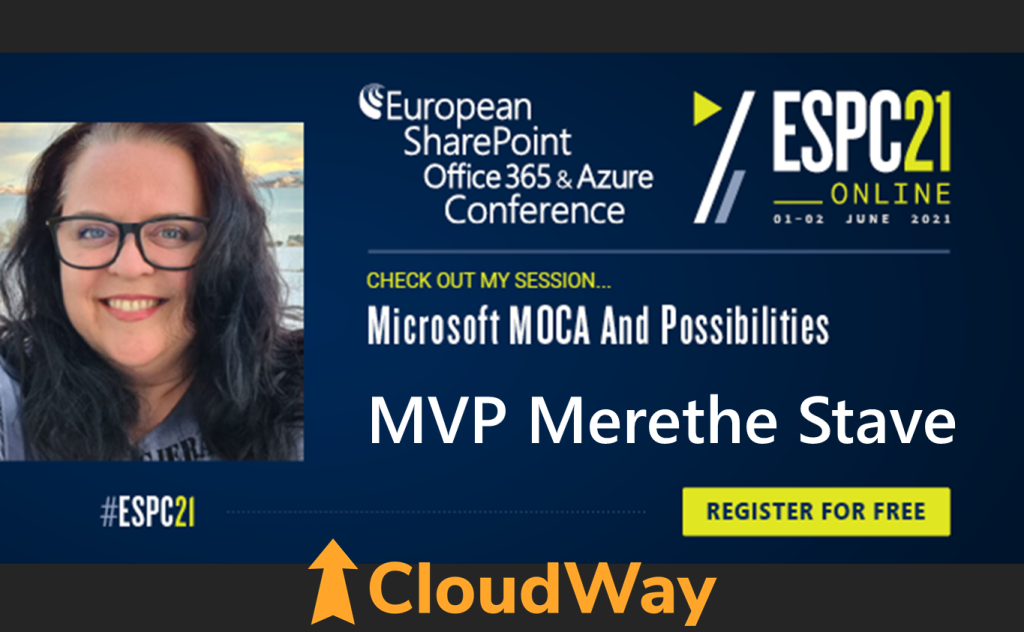 The Modern Collaboration Architecture (MOCA) is Microsoft's response to when use what in Microsoft 365. Catch our MVP, Merethe Stave as se shares her best practices for possibilities in utilizing the Microsoft 365 platform. She is also part of the hybrid work panel discussion and even gets interviewed by Tracy van der Schyff during the event! ESPC is free and online this year. Don't miss the opportunity for some quality learning, sign up today!
Microsoft MOCA and Possibilities
In this session Merethe will guide you through:
– How to organize and get control of information, communication and content flow
– What to think about when restructuring your work into the Microsoft 365 platform
– How to combine apps – out of the box – such as SharePoint lists and libraries, Microsoft Teams, OneNote and Planner
– Look at the differences between OneDrive and different types of SharePoint
– Have a look at MOCA – Microsoft Modern Collaboration Architecture and when to use which apps and why.
Benefits of Attending this Session:
– See the possibilities in utilizing the Microsoft 365 platform
– See how MOCA – Modern Collaboration Architecture relates to structuring of collaboration solutions
– Get some real-life examples and good practice to bring back to your workday
Panel Discussion – Hybrid Work and Teams
Hear the latest thoughts from our panelists Christian Buckley, Eric Overfield, John P White and Merethe Stave on what the future holds for Hybrid work and Microsoft Teams or as some are calling it, the UI of Office 365 – and what this future may look like for everyone in the organisation. It makes for a lively discussion – be sure to tune in.
About ESPC21 Online
With 30+ Microsoft sessions covering Microsoft Viva, Microsoft Teams, Microsoft Search, SharePoint, Power Platform and more confirmed for ESPC21 Online, featuring the incredible Microsoft Product Teams and inspiring Microsoft Corporate leaders. All sessions will feature Live Q&A with speakers or product team members. Prepare your questions to learn directly from the people behind the products. Read More