Join our MVPs, Alexander Holmeset, Merethe Stave and Ståle Hansen, in what may be the first in-person Teams conference in 2021! There you will find good discussions, interesting topics and the chance to mingle with likeminded people. Our MVPs will talk about Teams automation, Viva Learn and how to save time and automate phone number management in Teams. Make sure you register today, you can even sign up for the free hybrid version for free!
Watch their interviews
Attend their sessions
What can be automated to ease your day as a Microsoft Teams administrator? with Alexander Holmeset
We will go through and see what tasks we can automate and what tools to use. How should teams be provisioned? Should memberships be automated? What about a pre-defined project team with a channel/folder structure? In this session, we will take a look at PowerShell, Graph API, PowerAutomate/LogicApps and Azure Automation to automate your day-to-day Teams administration. This session will take a look at the different community tools/scripts out there, so no need to be a proficient scripter, as long as you understand what it does.
Advanced custom reporting of Microsoft Teams activity with Alexander Holmeset
In this session, Alexander will show you how to use PowerShell, Graph API, AzureAutomation, and PowerAutomate/LogicApps to create an advanced and fully automated gathering of in-dept data of your Microsoft Teams environment. This data can be either used as an assessment of adoption for management to read or as a status of the health of your environment. Wouldnt it for example be interesting to see how the number of internal emails is affected after the rollout of Teams in your organization?  We will take a look at how to store all this data for comparison year after year, even the built-in reports from Microsoft that are usually only available for 90-180 days. Examples of how the data can be presented in Power BI will also be given. This is deeply technical, but could also be useful for decision-makers to see what data is available.
Empower your people and your company with Microsoft Learning Pathway and Microsoft Viva with Merethe Stave
In these days with so much uncertainty and changing work environment, even when we're vaccinated and can go back to our offices, people have learnt and will expect more flexibility such as working from home and office. Are we prepared for a hybrid work environment? Do we have the skills to really collaborate and not "just" have online meetings? Are you as a company using this time to prepare your people and your company for a hybrid work environment? Are your people prepared and are they getting what they need to work efficiently and take care of their own health and that of their family and close ones? In this session Merethe will guide you through how to:
– See and use technology possibilities in the Microsoft 365 platform
– Prepare for a hybrid work environment, what should you think about and who should you involve in the preparation process
– Evolve management; empower your people and your company by building a culture and up the digital literacy level in your company
Automate Phone number management in Microsoft Teams with Ståle Hansen
Managing phone numbers for users when using Direct Routing, the new Operator connect or event through Calling Plans? MVP Ståle Hansen got you covered. Learn his routine for automating numbers, identifying Gold, Silver and Bronze numbers and even reserving single numbers for re-use. What you will learn
– How to automate finding available numbers for new users
– How to reserve numbers for future use
– Assign and troubleshoot phone numbers for users
Check out the PDF booklet where our MVP & RD Ståle Hansen is featured on the front page, via LinkedIn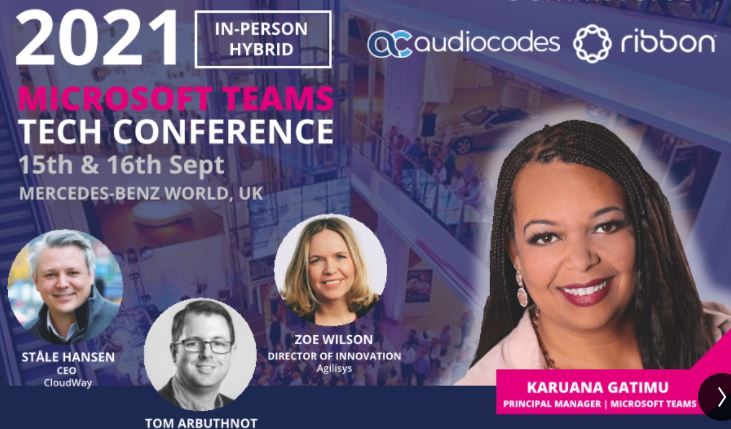 About this event
Commsverse was founded by a small group of Microsoft Teams Community members, Mark Vale, Randy Chapman & Martin Boam. We spend our work days helping businesses deploy and adopt Microsoft 365 products and in-particular, Microsoft Teams. Read More.