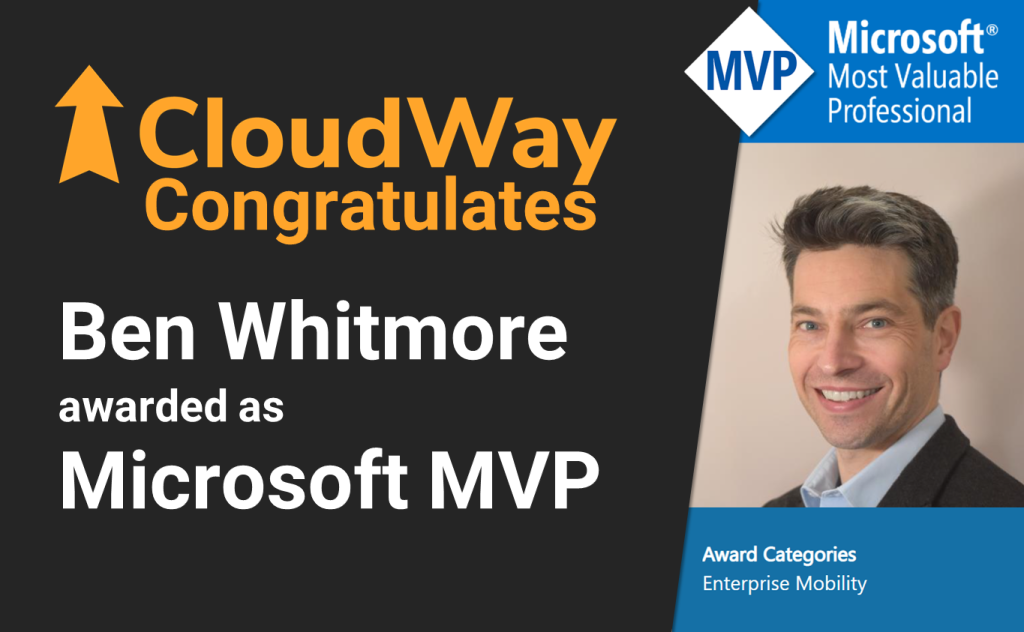 We are proud to be able to congratulate Ben Whitmore as Enterprise Mobility MVP! Through passion and enabling people to understand Microsoft technology better as a blogger, toolmaker and as public speaker he has been recognized as an MVP. Read more about Ben and his community activities here. At the time of writing, all CloudWay employees are MVPs and we are very proud of creating a work environment for passionate individuals who love to share their knowledge and encourage others to do so. Read about our latest effort in our ongoing Digital Wellbeing program, the 4-day work week.
We asked him three questions on becoming an MVP
What has motivated you to put in the effort required to be an MVP?

Back in 2018 I attended a WMUG user group at the Microsoft Reactor in London hosted by MVPs Robert Marshall and Peter Egerton. It was one of the first few user groups I had attended in person. The atmosphere, camaraderie, presentations and knowledge sharing was amazing. This really sparked my interest in working with like minded people within the community. The following year I was given the opportunity to present a session on co-management with my good friend Leon Ashton-Leatherland – what a buzz! I could see immense value in sharing knowledge with others and I was really starting to focus on endpoint management. The transition from on-premises to Cloud was really taking off and I wanted to be part of that journey and helping others along the way.

What has been the most important for you in this journey?

I love spending my time and energy with others who are just as passionate about technology as I am. The technology is one aspect but for me it is about the user experience. How can I help influence technology decisions while showing others that change doesn\'t have to equal fear. Often a simple and effective solution seen by the customer requires a lot of work \'under the hood\' – this is where my skill set was putting me. Seeing the positive impact technology change had for end users was my biggest driving force and remains my biggest priority – \"How will people benefit from this\" is always my first question.

Any first thoughts on what being an MVP would mean for you professionally?

The MVP award is unique. Yes there is measurement on technical ability in some categories but my over whelming feeling is that \"its all about the community\". My hope is that it will show many people that we work together better together, as a community. The award gives me the courage to believe in my ability and I can use this platform to encourage others to believe in theirs too. The opportunity to help influence conversations with peers and product groups based on what I hear in the community is invaluable.
Who are MVPs?
Microsoft Most Valuable Professionals, or MVPs, are technology experts who passionately share their knowledge with the community. They are always on the "bleeding edge" and have an unstoppable urge to get their hands on new, exciting technologies. They have very deep knowledge of Microsoft products and services, while also being able to bring together diverse platforms, products and solutions, to solve real world problems. MVPs make up a global community of over 4,000 technical experts and community leaders across 90 countries/regions and are driven by their passion, community spirit, and quest for knowledge. Above all and in addition to their amazing technical abilities, MVPs are always willing to help others – that's what sets them apart. Read more here