Mastering Microsoft Teams:
End User Guide to Practical Usage, Collaboration, and Governance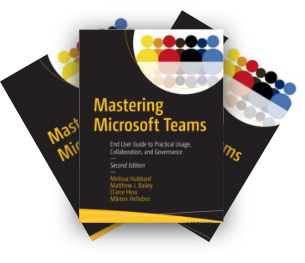 by
Melissa Hubbard
(Author),
Matthew J. Bailey
(Author),
D'arce Hess
(Author),
Mårten Hellebro
(Author)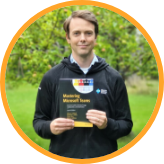 Of course, it's a challenge to write a book about a product that's evolving as quickly as Microsoft Teams does. Our focus has been on how to work effectively and efficiently in Teams and building a culture around collaboration. I hope you enjoy the book. 

Mårten Hellebro,
Senior Cloud Architect and Author
Do you need to learn how to use Microsoft Teams? Are you questioning how to drive user adoption, govern content, and manage access for your Teams deployment? Either way, this second edition is your one-stop-shop to learning everything you need to know to find success with Microsoft Teams.
Microsoft's popular chat-based collaboration software has many rich features that enable teams to be more efficient, and save valuable time and resources. However, as with all software, there is a learning curve and pitfalls that should be avoided.
Begin by learning the core components and use cases for Teams. From there, the authors guide you through ideas to create governance and adoption plans that make sense for your organization or customer. Wrap up with an understanding of features and services in progress, and a road map to the future of the product.
What You Will Learn
– Implement, use, and manage Microsoft Teams
– Understand how Teams drives productivity and engagement by combining the functionality of Microsoft Groups, SharePoint, OneDrive, Outlook, and other services in one location
– Govern, explain, and use Teams in your organization
– Use Teams in a structured way to reduce users' time spent in meetings
– Know the pitfalls to avoid that may create challenges in your usage of Teams
– Become familiar with the functionality and components of Teams via walk-throughs, including opportunities for automating business processes in Teams
– See how educators and students can use Teams to improve remote learning Viva