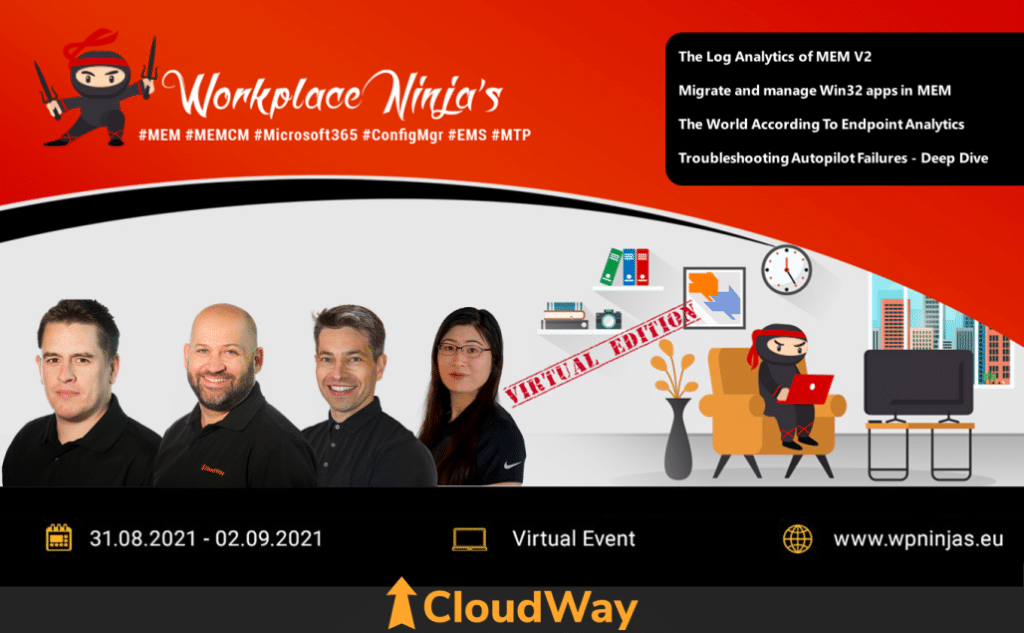 Workplace Ninja Virtual Edition 2021
Join our Endpoint Manager team at Workplace Ninja Virtual Edition 2021! This free virtual event covers topics around management of endpoints with configuration manager and Intune, as well virtual desktops and the complete security stack of Microsoft. This is the event to attend if you work in this space and learn from our MVPs and subject matter experts. Register today!
Sessions
The World According To Endpoint Analytics with Jan Ketil Skanke and Maurice Daly
Endpoint analytics brings valuable information from your endpoints, direct to you the Endpoint admin. Understand about why your devices are being powered down, the performance deltas between different builds of Windows 10, and most cool of all, using Proactive Remediation's to script your own solutions to gather information, apply fixes, and more.
Migrate and manage Win32 apps in MEM with Ben Whitmore
If you are contemplating co-management in your environment or perhaps moving the client apps workload to Intune then this session is for you. We will show you how to migrate your existing applications from ConfigMgr to Intune using Microsoft and community tools.
But what happens once you've have migrated all your applications to Intune, what about management and packaging? What options are available? Should we continue to use the portal experience or can it be automated? In this session, we'll answer those questions and demo solutions developed by the community to help automate as much as possible in regard to application management with Intune.
Troubleshooting Autopilot Failures – Deep Dive with Maurice Daly
Windows Autopilot provides a great solution for provisioning todays in a modern way, but what happens when things go wrong? In this session we will do a deep dive into the what and where to look when your autopilot deployments fail, all of which of course based on real world experience deploying machines at mass.
Reporting and Log Analytics of MEM V2 with Jan Ketil Skanke and Sandy Zeng
Have you been moving some or all of your management workloads to Intune? Are you missing your good old configmgr logs? Then this is the session for you. Microsoft Endpoint Managers reporting framework is based on Azure Log Analytics among other thing, and there is a whole new world of possibilities that has just come our way.
We will look into how you can use the new reporting framework in Intune together with Log Analytics and how to build automation, alerting and monitoring of your environment and incidents With this you can audit all changes in changes in your environment and do automation based desired state configuration in the cloud. We will should how you can gather your own custom data, build your own workbook dashboards with the data YOU care about.
About Workplace Ninja
Their goal is to bring the crowd of workplace management ninjas together to share their knowledge, learn together. Read more here