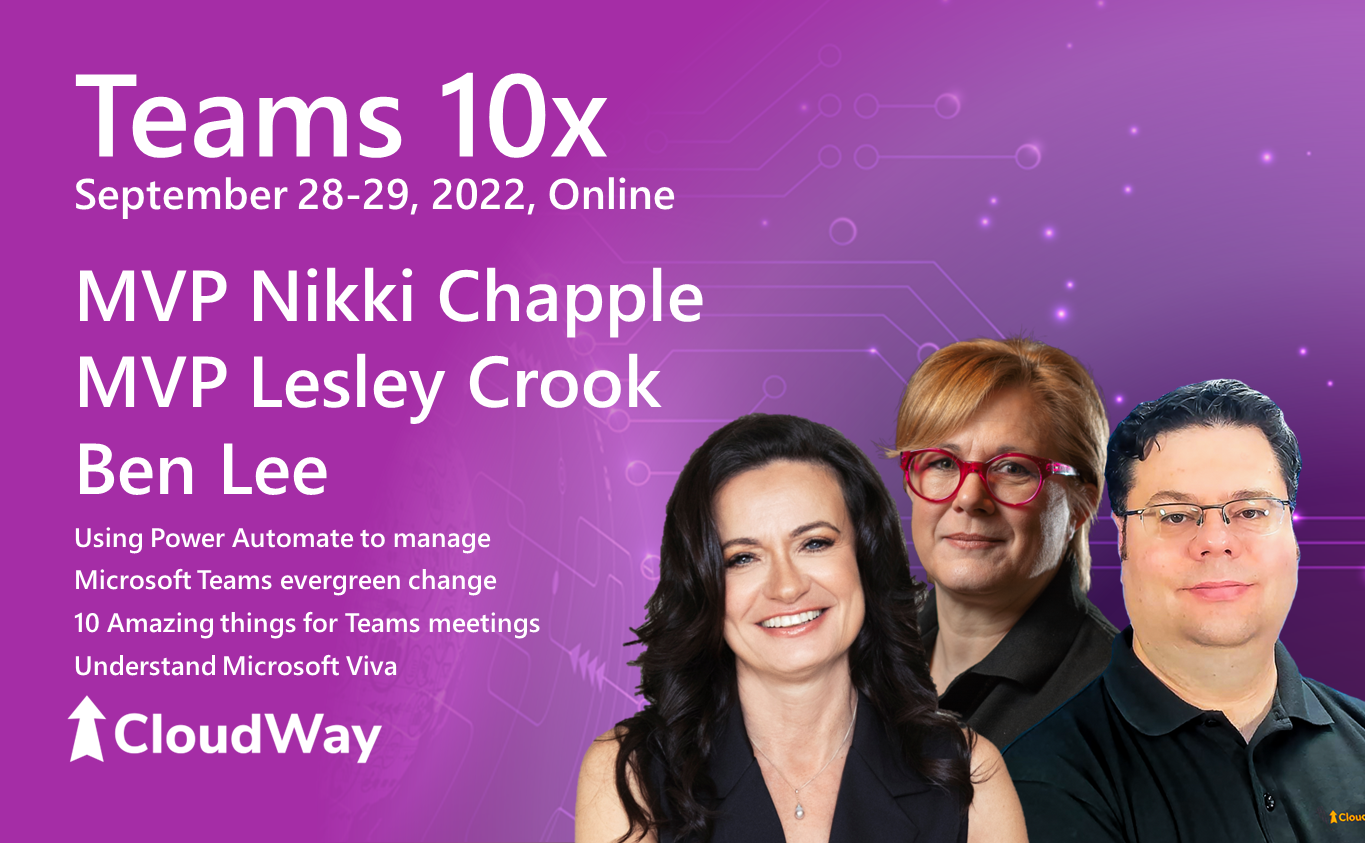 Our MVPs, Nikki Chapple and Lesley Crook is joined by Teams specialist, Ben Lee at the free online event, Teams 10x. Nikki will talk about how to tackle the challenges of staying up to date on Microsoft Teams news, features and updates. Ben will walk you through 10 awesome features in Teams meetings you need to pay attention to. Lesley will talk about understanding Viva through the Rubik's cube The Teams 10x online event is a free online conference, make sure you register and reserve the time today!
Using Power Automate to manage Microsoft Teams evergreen change with MVP Nikki Chapple
Keeping up to date with the hundreds of changes in Microsoft 365 and Teams can be hard especially when multiple stakeholders are involved.
This session will demonstrate how you can use use Power Automate to enhance the standard Microsoft 365 Message Center sync to Planner. See how Power Automate can save you time by automatically:
1. Adding labels to categorize the changes
2. Assigning tasks to groups of users
3. Add standard checklists to allow you to quickly view progress
4. Notify stakeholders of up coming changes
5. Why multiple Planner Boards are not possible
10 Amazing things you can do in a Teams meeting with Ben Lee
Everyone who uses Teams is likely to be somewhat familiar with Teams meetings. However, most people are unaware that Teams is overflowing with clever meeting-related functionality. For example, did you know you can host webinar-style meetings with pre-registration requirements? Or how about automatically recording important meetings as soon as they start so you don't miss anything? Or perhaps quickly making yourself follow-up tasks right inside the meeting, simplifying the post-meeting process?
This non-technical session will look at 10 amazing things you can do with your Teams meeting to supercharge your experience and spend more time getting good stuff done.
Turn Rubik's Cube into Microsoft Viva! with MVP Lesley Crook
In the 1980s, Rubik's Cube won a slew of awards for best toy and became a craze for all ages worldwide. We looked back in time to see why it was so popular and found by turning the cube we reimagined a neat business benefits metaphor for Viva; with cross solution integrations and a hub for collaboration and productivity. Join this session to discover the smart M365 features you have in the palm of your hand but not consuming! Also includes how to operate Viva with the most appropriate job roles and competencies. And, tips for IC on a variety of end user Viva adoption campaigns.
About Teams 10x
This 2-day event is designed to help you Maximize Your Productivity and Return on Investment using Microsoft Teams to improve how your team collaborates and conducts business. I want to share with you the transformation that we'll create for your business with Microsoft Teams. Read more
Details
Start:

28/09/2022

End:

29/09/2022

Event Categories:

Website:
Organizer
Teams Day Online