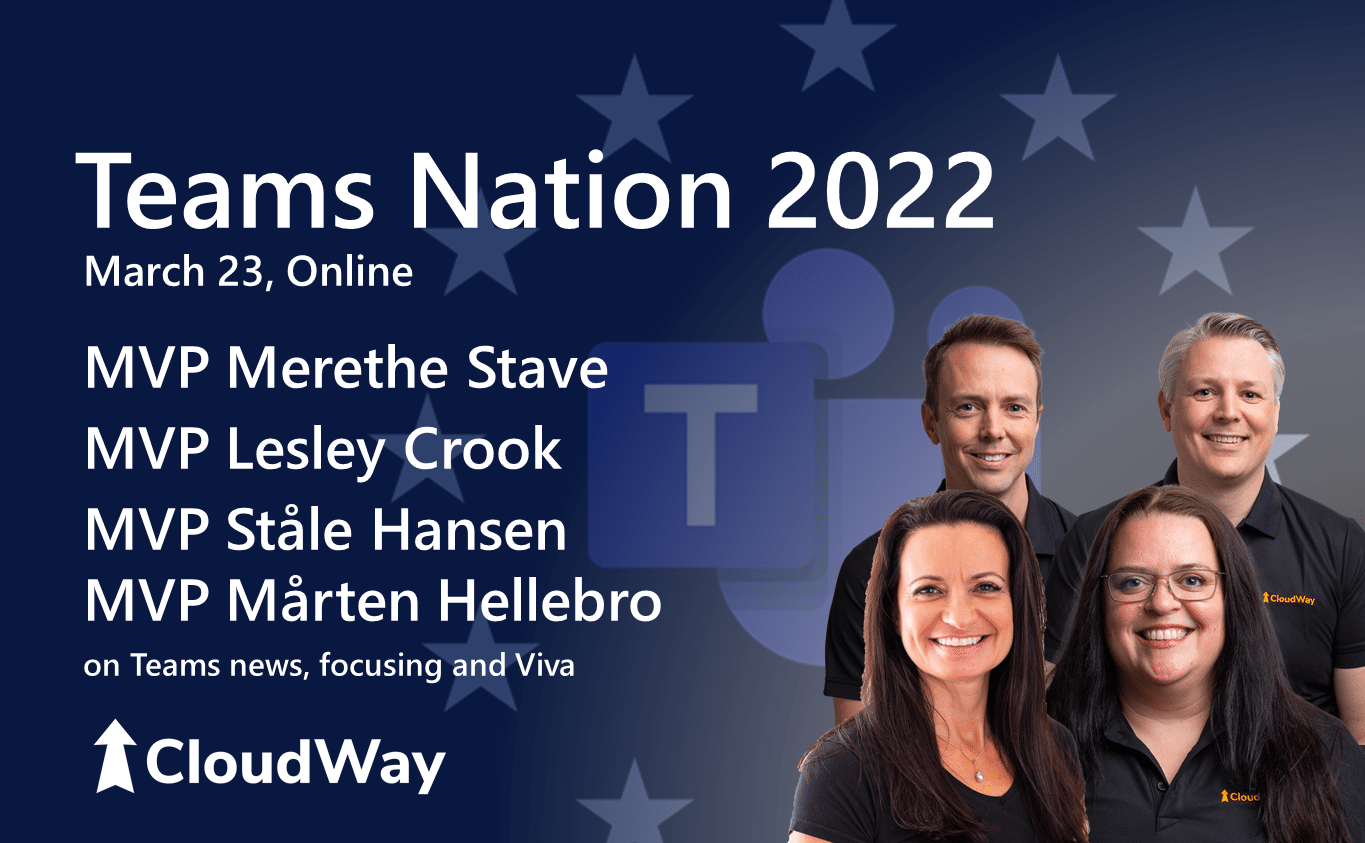 Join our MVPs Mårten Hellebro, Lesley Crook, Merethe Stave and Ståle Hansen at Teams Nation. This is a 100% Free, 100% Community driven online conference with 13 Tracks, 140 sessions and 170 speakers. Topics are Microsoft Teams, Power Platform and Metaverse. You should absolutely join this conference and take your Teams knowledge to the next level. Our MVPs will talk about Teams news, harnessing the focusing status and Microsoft Viva.
The latest and greatest of Microsoft Teams with MVP Mårten Hellebro
Do you have a hard time keeping track of the never-ending news coming to Microsoft Teams? So do we, but we do our best to stay updated and on track!
Join the group behind Swedish Microsoft Teams conference Teamsdagen talk about the latest and greatest. Listen to MVP:s Linus, Mårten & Amanda and Theodora from Microsoft discuss what's new, what to come and what features are we missing in Microsoft Teams. We guarantee to share our thoughts on the coolest, most interesting, and newest features in Microsoft Teams – small and big! And hey we'll have time for questions from the audience as well 💫
Harness the full potential of the Focusing status in Teams with MVP Ståle Hansen
If you have not been using Focusing status in Microsoft Teams, you have been missing out. Why? Because it sets your Teams client into custom do not disturb status called Focusing telling your peers that they should not expect and answer from you right now, because you are doing deep work. Join this session to harness the full potential of the magical custom Focusing status for Microsoft Teams. MVP and productivity enthusiast, Ståle Hansen will walk you through these 5 topics
· Where to get started with the Focusing status
· Should you book 2 hours daily?
· Viva Insights focus session
· How to get things done during a focus session
· Take it to the next level with automation
This session is suitable for those who are just discovering Focusing status and for those who has been using it for years.
Microsoft Viva, The Pitch, The Use, The Config. Microsoft Viva will be to hybrid working in 2022 what Teams was to remote work in 2020 – essential! In this session we will look at:
– The Pitch: The benefits of Microsoft Viva to you and your organisation
– The Use: How to find and use the different tools which make up Microsoft Viva
– The Config: How to set-up the various tools and how they integrate with other Microsoft 365 tools & services
About Teams Nation
Teams Nation Community Conference is a 100% community event. You can play a big part in its success by supporting it, posting on LinkedIn, or tweeting using #TeamsNation. Feel free to do this when you have registered. Read more here