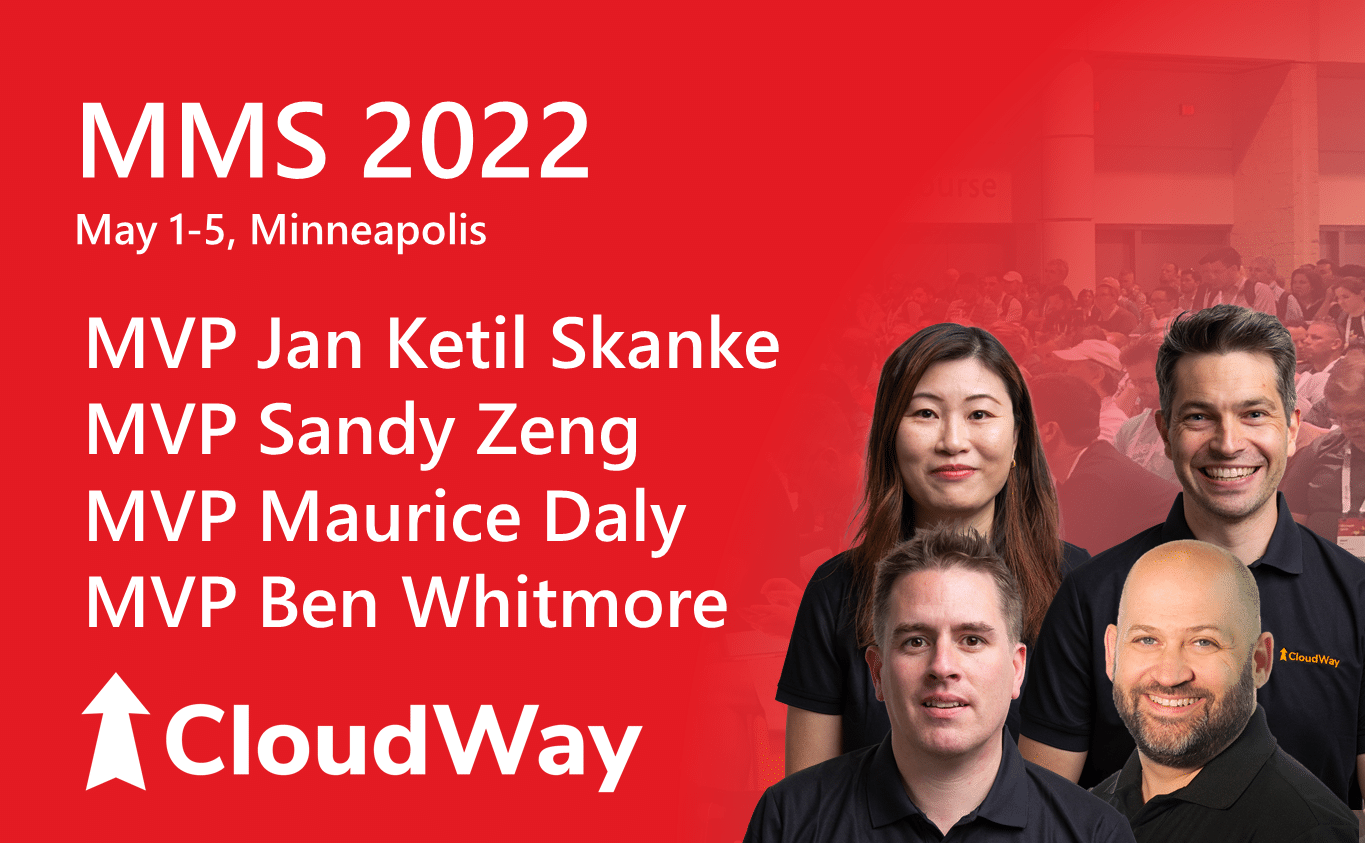 Join our MVPs, Jan Ketil Skanke, Maurice Daly, Sandy Zeng and Ben Whitmore as they return to their favorite conference in-person! Don't hesitate register today and enjoy an in-person conference where like minded endpoint manager people meet and share war stories.
Kusto Zero to Hero with Jan Ketil, Maurice and Sandy
If you love reporting, but don't feel like the reports you need are native within Azure / Endpoint Manager, then you need to come to this session! Join us to learn how to use Kusto Query Language (KQL) to quickly find information in your environment, and start to build workbooks to visualize your data/environment in a way that makes sense to you!
What you will learn:
– Learn KQL basics
– Understand query logic
– Understand what you get from built-in logs
Kusto Hero to Expert with Jan Ketil, Maurice and Sandy
In this follow-up from the "Kusto Zero to Hero" session, we will look at advanced query techniques, workbook design, and how to extend your data set with custom logging. Examples of some of the workbooks we will look at in this session include; Update Compliance, BIOS Reporting, and more. So join us, bring your A-game, and let's build some super cool dashboards that you can take back to your work and wow your boss and co-workers with!
What you will learn:
– Learn advanced query techniques
– Build custom workbooks
– Integrate custom logging
Build Secure Automations for Intune Managed Devices with Jan Ketil
In this session, we dig deep into the concepts of automation for cloud-managed devices, how to make sure communication between the device and backend is secure and is only coming from a trusted device in your organization. We'll share best practices on how to secure your automation in a cloud-first world when retrieving data from Intune or Azure AD in scripts running locally on the device and which Azure services to leverage to accommodate everything. If you manage Windows devices with Intune and have ever been in need of retrieving data from Intune or Azure AD or perhaps want to learn more about how you can securely send log data from your devices to Log Analytics, you don't want to miss out on this demo-heavy session.
What you will learn:
– Learn what techniques to use when securing automation
– Understand how Azure Functions and Conditional Access improves security
– Ensure only trusted devices can communicate with your infrastructure
Intune Proactive Remediations Deep Dive with Jan Ketil and Maurice
With Endpoint Analytics in Intune, we also got the awesome feature Proactive Remediations allowing you to perform compliance item/baseline type jobs across all Windows managed devices. In this session, we will not only look at the power of these features but also the underlying components, how to trace the running of the detection and remediation script, troubleshooting, and more.
What you will learn:
– Understand what proactive remediations are
– Troubleshooting proactive remediations
– Real-world examples of using Proactive remediations to keep your estate healthy
Maintaining BIOS in Intune with Jan Ketil and Maurice
Traditional ConfigMgr admins have grown up with tight control measures to allow them to deploy driver and BIOS packages. The move to modern management with MS Intune has made these tasks more challenging. With MS Intune you can use Windows Update for Business or utilize OEM software to keep your estate up to date. The main issue with this is that you lose control and the opportunity to perform thorough testing before you release it to your clients. In this session, you will learn about all the options using native options in Intune to maintain your drivers and BIOS. You will also learn about how to use OEM and community tools together to apply complete control over when a BIOS or Driver update is being deployed to your end-user devices and how to report on your current status.
What you will learn:
– Understand the built-in functionality for BIOS and driver management.
– Understand the risks associated with not maintaining BIOS and drivers.
– Get real-world examples of maintaining BIOS and drivers via Intune
– Support multiple OEMs without having to deal with multiple portals or tools.
Deploy and Manage AppLocker like a Pro with Microsoft Intune and Log Analytics with Maurice and Sandy
AppLocker has been around for many years, and organizations have traditionally managed this security feature through GPO's. When it comes to cloud-managed devices, deployment of the settings and overall management of this great security tool can be lacking. Join us and find out how to audit, monitor, and deploy AppLocker in a modern way.
What you will learn:
– Learn about AppLocker policies and how they are implemented
– Use PowerShell and custom logging to automate your rule generation
– Monitor and report on AppLocker
ConfigMgr, Intune, or Co-management; Which is Right for You? with Sandy
We can't tell you which is right for you because there's never a one size fits all answer when it comes to device management but we will explain to you the pros and cons of each configuration so that you can make an educated decision on which will work best for your organization.
What you will learn:
– Pros/Cons of all possible Endpoint Manager deployment types
– The immediate value of co-management, tenant attach, and other Endpoint Manager configurations
– How to live with the choices you, or your boss who knows nothing about Endpoint Manager, made.
Deep Dive into CloudLAPS for Intune Managed Devices with Maurice
Join this session for a deep dive into CloudLAPS Community Edition, a solution that provides a cloud-based local administrator password solution (LAPS) for devices managed with Intune. This will be a demo-heavy session with walk-throughs of the different components and how they interact with each other, how to deploy and configure the solution in full, learn about important configuration variables and make custom changes to fit your own environment.
What you will learn:
– Learn how to setup CloudLAPS
– Understand the components that build up the solution
– Increase the security of your Intune managed devices
Do You Want to Build a Home Lab? with Ben
How many of us test our changes in production? How many of us have an actual lab or development environment to test changes and new features? Do you learn by watching computer-based training or just reading Microsoft Docs? Having worked in many small and medium-sized environments, we know that a good lab or development environment just isn't available for many organizations. And for many, the thought of building their own environment is super daunting. This doesn't have to be the case – home labs are a very affordable way to test new ideas, get your feet wet in new technologies, or even shore up some skills in a product you already work with. Join us as we talk about:
– What equipment do you need to get started (or what you might already have)
– The important pieces to understand (Hypervisors, Virtual Networking, etc.)
– Overcoming knowledge obstacles (a.k.a. fears)
– Automating the creation of your labs (build, destroy, rebuild)
– The fastest MEMCM Lab build this side of Azure
– Building an Intune Autopilot lab
What you will learn:
– What you need to get started with your own home lab
– How to build a MEMCM Lab in less than 60 minutes
– Building an Intune Autopilot Lab
– Automating the creation of your home lab for maximum destruction opportunities
What To Set and What Not To Set in the World of Windows Update Policies with Ben
There are a slew of Windows update policies, many of which have been around since the Windows 7 era. Which ones you should actually use for different scenarios (e.g., 1:1 PCs vs. kiosks vs. servers vs., etc.), and which ones you probably should never touch. Let's have an active conversation about the WHY of not setting or setting these policies and the impact of having them configured.
What you will learn:
– Understand which Windows Update policies should never be configured on supported devices
– Understand how to achieve certain scenarios with policy
– Understand how the policies actually work.
– Where to go for answers once you forget this information
Modern Authentication on Modern Managed Devices with Ben
In this session, we will demonstrate to you how easy it is to set up Biometric authentication on Windows 10 and explain why it is more secure than a username and password that you're using today.
What you will learn:
– What Windows Hello for business is
– How secure Windows Hello for Business is
– Why your end-users will love you for implementing Windows Hello for Business
– Where to find community tooling to help enable the implementation of Windows Hello for Business
About MMS
The Midwest Management Summit is a 4-day conference purposely capped to just 750 attendees so that nobody gets lost in the crowd. Speakers have time to meet and talk to you. No rushing people out of a session to get the next speaker going. Time to absorb what you see and talk it over with speakers and other attendees. A true learning experience.  Read more
Details
Start:

01/05/2022

End:

05/05/2022

Event Categories:

Website:
Venue
Mall of America

60 E Broadway




Bloomington

,

MN

55425

United States

+ Google Map