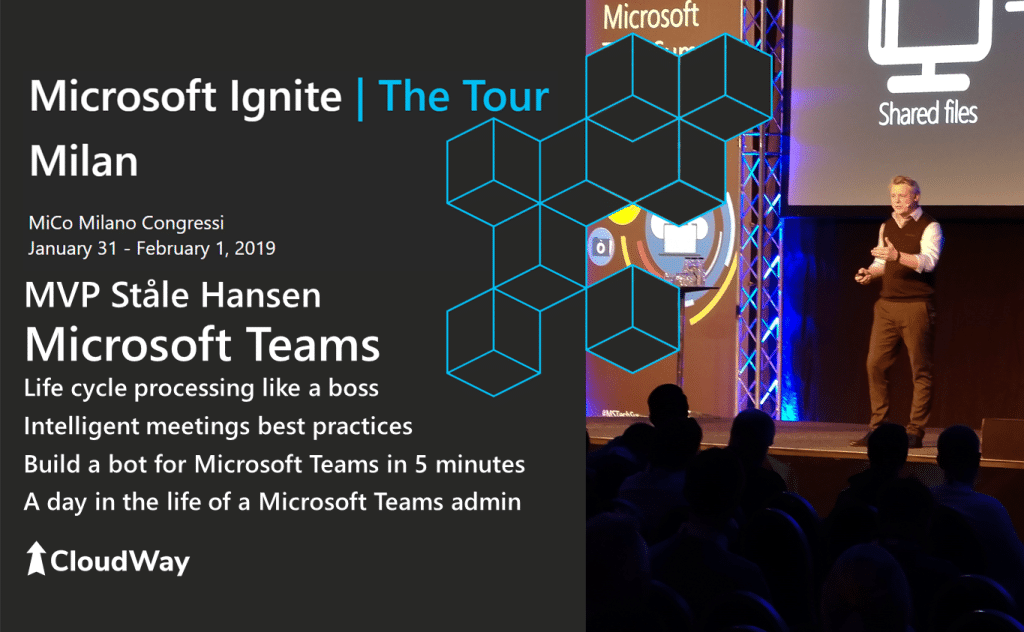 Microsoft Ignite | The Tour 2019 Milan
Ståle Hansen is invited to talk about the latest best practices and thinking around Microsoft Teams governance in Milan in the end of January at Microsoft Ignite The Tour. The Tour is a distilled, focused version of Microsoft Ignite, in a city near you, where you get the latest within Microsoft technology in breakouts, theater and meetup sessions. In Ståle's breakout session, you will learn the latest techniques and get a good overview of dependencies for administering and succeeding with Microsoft Teams. If you are at Ignite The Tour Milan, then this is a session you should not miss. Search for the session codes as seen below here
BRK3590 – Microsoft Teams life cycle processing like a boss
Deep understanding of how Microsoft Teams leverages Microsoft 365 is critical when designing a sustainable Microsoft Teams lifecycle process. This session will focus on the latest techniques for Microsoft Teams creation, policy management, reporting, compliance and archiving combined with customer experience. This is a must attend session for those getting started with all aspects of Microsoft Teams and wants to own the lifecycle process like a boss.
BRK2522 – Intelligent meetings best practices in Microsoft Teams
Learn about what intelligent meetings in Microsoft Teams is all about. This session will walk through how to prepare for a meeting, best practices for succeeding with meetings, how Cloud Recording and Live Events help spread the word about the content and post-meeting activities. This is a practical session with demos and practical tips and tricks.
THR2426 – Build a bot for Microsoft Teams in 5 minutes
Building bots is simpler than you think. See this hands on demo and follow along to build a bot to deliver simple Q&A answers to your employees.
WRK3055 – A day in the life of a Microsoft Teams admin
In this 1 hour workshop, get in-depth hands-on experience with the core administration, security, and compliance capabilities of Microsoft Teams. We will work through common scenarios that will enable you to manage and govern Teams effectively while ensuring your data is secured and remaining compliant with your company's requirements. Workshop requirement: Please attend our "Mange Microsoft Teams effectively while staying secure and compliant — an overview" session as we will be performing capabilities/features explained in this session.
About Microsoft Ignite Tour
Join Microsoft at the place where developers and tech professionals continue learning alongside experts. Explore the latest developer tools and cloud technologies and learn how to put your skills to work in new areas. Connect with our community to gain practical insights and best practices on the future of cloud development, data, IT, and business intelligence. Read More