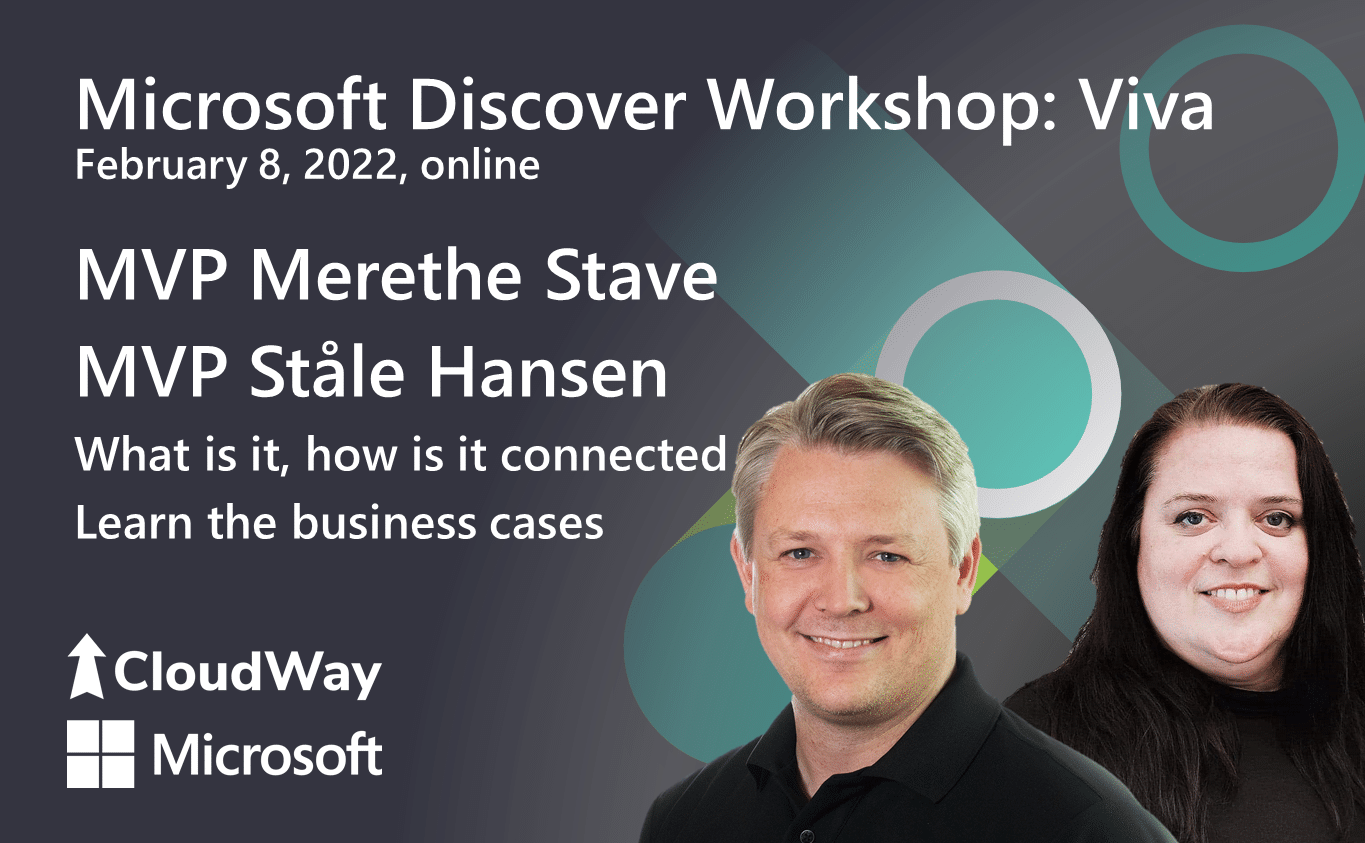 Microsoft Discover Workshop: Viva
08/02/2022 @ 09:00

-

11:00

CET
This workshop is hosted by Microsoft and led by CloudWay MVPs, Ståle Hansen and Merethe Stave. They will focus on Microsoft Viva, what it is, how Connections, Topics, Learn and Insights are connected and teach you the business cases for each one of them. The workshop is in Norwegian, the virtual seats are limited, make sure you reserve your spot today!
Microsoft Viva Discover Workshop
Microsoft og CloudWay ønsker deg velkommen til en introduksjonsdag om Microsoft Viva. Dette er en produktportefølje som er skapt som en konsekvens av hjemmekontor kulturen. Det er en sammensetning av mange produkter som har vært delvis tilgjengelige i Microsoft 365 fra før, men nå med nye muligheter. I løpet av dagen vil lære følgende
– Hva er Microsoft Viva og hvordan er det lisensiert
– Viva Learn
– Viva Connections
– Viva Topics
– Viva Insights
Vi vil ha fokus på hva du kan komme i gang med i dag samt gi deg god forståelse for hva du kan bruke porteføljen til. Denne dagen er basert CloudWay sin workshop som handler om Viva og Viva Insights som du kan lese mer om her: https://cloudway.com/workshops/#96cab18607830d577
About Microsoft Discover Workshops
Microsoft Discover workshops provide three types of hands-on workshops designed with you in mind. This isn't your typical demo. Each Discover workshop is designed as an immersive and inspiring experience where you can get hands on time with the Microsoft product suite, devices and cloud solutions to discover new ways of working, optimize your data management and business insights through simulated, everyday business scenarios. A Discover workshop is highly interactive, engaging experience organized by a facilitator where each session is unique and the agenda is set by the interests of the participants to allow you to experience the powerful productivity solutions for yourself. Read more.
Details
Date:

08/02/2022

Time:

09:00 - 11:00

CET

Event Categories:

Website: