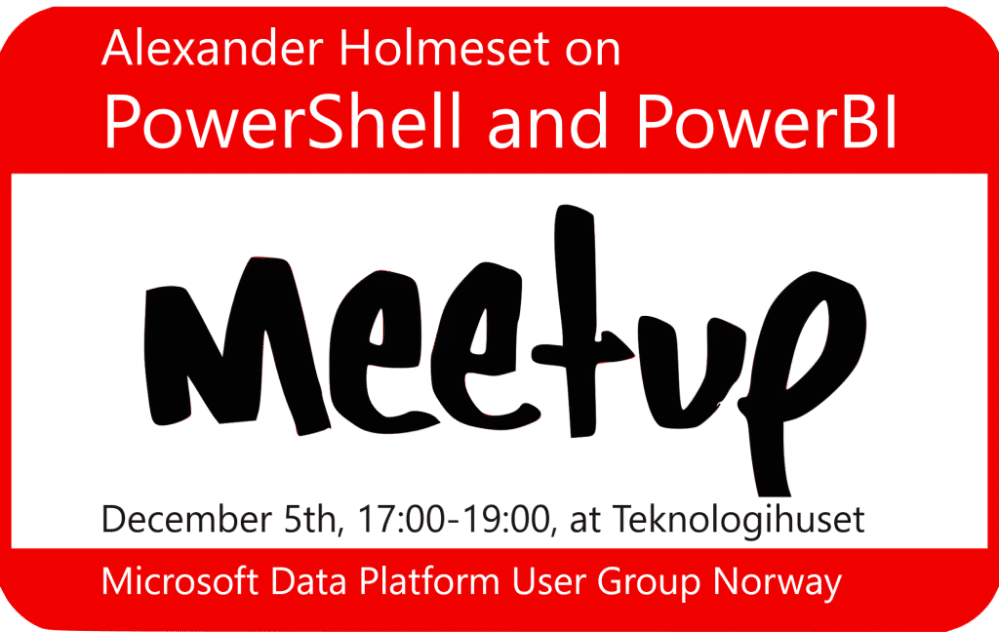 Microsoft Data Platform User Group Norway
05/12/2018 @ 17:00

-

19:00
Our PowerShell and PowerBI enthusiast, Alexander Holmeset, is invited to the Microsoft Data Platform User Group Norway this December to share his thoughts on how to publish PowerShell data to PowerBI. He has talked about this topic at ExpertsLive Netherlands and at PowerShell Conference Asia, make sure you register here
Publish PowerShell data to PowerBI
How can we use PowerShell to interact with Power BI? What are the possibilities. What to think about? I will demonstrate how to get started using PowerShell/PowerBI and show some simple reports created in PowerBi and updated by PowerShell. I will also show how to setup this in Azure Automation so you are fully automated in the cloud.
About Microsoft Data Platform User Group Norway
This user group is a meeting place for everyone interested in or working with the Microsoft Data Platform. Topics span from the core SQL Server engine, to Power BI, to cloud services in Azure – and everything in between! Our goals are to share knowledge, present new technologies, discuss and socialize. Whether you are a database administrator or database developer, a business intelligence professional, or a student: you're welcome to join us!