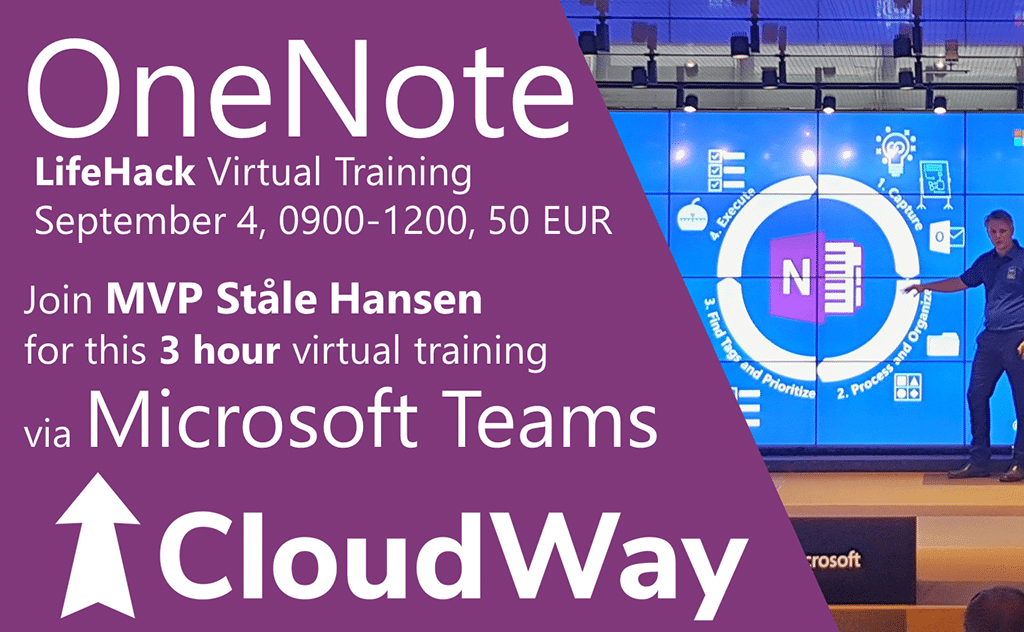 OneNote LifeHack Training
04/09/2017 @ 09:00

-

12:00

CEST
"Your mind is for having ideas, not holding them."
Start off the new year with this life hack virtual class where you will learn the basics of how lists and task can help keep peace of mind. Using OneNote in a structured way to organizing tasks from mail, notes, meetings and thoughts in one place across devices is key. Making lists and sticking to them is key and it is all about outsourcing your short term memory. When the day is over you have set up a great framework on your own devices, are ready to get things done and are richer with thoughts and experiences on productivity from the trainer and the attendees in the class
For the past year MVP Ståle Hansen has worked with consulting, sales, marketing and been a CEO at the same time. During the time he had to get structured and he has used this methodology and experienced what works and what is not working. By combining roles that are vastly different in how the day is organized he had to make sure he found pockets of productivity time and get the most out of them. He will share with you what he has experienced so far and are still learning about productivity in a digital age.
Module0: Getting started and introductions
Module1: Introduction to a lists and taks methodology
Hands-On lab: Get started with OneNote and sections
Module2: Creating and working with custom tags in OneNote
Hands-On lab: Creating and working with custom tags across devices
Module3: Doing collection right across mail, notes, meetings and thoughts
Hands-On lab: Collection and creating actions
Module4: Jumpstart your flowstate with the Pomodoro Technique
Hands-On lab: Set up your devices correct and Practice Pomodoro
Module5: Mastering OneNote: tips and tricks
Module6: the class shares their productivity hacks
A trial Office 365 tenant will get created for the class and sign-in information will be provided on event sign-up. Microsoft Teams is a new interactive way to collaborate where we can share documents, chat and have an interactive video session from the same client that we will utilize in this Virtual Class. Limited seats available, so sign up today. Recordings and content will be available 1 month after the event.