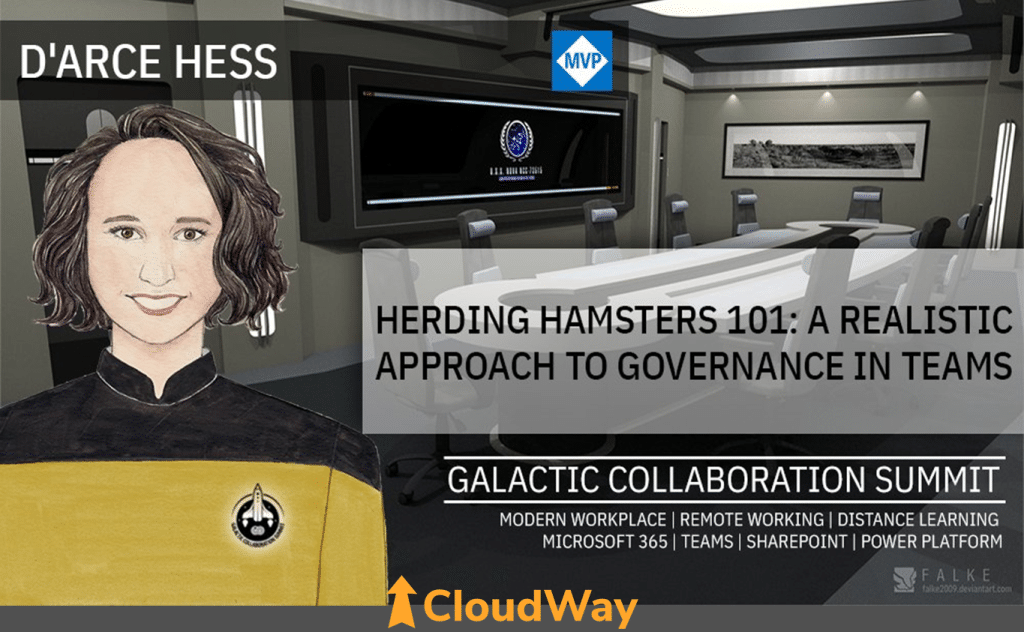 Galactic Collaboration Summit
Join our MVP, D'arce Hess at this free community-driven online conference. The Galactic Collaboration Summit is a two days community-organized online event, where world-leading experts and speakers deliver a range of "what's new" and "best practices" sessions. Register for free today!
Herding Hamsters 101: A Realistic Approach to Governance in Teams
Hamsters are small, quick, and tough to catch once released. The roll-out of Teams in organizations can often feel like you just released end-users without a pied piper to lead them in the right direction. In this session we will review the various paths to applying governance to your Teams roll-out as well as how to lead your end-users to a safe and usable Teams experience leaving the frustrations and harmful behaviors in the past. We will cover some of the best practices for how to create a plan, who should be in what roles, and common mistakes that are made.
About European Collaboration Summit
In these challenging times, the adoption of modern workplace, remote working and distance learning technologies has increased massively. Among our aims for the Galactic Collaboration Summit is to help businesses, schools, and individuals to navigate their way through the modern workplace, support their collaboration requirements, understand processes and challenges, and get acquainted with the technologies underneath it all. Galactic Collaboration Summit will be covering topics such as Microsoft 365, Microsoft Teams, SharePoint, Power Platform and business apps. Its aim is to bring business and technology together in these challenging times, to help the conference delegates make sound decisions in our rapidly changing world. The Galactic Collaboration Summit is a two days community-organized online event, where world-leading experts and speakers deliver a range of "what's new" and "best practices" sessions. Read more