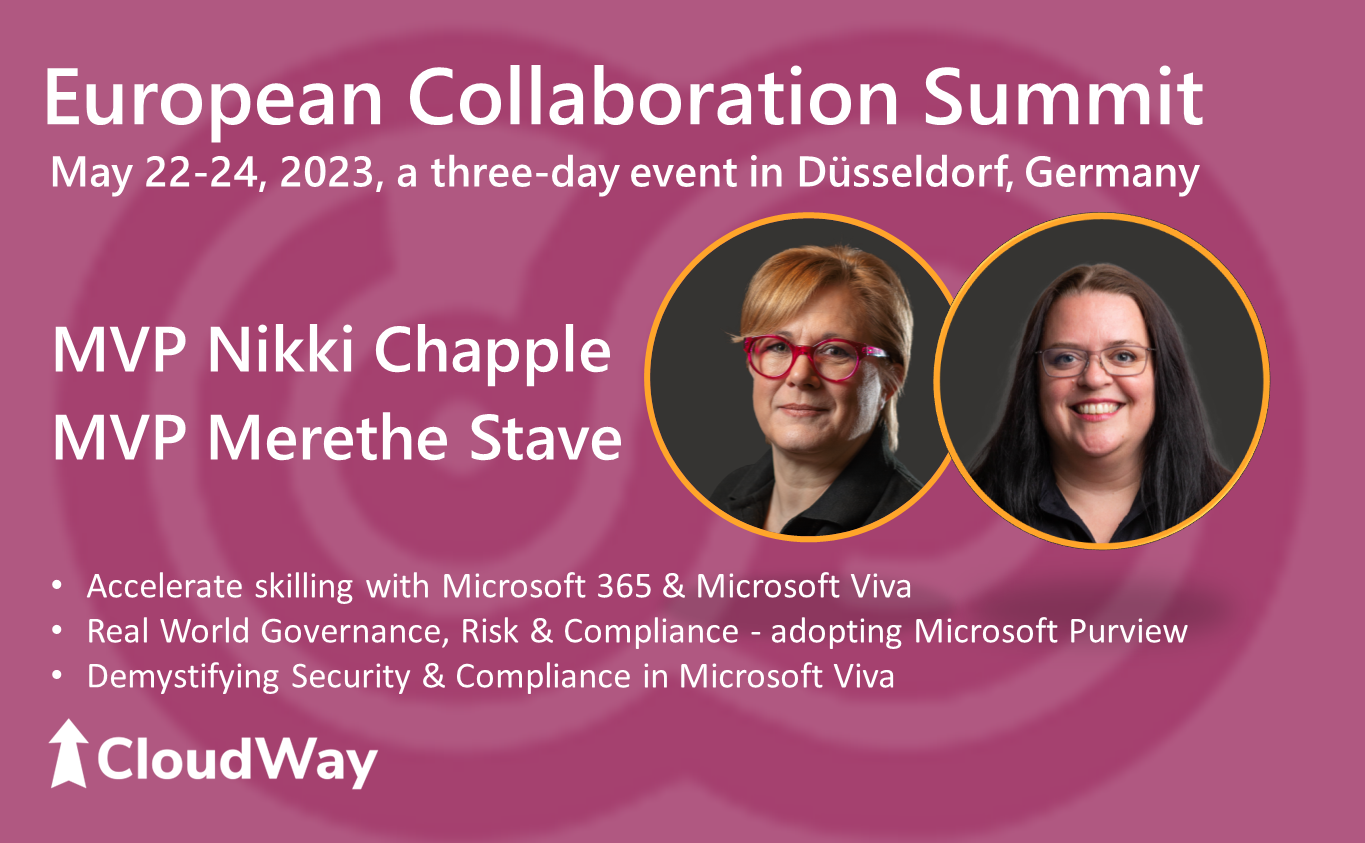 European Collaboration Summit, Düsseldorf, Germany
The European Collaboration Summit is the leading and the largest Microsoft365-focused conference in Europe, with an expected attendance of 2500 people. During this three-day event, world-leading experts and speakers will deliver a series of full day tutorials and a range of what's new and best practice breakout sessions relevant to these technologies.
Buy tickets here today.
Join our MVP's Merethe Stave and Nikki Chapple sharing their expertise in these 3 sessions:
Accelerate skilling with Microsoft 365 and Microsoft Viva. Merethe will guide you through the possibilities of how to use Microsoft 365 (Microsoft Teams, SharePoint, PowerAutomate, and more) together with Microsoft Viva, mainly Microsoft Viva Learning, to structure and set up a platform for skilling, and bring learning into the context of work.
Real World Governance, Risk & Compliance (GRC) – adopting Microsoft Purview and beyond. Nikki, co-speaking with Simon Hudson will share their expertise on why every organisation needs to 'do' GRC, not everyone has the expertise, has defined a strategy or has developed the tools and processes. Microsoft Purview has breadth and depth, but even it is just one of the tools your organisation needs and needs to be extended with people, processes and other technologies.
Demystifying security and compliance in Viva. Nikki will explain that Microsoft Viva is an employee experience platform that combines tools to support employee engagement and well-being, learning and knowledge management, and experience analytics, all delivered through Microsoft Teams. Some organizations are reluctant to deploy Microsoft Viva as they are concerned about data privacy, compliance. This session demystifies security & compliance in Microsoft Viva.