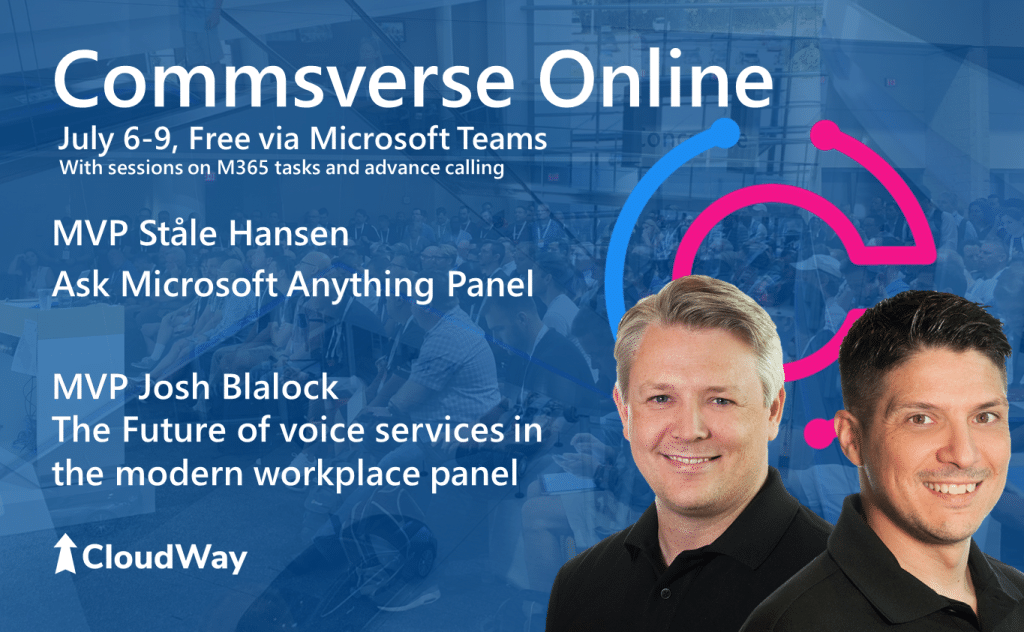 Our MVPs Ståle Hansen and Josh Blalock will speak at the free 24 hour event, Commsverse Online! They will also produce sessions, join and host panels. Our MVP Mårten Hellebro will also produce some of the sessions. Focus is everything Microsoft Teams with a nudge towards Unified Communications topics. THIS is the event you need to catch if you work with all aspects of Teams including calling and meetings. Make sure you claim your virtual ticket today and catch the TeamCloudWay sessions
147 – Ask Microsoft Anything, July 6th 9PM BST
Our RD and MVP, Ståle Hansen will join Microsoft industry experts and Microsoft employees in this AMA. Come to this engaging session where we put the Microsoft Teams Product Group under the spotlight to answer your questions. If you have burning questions about future development, experiencing issues with your deployment and need advice or want to let them know what you'd like to see in Teams in 2020 and beyond, then come to this session and be heard!
183 – How to make tasks in Microsoft 365 work for you in a structured way, July 7 6 AM BST
218 – How to make tasks in Microsoft 365 work for you in a structured way, July 7 1PM BST
Tasks are everywhere in Microsoft 365. MVP & RD Ståle Hansen has worked with tasks in a modern way for years. He has found a system to succeed with tasks in periods when you are super busy, but also when you are off work. He will show you how to structure Microsoft To-Do, capture Teams tasks and get stuff done using the Pomodoro technique. Don't miss this session, it may change your life!
157 – Designing Microsoft Teams Call Flows in a complex Global Organisation July 6th 11PM BST
Planning out call flows in a global company where the telephony solution includes Direct Routing, Calling Plans, 3rd-Party PBXs, restrictive government regulations, and other complexities can be daunting to say the least. This session offers attendees a look at what the high-level architecture of such an environment would look like, how call flows work in this architecture for key scenarios, and important considerations to keep in mind during planning for such an environment.
232 – Hang out with the CommsVnext Crew July 7th 5PM BST
Hang out with the CommsVNext crew as they discuss their highlights so far and sessions they are looking forward to for the day ahead
339 – Josh hosting the Future of voice servies in the modern workplace panel July 8th 4PM BST
This panel discussion is about the future of voice services in the modern workplace. Our panelists will discuss how inter & intra corporate communication has evolved with the popularity of cloud based platforms and what solutions and options are available for businesses looking to transform their telephony requirements.
In this session you will be able to put your questions and views to the panel
341 – Day 3 with the CommsVnext crew July 8th 5PM BST
Hang out with the CommsVNext crew as they discuss the highlights from day 2 and sessions they are looking forward to for day 3
371 – That's a wrap with the CommsVnext crewJuly 9th 12 AM BST
Hang out with the CommsVNext crew as they discuss their highlights from all 3 days of Commsverse
About Commsverse
Commsverse is an independent and dedicated Microsoft Teams Conference & Exhibition. We are organized by current and former Microsoft MVPs; Mark Vale, Randy Chapman and Martin Boam. Our aim is to create a technical conference whereby you can expect to learn from real-world experience by expert speakers in any of our 40 breakout sessions, you can connect with up to 30 vendors who will be showcasing their Teams solutions from Teams Room Systems, Cloud Video Interop, Direct Routing, Compliance, Analytics and a whole lot more! Read More