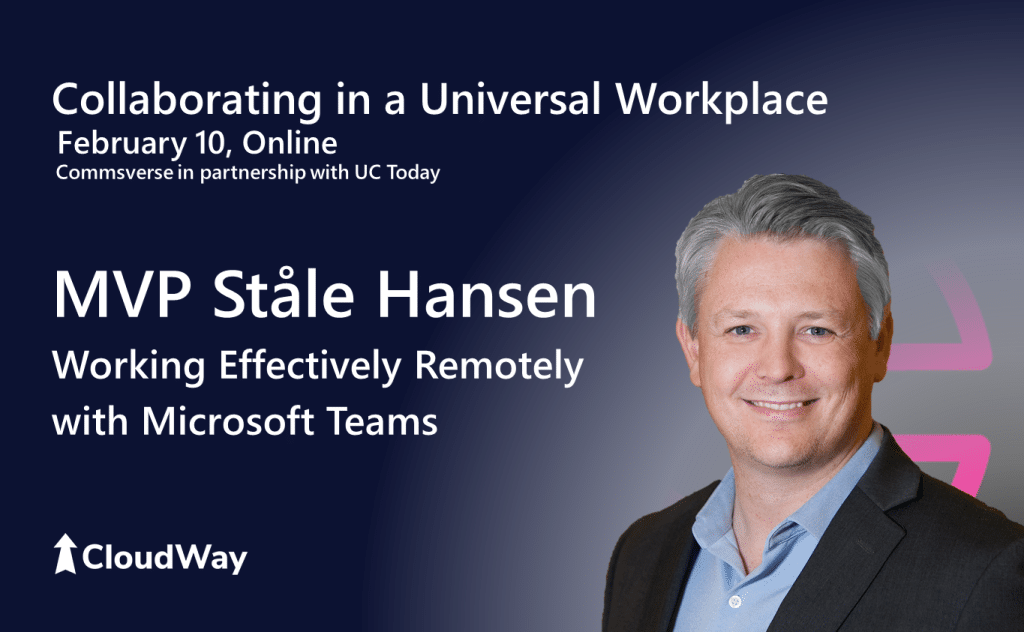 Commsverse Virtual Event
Our MVP, Ståle Hansen will join MVP Steve Goodman as they talk about Working Effectively Remotely in Microsoft Teams context. They will share their lessons learned on working from home before and during the pandemic. How do they harmonize work life and how do they get stuff done. This is a one-day virtual event where Commsverse has teamed up with UC Today to bring you an online experience. The topic of the day is all about Collaborating in a Universal Workplace. Save the date and learn from Microsoft Teams experts.
Working at home effectively is a skill. To those who have been forced into this way of working it can be a shock to the system. How do you differentiate home and work life within the same setting? How can you discipline yourself to make time for work and home? Ståle Hansen & Steve Goodman have been working remotely for many years and have each fine-tuned their working techniques that help them remain productive and also have time for family life. They talk about their personal challenges, methodologies and how they use Microsoft 365 technology effectively to ensure they get work done whilst maintaining their personal and family wellbeing.
About this event
This event will best suit you if you work within a close team of people, perhaps you are a team leader or a team player. You will want to learn and pick up working tips, best practices and strategies to help improve both your personal and team wide productivity and collaboration effectiveness. Read more