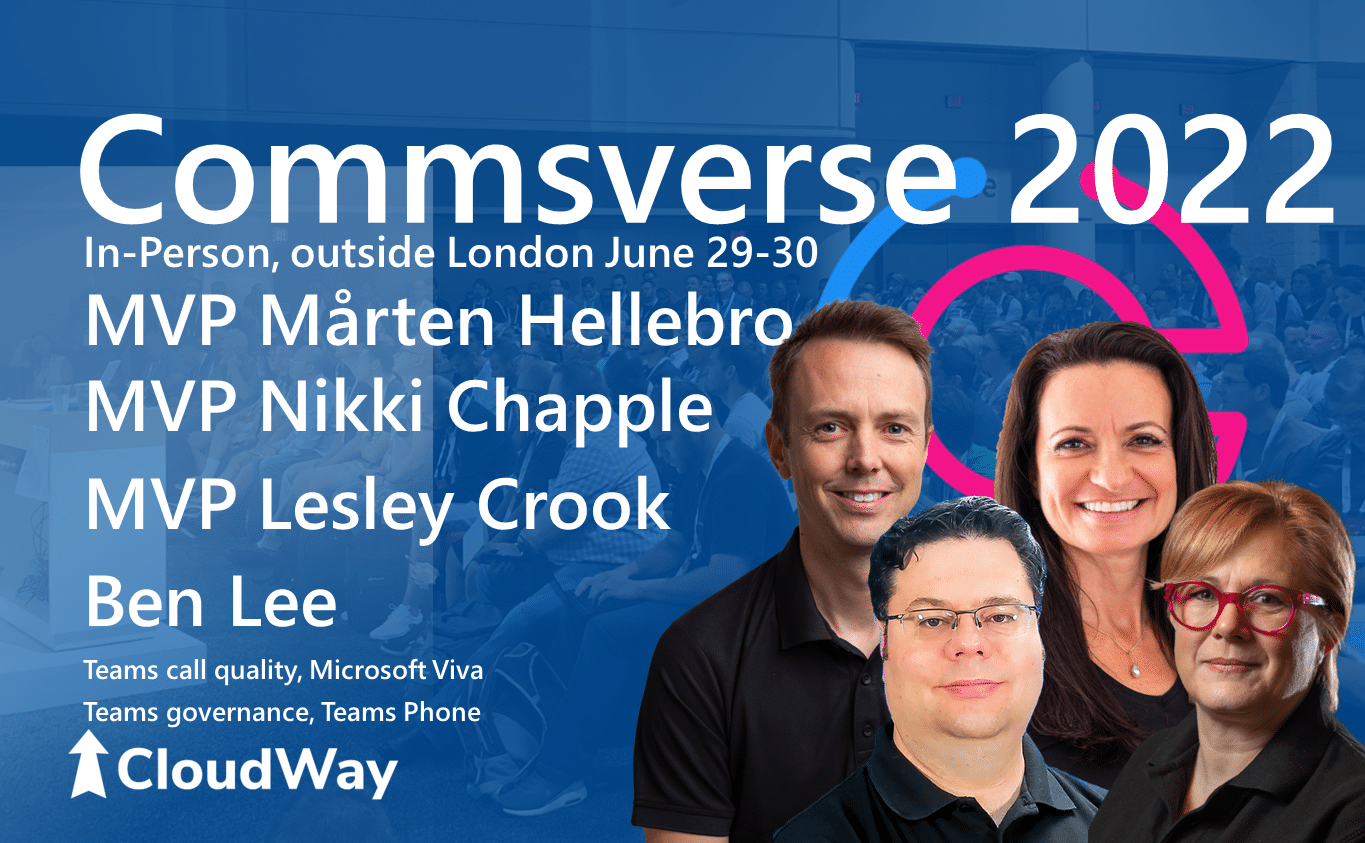 Join MVP Mårten Hellebro, MVP Nikki Chapple, MVP Lesley Crook and Ben Lee, in what may be the first in-person Teams conference in 2022! There you will find good discussions, interesting topics and the chance to mingle with likeminded people. Our cloud enthusiasts will talk about Teams automation, Viva, Teams Phone and Teams quality of life. Make sure you register today!
A Viva day in the life on Teams with Lesley
We start the day with breakfast and our Viva briefing email which we read on our mobiles; pulling outstanding tasks and meetings from Outlook. Get dressed and move to Teams on our desktops and join a brainstorm Teams meeting from our homes and collaborate in PowerPoint. We pivot across the day catching up on news on Viva Connections from our mobiles on a lunchtime walk in the park. Take a 15 minute training course on Viva Learning supported by focus time. Then check on our objectives in Ally.io. We end the day reflecting on our moods in Personal Insights.
Join this session to discover lots more about our super productive days with the satisfaction we are working smarter not harder on Teams in the Viva modules. Using the apps and features already at our finger tips. Our digital well-being is in great shape – and so can yours be by following some of these life hacks and envisioning near future ways of working!
Slow is the new broken, plan for Teams quality and monitoring with Mårten
With slow being the new broken, is it more important than ever to be on top of performance and quality in all Microsoft 365 services, and Microsoft Teams in particular. If it takes 10 seconds to join a Teams meeting, or if the audio or video is poor something is broken. This leads to frustration, productivity loss and users will turn to other tools to get their job done. Quality is king in the hybrid world, and with great monitoring comes great confidence in quality. We have the tools already available in Microsoft 365 to find and pinpoint the productivity killers, tools like Productivity score, Call quality dashboard and Teams network planner, but they don't just do the magic out of the box.
In this session MVP Mårten Hellebro will show you how to get the tools to work for you, so that you can find the productivity killers, create awesome reports and be the hero.
Why you need to manage Microsoft Teams sprawl with Nikki
Microsoft Teams has become crucial in supporting remote and hybrid working, allowing users to work, collaborate, and learn from any location and any device. However, for many organizations, the move to Microsoft Teams was in a direct response to the COVID -19 pandemic. Often the result was a tactical rather than a strategic deployment of Teams. This has resulted in an uncontrolled growth of Teams. Leading to unforeseen challenges such as Team sprawl, stale content, duplicate content and general user confusion. This in turn increase the risks of data over exposure and the use of shadow IT by dissatisfied users.
In this session I will look at.
– Why does Teams sprawl occur?
– What are the biggest risks of Teams spawl?
– Why governance needs to extend beyond Teams and the technology?
– How to mitigate the risk of Team sprawl through managing your workload and content lifecycle.
Teams Phone System, understand your choices with Ben
If you want to add telephony to your Teams deployment then on the surface it might seem like a straightforward choice between Calling Plans, Direct Routing or Operator Connect, however the devil can be in the details.
This session will cover what the main differences are between these calling solutions for Teams and how to determine what might fit your requirements. We will also cover at a high level what a Teams voice project might look like and what you should be considering along the way to ensure a successful deployment and end up with happy users.
Read the magazine with the full agenda and featuring an article by MVP Ståle Hansen on why you need to care about subnets for Teams call quality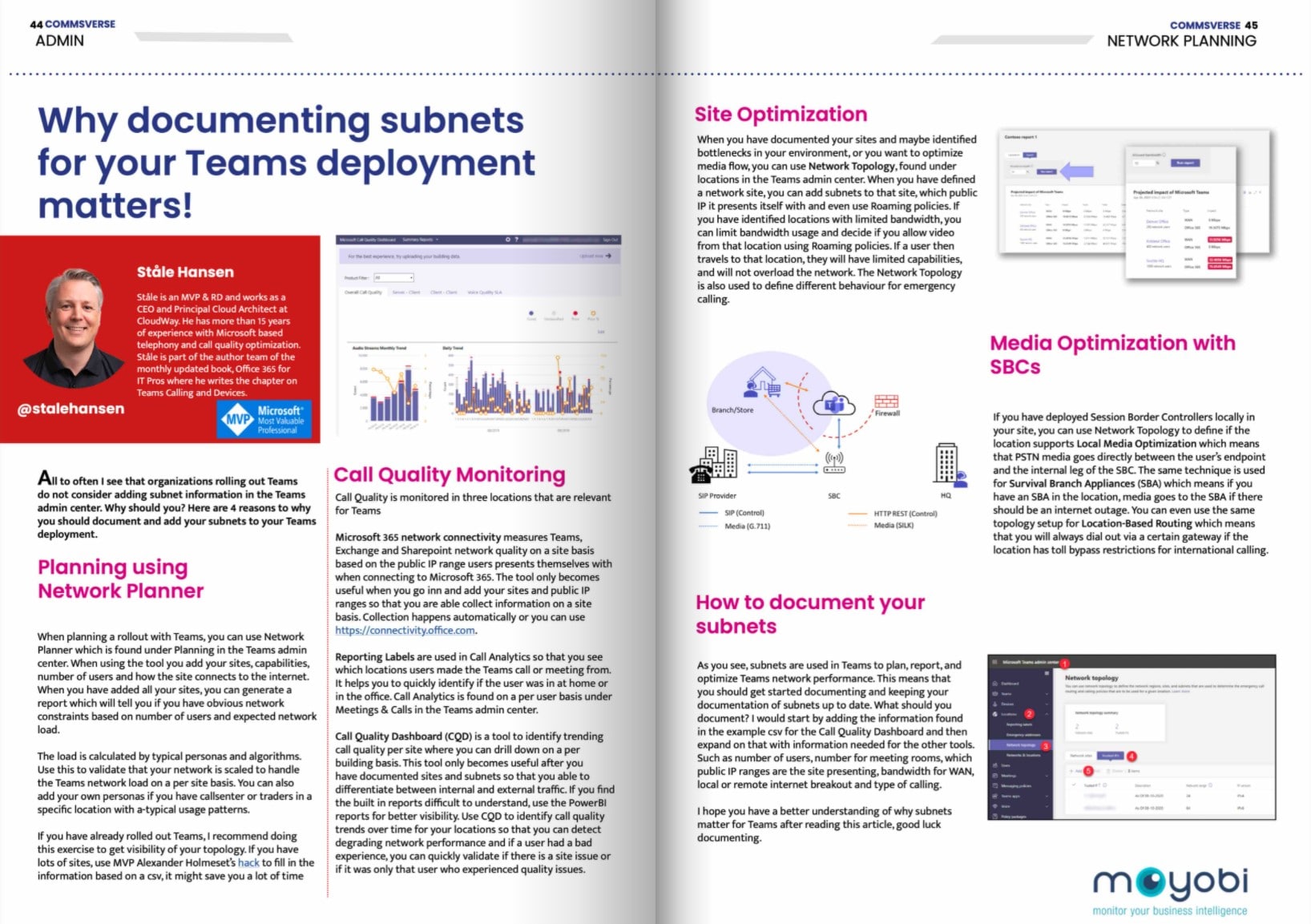 About this event
Commsverse was founded by a small group of Microsoft Teams Community members, Mark Vale, Randy Chapman & Martin Boam. We spend our work days helping businesses deploy and adopt Microsoft 365 products and in-particular, Microsoft Teams. Read More.
Venue
Mercedes Benz World

Weybridge KT13 0SL




London

,

United Kingdom

+ Google Map