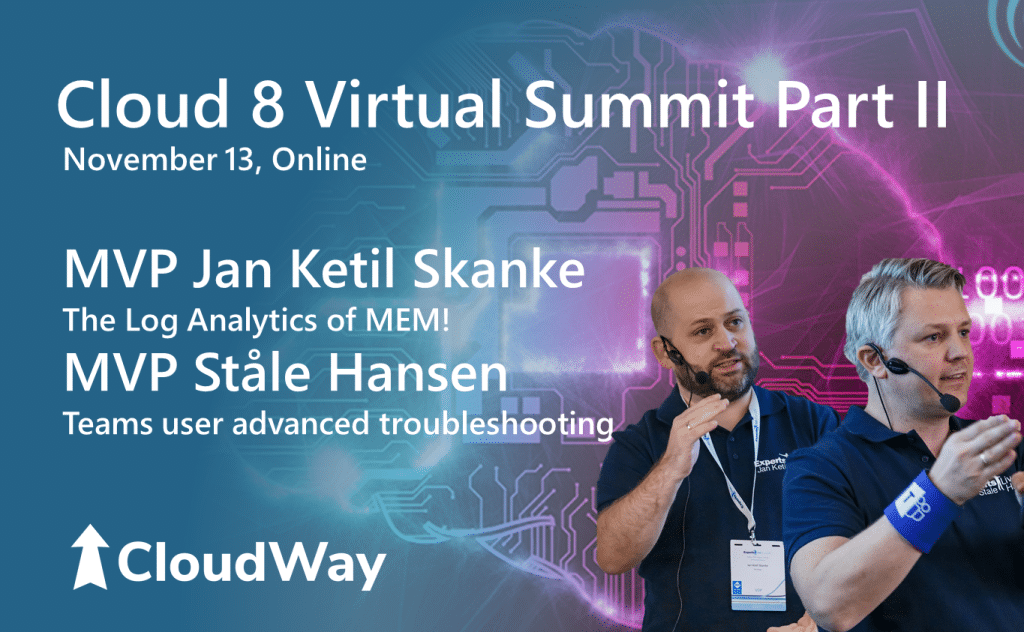 Cloud 8 Virtual Summit Part II
Cloud 8 Virtual Summit Part II
Our MVPs Jan Ketil Skanke and Ståle Hansen are sharing their thoughts and experience on MEM and Teams at the Cloud 8 Virtual Summit Part II. This is an online free event, so make sure you sign up today!
Teams user troubleshooting DeepDive using PowerShell
It is easy to migrate from Skype for Business to Microsoft Teams. But there is always a subset of users that fail for some reason. There is a PowerShell oneliner you should learn to troubleshoot this. Discover if the user is lacking the proper license, or is disabled or have a conflicting address. It is all there, explained for those who know where to look. Come and get a deep dive in how to identify issues and how to fix them
Topics covered:
– Get-CsOnlineUser oneliner for discovery
– go through each attribute and show how to troubleshoot them and explain what they are
– based on this blogpost: https://msunified.net/2019/07/11/my-post-migration-from-skype-to-teams-toolbox/
– Will also cover meeting room accounts
The Log Analytics of MEM!
Are you moving some or all of your management workloads to Intune? Are you missing your good old configmgr logs? Then this is the session for you. Microsoft Endpoint Managers cloud reporting framework is based on Azure Log Analytics, and there is a whole new world of possibilities that has just come our way. We will look into how you can use log data to build automation, alerting and monitoring of your environment and incidents. With this you can audit all changes in changes in your environment and do automation based desired state configuration in the cloud. We will should how you can build your own workbook dashboard with the data YOU care about? What about combining data from both on-premises and the cloud and visualise it all in one place?
About Cloud8
Cloud8 is an initiative of various Microsoft MVP's and is a free platform for sharing knowledge.