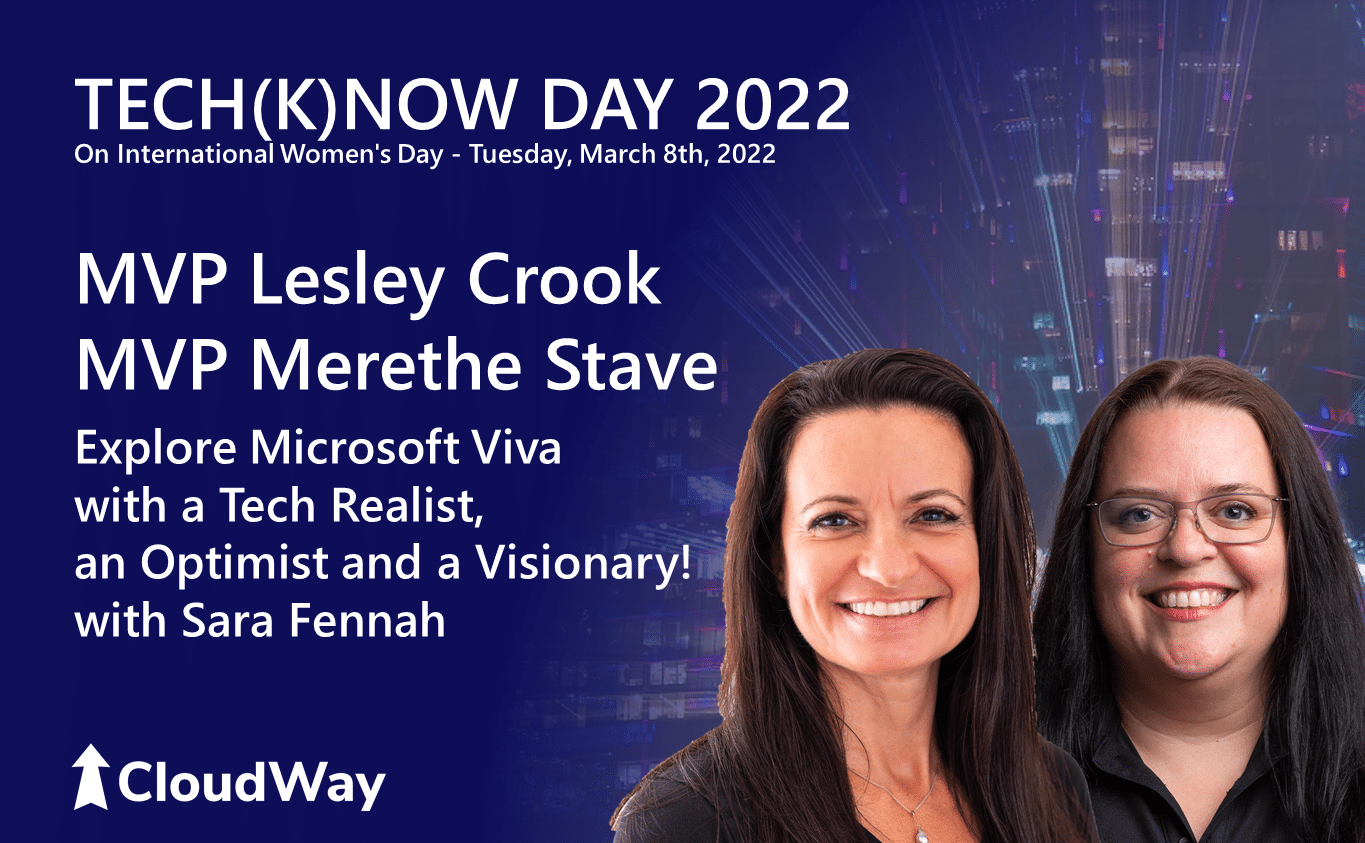 Join our MVPs Lesley Crook and Merethe Stave as they share their visionary and optimistic views on Microsoft Viva. Joined by MVP Sara Fennah as the tech realist, they will give you a better understanding of how you can get started with Viva today! This is a free event hosted by Women in tech, make sure you save the time and tune in on March 8!
Explore Microsoft Viva with a Tech Realist, an Optimist and a Visionary!
In December 2021 I published an advent style blog series inviting the community to open 12 daily cloudy windows on a current employee frustration; alongside a visionary Viva employee experience, nurturing a culture of digital wellbeing. People already using Viva are saying: Now have quick access to company news and views! This is a great work-life balance! This helps me focus! Now have easy to reach shared content! This has improved my productivity! Brilliant business benefits. However, understanding the challenge we face these days and what leaders can do about it is the frustrating and difficult next step.
This session will help you discover how Viva helps your business deliver personalised experiences with empathy to your employees. With news, tasks, and conversations; provides data-driven insights and recommendations; organises content and expertise; and delivers formal and informal learning when and where it's needed with:
Culture & employee engagement with Viva Connections
Productivity & digital wellbeing with Viva Insights
Knowledge & expertise with Viva Topics
Up-skilling & personal development with Viva Learning
Objectives & Key Results with Ally.io (the 5th module expected H4 '22)
About TECH(K)NOW Day
TECH(K)NOW Day is a twice-yearly Women in Tech conference, which started back in 2017. It's held in March (around International Women's Day) and October (around Ada Lovelace Day). Read more
Details
Date:

08/03/2022

Event Categories:

Website: