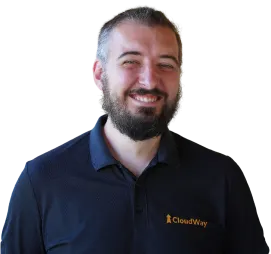 Ville Gullstrand is a Senior Cloud Architect at CloudWay. He's an Data Platform MVP who inspires people to embrace the potential of today. He has a passion for the whole Microsoft PowerPlatform alltough specialized in Power BI. He is a FastTrack Recognized Solution Architect (FTRSA) for Power BI which is a recognizion he shares with only about 40 other people in the world.
He has extensive experience in building tailor made solutions for customers in all kind of sectors, ranging from financing, the public sector, consulting firms etc.  Ville has a history in change management and has worked to implement Microsoft Teams with some of the largests public sector customers in Sweden as well.
Ville also runs "Power BI för publik sektor" and is often seen as a public speaker at PowerPlatform-conferences.
There are no upcoming events.
at Online

November 3 @ 11:00

-

12:00

CET

Join our MVP, Ville Gullstrand in this webinar with Cornerstone on going from Excel to Power BI. This is a subject Ville knows very well and you shoul...

at Münchenbryggeriet

October 4

Join our MVPs, Mårten Hellebro and Ville Gullstrand at Teamsdagen Hybrid 2023. Mårten will be on stage as host and organizer, partaking in the keyno...
MSEndpointMgr Intune Audit Dashboard

by

Jan Ketil Skanke

on 28/10/2022 at 16:23

Introducing the MSEndpointMgr Intune Audit Dashboard. Taking the pain out of auditing events in Intune The post MSEndpointMgr Intune Audit Dashboard appeared first on MSEndpointMgr.

Installing M365 Apps as Win32 App in Intune

by

Jan Ketil Skanke

on 23/10/2022 at 21:43

If you have ever having issues with Autopilot or Enrollment Status page failing or timing out due to issues with Office installation, this blog post is for you. Over the years working in this area, the Office CSP has caused countless issues and deployments to fail. The Office CSP, commonly knows as […]